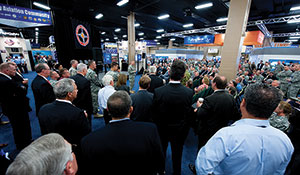 President's Cockpit:
 What covers over 16 acres under one roof, draws over 8,000 people, contains in excess of 300,000 square feet of exhibits, devotes 16 hours to professional development, and honors the achievements of the best in our profession?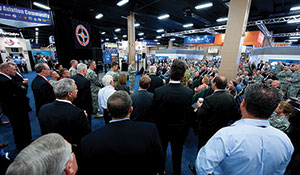 Army Aviation leadership answering questions during the Army Aviation Mission Solutions Summit at the Opryland Hotel, Nashville, TN. AAPI PHOTO BY RENÉ BIDEZWhat is the ONLY time each year our entire Army Aviation Community… Active Duty, National Guard, Army Reserve, Department of Army Civilians, and representatives from throughout industry, gather in one place at one time to find solutions for the challenges Aviation warfighters face around the world?
Where can your spouse break free, relax and enjoy some unique opportunities to sample the greater Nashville environment?
And, at the end of two and a half days in the consummate Networking environment, seeing the Recognition of deserving Aviation soldiers and units, sampling how AAAA Supports Chapters around the world, and in an atmosphere where your Voice is heard, where can you bring your family to experience world class entertainment with Martina McBride in concert?
If you answered with, the 2015 Army Aviation Mission Solutions Summit, 29-31 March 2015 at the Opryland Hotel and Conference Center in Nashville, TN, then you are 100% correct. From our keynote speakers including the Vice Chief of Staff of the U.S. Army and the Army Acquisition Executive, to all the senior Army Aviation leaders, to the CEOs of many of our corporate partners, and to representatives from such diverse organizations as Human Resources Command, Aviation and Missile Research, Development and Engineering Command (AMRDEC), NATO, DUSTOFF Association, Helicopter Association International, to name just a few; the answers we all seek will be there.
The Q&A sessions on the exhibit floor will feature the Branch Chief, the Program Executive Officer Aviation (PEO) and his project managers (PMs), the Aviation and Missile Command (AMCOM) commander and Army Special Operations Aviation (ARSOA) leadership. This represents a terrific opportunity to have your Voice heard. The Deep Dive open discussions will be led by significant senior leaders such as GEN (Ret.) Dick Cody, GEN (Ret.) Scott Wallace, GEN (Ret.) JD Thurman and LTG Ray Palumbo. They and other Deep Dive leaders will examine topical subjects of interest to the Army Aviation community. Take a look at our agenda at http://www.quad-a.org/2015summit/.

The Army is matching the almost $250,000 AAAA is proffering. All these funds are going to underwrite the travel of Aviation Brigade command teams, representatives from PEO Aviation, PEO Missiles and Space, and PEO Solider, State Army Aviation Officers, over 35 General Officer and SESs and others to ensure your Voice is heard. As part of the AAAA proffer, we will also be running buses to and from Fort Campbell, KY and Huntsville, AL to make sure everyone has access and can participate in the process.
Bottom line…if you are not part of the solution, you may be part of the problem. Be there. Get involved. Contribute to the discussion and join the conversation 29-31 March 2015 in Nashville. You won't be disappointed.
BG Howard W. Yellen, Ret.
31st President, AAAA
This email address is being protected from spambots. You need JavaScript enabled to view it.