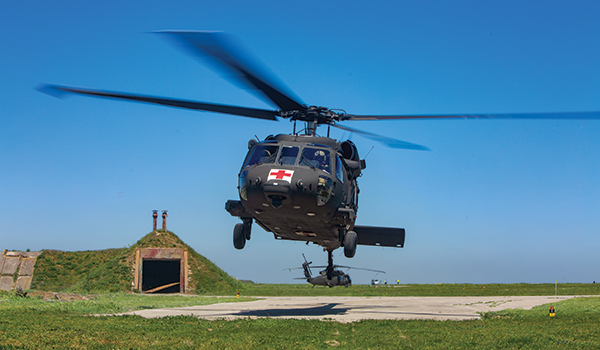 By COL Michael F. Breslin: Over the past 17 years, Army Medicine has achieved unmatched survivability rates for Soldiers wounded on the battlefield. Army aeromedical evacuation has been an essential element of this success – speeding our wounded to medical treatment facilities and providing essential, lifesaving care enroute. The aeromedical evacuation force tailored itself to the operational environments of Afghanistan, Iraq, and elsewhere; evolving doctrine (tactics, techniques, and procedures), organizations, training, materiel, leader development, personnel, and even policy (the 1-Hour Standard) to provide optimum results under the existing battlefield conditions. As we look to the projected future operating environment (OE) and focus on large-scale combat operations (LSCO) against peer/near-peer adversaries as the 'design point' for the force, we must remember the lessons of the last 17 years, but we must not be locked into them. We must recognize that the conditions in an LSCO contingency will likely be distinctly different than those of recent experience.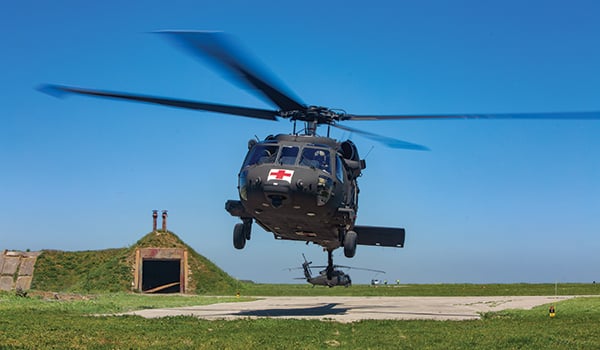 A U.S. Marine is hoisted during medical evacuation (MEDEVAC) drills while conducting a joint training exercise with the U.S. Army's 2nd Platoon,
Charlie Company "Witchdoctors" 2-227th Aviation Regiment at Mihail Kogalniceanu Air Base, Romania, May 01, 2018. / PHOTOS U.S. ARMY PHOTO BY CPL ALEXANDER STURDIVANT
LSCO Unique Challenges
Unquestionably, the scope, scale, and tempo of casualties will be significantly greater than what were experienced in Afghanistan and Iraq. Threat targeting and long-range fires capabilities will likely preclude the use of fixed bases (i.e., forward operating bases (FOBs)), limit forward positioning of aircraft, and even necessitate frequent survivability moves. Advanced and integrated air defenses will limit (but not eliminate) the 'freedom of action' of the aeromedical evacuation force, particularly early in a campaign. Under emerging multi-domain operations concepts, operational distances will increase and units will have greater potential for isolated, semi-independent operations. All of these factors will bring unique challenges to the Army's aeromedical evacuation force, and the Medical Evacuation Proponency Division – in coordination with agencies across the Aviation and Medical Evacuation 'Enterprises' – is focused on addressing them.
Critical Care Flight Paramedic
As we look out over the next few decades, it is clear that the Army's aeromedical evacuation force will be a blend of the current force augmented with a selection of modernized capabilities. One of the adaptations to current operations that is unquestionably worthy of carrying on into the future is the Critical Care Flight Paramedic (CCFP), MOS 68WF2. These highly skilled medical professionals bring a vastly improved dimension of enroute care capability to the air ambulance which has already had demonstrated effect on reducing mortality and morbidity in evacuating our wounded Soldiers. While the Army is still building the 68WF2 population (currently about 62% in aggregate), this spring the active duty component achieved its critical population target and the Army National Guard and U.S. Army Reserve remain on track for completing their population builds by FY24. To ensure we get the most out of the CCFP's expanded skillset, MEPD and the Aeromedical Evacuation Enterprise are pursuing two complementary efforts. The first is a 'task saturation' study to determine the 'capacity' of the CCFP in terms of the number of patients that can be treated simultaneously. It will also provide insight into which medical tasks may provide a 'high payoff' for technology investment to augment CCFP treatment capacity. Led by the United States Army Aeromedical Research Lab (USAARL), this study is in its final stage and will be completed before the end of FY18. In parallel, we are conducting a study to optimize the composition and configuration/storage of the air ambulance medical equipment set (MES) to better leverage CCFP capabilities. This effort will culminate with the Health Readiness Center of Excellence's triennial review and update of the air ambulance MES in SEP 18.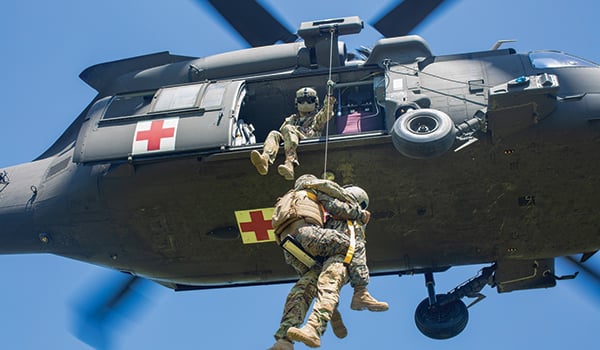 U.S. Army HH-60M MEDEVAC Black Hawk helicopter pilots perform medical evacuation (MEDEVAC) drills during a joint training exercise.
Capability Enhancements
The UH/HH-60 Black Hawk is a combat-proven aircraft with an unprecedented record for the safe evacuation of thousands of Soldiers over the last 17 years of war. With the ongoing fielding of the HH-60M and conversion of UH-60Ls to UH-60Vs, the Black Hawk will remain an essential component of the aeromedical evacuation fleets for decades to come. To remain relevant as a premier MEDEVAC platform, it is imperative that we continue to upgrade the platform and its MEDEVAC mission equipment. One notable effort in this arena is an upgrade of the HH-60M's Medical Interior, which will make it more flexible and modular and give the commander options to best balance weight savings, patient handling capacity, and the space required to effectively treat patients. The team at PD MEDEVAC is leading this effort and is working closely with industry to produce this upgrade. The goal is to have prototypes fielded for assessment by the end of FY20, with full production to follow.
One of the most challenging aspects of the Army aeromedical evacuation mission is operating in degraded visual environments (DVE). Routinely crews operate in low-illumination, low-visibility conditions and land to expedient LZs where the potential for blowing dust, sand, or snow is high. Every second is crucial to the patient's survival and any misstep can prove fatal to the crew and patient. To enhance our ability to operate in DVE, PD MEDEVAC has teamed up with the PM Aviation Systems (PM AS), AMRDEC and TRADOC Capability Manager-Lift to field a system that will provide 'see through' imagery on the pilot's Multi-Function Display (MFD) to provide increased situational awareness during DVE. Non-recurring engineering (NRE) is ongoing. The decision to proceed to production and fielding is scheduled in 3rd QTR FY19. Assuming the system performs well and the Army decides to procure it, 15 systems will be fielded to a unit by the end of FY20.
Despite the resounding success of the Black Hawk, the battlefields of the future will, at times, require a platform that can cover greater distances between combat formations and medical treatment facilities and still meet the 1-hour evacuation standard. There is a clear case for a Future Vertical Lift (FVL) aircraft with a MEDEVAC MEP to meet these challenges in the future OE. The Army Medical Department has been engaged with the FVL effort since its inception, and MEPD will work closely with the FVL Cross Functional Team (CFT) to get this capability to the force.
While materiel improvements are important, it is essential that we have leaders that understand the dynamics of LSCO in the future OE and can plan and synchronize operations accordingly. Trends reported from the combat training centers indicate that the ability to plan and synchronize air and ground evacuation (both MEDEVAC and CASEVAC) – and to integrate evacuation effectively with the rest of the scheme of health support on a fluid and mobile battlefield – has atrophied. We have grown too accustomed to relatively static operations supported from fixed bases and have become overly dependent upon evacuation by air ambulance. At the tactical unit level, this means re-emphasizing the full range of medical evacuation doctrine to our junior leaders in professional military education courses and unit training. At the operational and strategic levels, 17 positions have been identified where Aeromedical Evacuation Officers (67Js) can best serve to train, plan, synchronize, and resource medical evacuation operations. These positions have been validated and are awaiting resourcing decisions prior to being filled.
As with the rest of the Army and Army Aviation, this is a critical juncture for Army MEDEVAC. I am certain, however, that the passion, competence and dedication of our Soldiers together with the support from both Aviation and Medical senior leaders will continue to ensure success in the years to come.
COL Michael F. Breslin is the chief of the Medical Evacuation Proponency Division (MEPD), Capabilities Development and Integration Division, Health Readiness Center of Excellence located at Fort Rucker, AL.