President's Cockpit / By BG E.J. Sinclair, Ret.:We are right in the middle of our Fall busy season and the Christmas holidays are quickly approaching.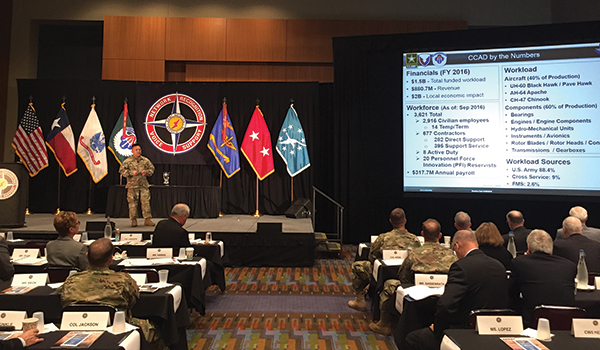 COL Allan H. Lanceta, commander of Corpus Christi Army Depot, addresses the opening session of the 12th Annual AAAA Luther G. Jones Aviation Sustainment Forum Oct. 19, 2016 in Corpus Christi, Texas. / AAPI PHOTO BY BILL HARRIS
Last month featured the AAAA National Executive Board and Scholarship Board meetings during the AUSA Annual Meeting in Washington, DC and the Senior Executive Associates led by GEN Jack Keane also in DC. We also held the Luther Jones Forum at Corpus Christi Army Depot, TX on "Finding Solutions for Readiness Cost Drivers" as well as an onsite in progress review (IPR) in Nashville, TN for the April 2017 Summit. This month we are all about the Aircraft Survivability Equipment Symposium, and the Joseph P. Cribbins Aviation Product Symposium in Huntsville, AL which will actually take place after this column is written.
What does all this have in common? Making sure your Voice is heard by folks who can make a difference. Whether you are a Department of the Army Civilian who is on the line at Corpus Christi Army Depot (CCAD) looking for the latest training on advanced composites, or a battalion commander with questions on split-based operations, to the 160th Special Operations Aviation Regiment NCO briefing on how to track individual enlisted specific skills and last task accomplished to make sure that the right team is at the right place at the right time to ensure your aircraft is up, AAAA is there to provide the platform for these discussions. All of the above issues were specifically surfaced at the Luther Jones event alone.
At the strategic level, we had the Senior Executive Associates meet in DC at the Army Navy Club on October 12. What a great discussion ensued with current outstanding Army leaders like LTG Kevin Mangum, and Aviation Branch Chief, MG Bill Gayler with our aviator and non-aviator retired leaders like GEN Jack Keane, GEN Butch Saint, GEN J.D. Thurman, LTG Joe D. Francisco and others. One clear message is that we are back to the future with concerns on conventional deterrence on the plains of Europe. There is no doubt U.S. Army Aviation is the finest in the world. After fifteen years of proven combat skills, the question is "are we truly prepared to fight full divisions and corps anymore?" That is a tough and very expensive question.
In fact, the recurring theme through all these events is money. From total Army end-strength, to lack of flying hours and equipment, it all comes down to money. We must all make the case, whenever and wherever we can, that defense is expensive, and good defense is very expensive. Our deterrence of potential aggressors depends on our presenting a very credible integrated and interoperable capability. At some point we actually have to do less when there are less resources. Our adversaries are watching.
We all work hard to be as efficient as possible, but there is a limit. You, the Branch, our Army, and indeed DoD needs more money in order to provide deterrence. Let's all work together to make sure the senior civilian leadership in our government is aware of these realities.
Finally, there is also much to be thankful for as we celebrate Thanksgiving this month. Always remember our Brothers and Sisters who cannot be with us and their families during deployment. Your unwavering dedication, innovation, and patriotism guarantee the freedoms we all enjoy today. We at AAAA are grateful for all of you, Active Duty, National Guard, Reserves, DACs, retired, industry and civilian supporters, who make up our great Army Aviation community. Thank you all very much.
BG E.J. Sinclair, Ret.
32nd President, AAAA
This email address is being protected from spambots. You need JavaScript enabled to view it.