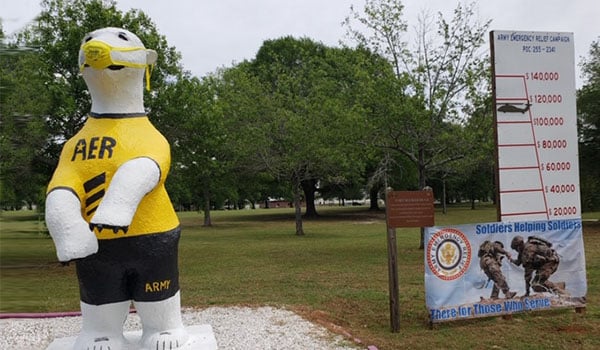 Family Forum / By Judy Konitzer, MG (Ret.) Jeff & Patty Schlosser, Park City, UT: We decided to adopt a puppy since we are home and not traveling!!!! He keeps us very busy and laughing!! Also, I never thought I would clean so much. Although our ski season was cut short, we continue to go snowshoeing and hiking in the great outdoors—social distancing at its best!
SGT Ted E. Bear, a Fort Rucker landmark, wears his AER inspired face mask while he tallies progress made in raising funds for this year's AER campaign – Stop the Spread / PHOTO BY BETH GUNTER, FORT RUCKER ARMY COMMUNITY SERVICE
COL Rich Melnyk, West Point, NY: The cadets were already on Spring break when the pandemic started… so Academy leadership made the decision to leave the cadets at home and continue academics remotely…….Using webcams, microphones and Microsoft Teams the chapter, Aviation staff and faculty remain dedicated to ensuring that West Point provides high quality, well prepared Lieutenants to the branch every year. Full article is at armyaviationmagazine.com
MG (Ret.) Lou & Connie Hennies, Ozark, AL: We recently downsized and kept busy working around the house finishing off jobs and continuing to get rid of extra items. We have tried to be good neighbors and are texting to help whatever they might need and provide some conversation that way. Never would have imagined this kind of situation in our lives or in our country. But we are proud of how everyone has worked together to be supportive. We will get through this with God's Grace and our Faith.
COL (Ret.) Kevin Vizzarri, Oveido, FL: Most homes here have a screened in patio and a swimming pool and many are rediscovering physical fitness. Bingeing shows are key for parents, while Xbox is king for the kids. Thank God for WiFi! Our chapter could not hold its regular gathering, but instead bought wings from our local restaurant where we have met for 25 years. Raytheon Technologies, April's sponsor, helped pass out hand sanitizers and 10 wings per member. We also took 120 wings to the local fire house. Within an hour we kept the 314 social streak alive, supported a local small business, and showed appreciation to some first responders.
BG(Ret.) Howard and Susan Yellen, Gallatin, TN: Probably the most time we have stayed in close-proximity for a prolonged period of time. Truth be told, it is probably true for many of us. One project was to digitize all our 35mm slides, a laborious process which brought back tons of memories. We are catching up on several movies and TV series and spending time together in the kitchen-not great for the waistline!
CPT Benjamin Burk, 2-158 AHB, 16th CAB, Joint Base Lewis McChord, WA: Stay-at-home directives and minimum manning have allowed Soldiers and families time to take a knee and reconnect in a multitude of ways. With some family members temporarily out of work and children at home for the remainder of the school year, Soldiers have risen to meet the challenge assuming additional roles. And to absorb the fresh Pacific Northwest air, many built backyard gardens, decks, and fences. For those without green thumbs or backyard DIY skills, we have witnessed a significant increase in anaerobic activities. Another way to pass the time and entice our Soldiers to improve their health was our battalion establishing a fitness challenge that included running, biking, hiking, and walking. Participation has been tremendous with several Soldiers eclipsing 100 miles in less than 2 weeks. While COVID-19 may not resolve quickly, Soldiers and their families will continue to remain resilient and stronger than ever before.
COL (Ret.) Greg & Val Gass, Knoxville, TN: It's been awesome spending time together in our home with little to no outside commitments. We've done jigsaw puzzles, enjoyed yard work, finished some organization projects, and are thankful for Zoom, FaceTime and House Party which have enabled us to spend more time with friends and family than we probably would have before the Coronavirus. Our church has an excellent online ministry, and we support our locally owned restaurants through their convenient delivery and carry out options. We have become experts at navigating Costco, Walmart, etc. and if this is something we need to do to stay safe, and keep others safe, we can comply and will probably be better for it when it's all over.
LTC Christopher and Wendy Buck, GA ARNG, Atlanta, GA: Since shelter-in-place orders, my family has transitioned to doing almost all things at home-school, sports, playing with just our immediate neighbor's kids. This has made us change the way we go about our day-to-day lives, both good and bad. One positive has been more quality family time.
COL Dave Zimmerman, Clinic Commander, HI: Soldiers assigned to the 25th Infantry Division at Schofield Barracks have witnessed firsthand what it's like to be in paradise but be restricted to their homes. The Governor issued a mandatory stay at home order in early March, and emergency proclamations closed most local businesses, restaurants, and beaches. The way our Soldiers and families receive healthcare has also been drastically changed. At the Desmond Doss Health Clinic at Schofield, over 90% of appointments are accomplished virtually, with prescriptions being picked up at a drive-thru pharmacy. This method is convenient and limits the exposure between patients and staff.
Judy Konitzer is the family forum editor for ARMY AVIATION; questions and suggestions can be directed to her at This email address is being protected from spambots. You need JavaScript enabled to view it..">This email address is being protected from spambots. You need JavaScript enabled to view it..