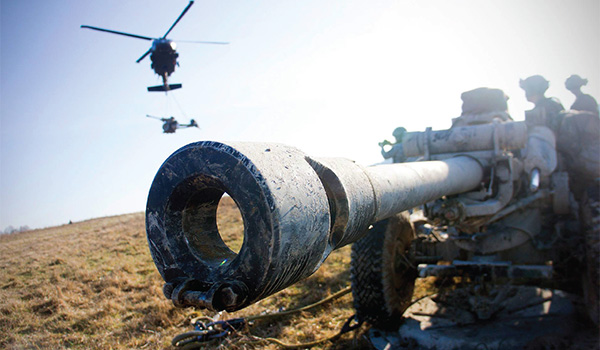 By LTG Kevin W. Mangum, CW5 (Ret.) Michael L. Reese, and SGM James H. Thomson: Sustained armed conflict defines the American society's perception of the United States military, specifically the Global War on Terrorism and the last decade and a half of operations underscored by Afghanistan and Iraq.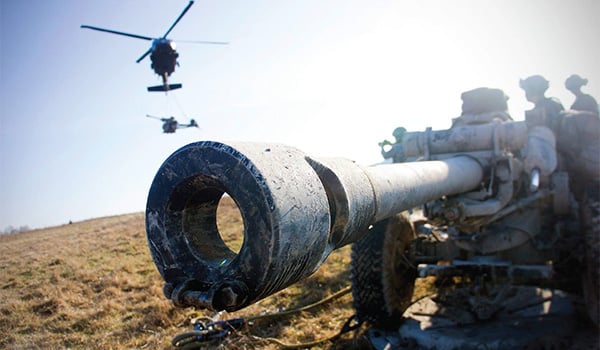 Soldiers assigned to 173d Airborne Brigade conduct sling load operations with UH-60 helicopters from 1st Air Cavalry Brigade, 1st Cavalry Division; part of an artillery raid during Exercise Allied Sport IV at the 7th Army Joint Multinational Training Command's (JMTC) Joint Multinational Readiness Center (JMRC) in Hohenfels, Germany, Jan. 26, 2016. / U.S. ARMY PHOTO BY SSG OPAL VAUGHN
Army Aviation supports the Ground Commander, across the expanse of the spectrum of conflict, from crisis response to major operations and campaigns. This spectrum becomes more complex as near peer adversaries, who have been watching and evolving from the periphery, emerge on the horizon as a future threat. On the home front, Army Aviation is confronted with a similar spectrum of conflict dealing with budgets, personnel, airframes, modernization, futures and policy. Regardless of the challenges presented to Army Aviation on the battlefield of foreign lands or the budgetary arena, our decisions and focus never waver from our commitment to support the Soldier on the ground.
Army Aviation 2013 Through Today
From any perspective, the Army and Army Aviation rarely stay in one place for too long. Whether that is a tactical location, structural design, doctrinal application or the weapon systems from which it engages the enemy, the Army is always on the move. Army Aviation is no different and one needs only to look at the transformation that has taken place since 2013.
Combat operations in support of Operation Iraqi Freedom have ceased. Operation Freedom Sentinel, formerly Operation Enduring Freedom, has changed in scope and structure. Force Manning Levels began dictating size, shape and training of Army units as they deployed into the theater of operation. Operation Inherent Resolve began the summer of 2014 with conventional Army Aviation in conjunction with special operations deploying back into the Iraqi landscape. New operational and strategic requirements intending to defeat the Islamic State of Iraq and Syria consisted of partnership through planning, training, advising and occasionally kinetic operations. All the while, units at home station continue to design systems, tactics, techniques and procedures to best defeat the asymmetric threat that consumed our mindset over the past sixteen years.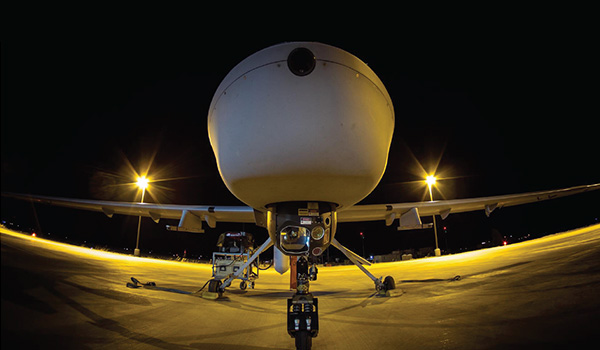 An Army MQ-1C Gray Eagle sits on a ramp at Fort Huachuca, AZ, in preparation for flight. / U.S. ARMY PHOTO
Moreover, Army Aviation was called upon to support disaster relief missions including Haiti and Louisiana following Hurricane Matthew to provide assistance to flood victims after torrential rains submerged thousands of homes. The diversity in airframes, systems and training along with the proficiency in both leadership of Soldiers and the systems from which we operate allows Army Aviation to support the depth and breadth of missions from which it is charged.
The path through the Army Combat Training Centers (CTC) is also a point of reference to witness the current and projected future of Army Aviation. Until recently (2013-2015) the CTC experience largely served as a mission readiness exercise. We conducted training to support the ground commander in preparation for a specific asymmetric threat in a known environment. Team proficiency in attack, lift, assault, or reconnaissance was the capstone. Battalion sustainment readiness to support 24 hour continuous team coverage was mission success. Twenty-four or thirty aircraft to make teams of two was the standard. Today, those organizations experiencing a CTC rotation are undergoing a reawakening in the form of the Decisive Action Training Environment (DATE). Change is upon us!
As Army Aviation takes a long hard look in the mirror it acknowledges, just like the "Emperor with no clothes," that we might be missing or need to revitalize key components within the Branch. The DATE is the focus of that revitalization. CTC rotations are now centered on the "re- greening" of simultaneous combinations of offense, defense and stability in both size and scope supporting a ground commander; all the while maintaining the asymmetric proficiency that was forged over the past sixteen years. This is an Army learning curve, steep for some. Today one must be able to project Army Aviation combat power to the decisive point on the battlefield to shape future operations, to influence current operations, to capitalize on the initiative or all of the above simultaneously. Execution requires the massing of combat power in the form of aviation platoons, companies and possibly the battalion. Training, planning and sustainment must now come in line to support the Decisive Action (DA) fight. The Army's movement towards objective training metrics, commonly known as Objective T, for reporting organizational readiness at company, battalion and brigade echelons places a renewed emphasis on unit training management and the effective utilization of flying hour program resources. Most importantly, we must ensure an honest and true assessment of the commanders' overall organizational readiness moments to support the needs of our ground commanders at a moment's notice when and where called upon.
Sustaining Capability Throughout an Ever-Changing Landscape
Sir Winston Churchill said it best, "Gentlemen, we have run out of money; now we have to think." Though not unprecedented, policy adjustments, resource challenges, and "wicked problems" dotted the Army landscape since 2013. As a consumer of approximately one quarter of the Department of the Army equipping budget, Army Aviation is silhouetted against a backdrop of the Budget Control Act (BCA or Sequestration). Faced with significant budget cuts, senior Army leaders met with tough decisions to reduce modernization accounts in order to resource current force readiness and preserve development of the future force. In March 2013, General Odierno [Army Chief of Staff] asked, "how much aviation do we need?"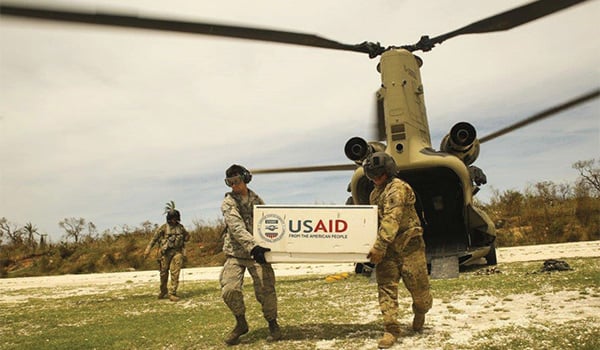 U.S. service members with Joint Task Force Matthew unload supplies from a CH-47 Chinook helicopter at a landing zone in Jeremie, Haiti, Oct. 9, 2016. / U.S. MARINE CORPS PHOTO BY CPL SAMUEL GUERRA
After extensive analysis based on historical demand, existing war plans and future force requirements, Army Aviation leadership determined a force of 15 combat aviation brigades (CAB) was required to meet the Army's current and future demands. Based on the fiscal landscape and the inability to afford growing our capability, Army leadership asked us to instead look at how much aviation could we afford? That question led to a campaign plan known as the Aviation Restructure Initiative.
The focus of restructuring was to ensure "aviation paid its own way," using existing assets, maintaining modernization programs, reorganizing into formations that provided more capability and capacity, maintained readiness for combatant and ground force commanders while saving or avoiding over $12 billion for the Army. This momentous effort included collaboration and coordination across the Aviation Enterprise from Army Commands, to Army Service Component Commands to Direct Reporting Units. Every Soldier, piece of aviation equipment and structure were touched by this endeavor. In its most basic form, Army Aviation divests our oldest airframes while completing modularity of aviation force structure through CAB and ECAB [Expeditionary] design modification. These difficult decisions allowed Army Aviation to retain ALL modernized platforms. Another key aspect of the plan was to divest the TH-67 training helicopter fleet at Fort Rucker, Alabama and replace them with the repurposed and modern UH-72. Currently, the National Commission on the Future of the Army report, published January 28, 2016 speaks to recommended adjustments in the restructuring initiative. The commission recommends: the retention of an 11th CAB, the retention of four attack reconnaissance battalions, each equipped with 18 AH-64D aircraft, in the Army National Guard (resulting in 8 x ECAB and 2 x CAB in the National Guard), and an increase in the quantity of UH-72 aircraft to support the training base.
While modifications were made to the initial plan, the original intent of organizing Army Aviation to provide optimal capacity for Soldiers on the ground remains intact. We anticipated significant churn in the force based on such a major reorganization (expecting considerable friction in FY16), but the Army and the Aviation Enterprise underestimated the magnitude of the impact of retraining aviators, reorganizing formations, moving, and divesting aircraft.
Because of the turbulence experienced in all facets of Army Aviation and some of which was felt by commanders on the ground, Army leadership began to take notice. In January, 2016, the Chief of Staff of the Army, General Mark Milley directed a comprehensive review of Army Aviation. As a result, the Army established the Holistic Aviation Assessment Task Force (HAATF) to conduct a review of Army Aviation in totality focusing on leadership, readiness, training, maintenance, sustainment, policy, and resources. The HAATF was comprised of 34 subject matter experts from across Army Aviation, researchers from RAND Corporation, and three senior consultants with extensive aviation experience. After four months of research and analysis, the HAATF made 63 detailed recommendations to improve the health of Army Aviation and regain decisive action readiness.
Approved by the Chief of Staff of the Army and endorsed by the Secretary of the Army, Honorable Eric Fanning, the 63 HAATF recommendations focus on regaining core competencies, total force employment, operating at best value, optimizing for the future fight, maximizing potential of unmanned aircraft systems (UAS), aviation soldier career management, and governance of the aviation enterprise.
Recognizing the atrophied core competencies, many of the recommendations emphasize the importance of "flying and fixing," as they relate to training, which in turn translate to readiness and therefore focus on doctrine, systems and processes, and development of aviation professionals. Other proposals concentrate on Aviation's total cost of operation and improving our ability to see ourselves clearly to best resource, manage, and execute the flying hour program; allowing commanders to generate combat power through training and sustainment. Additionally, the HAATF made recommendations to optimize Army Aviation's ability to operate anytime, anywhere, and against any threat under any conditions. Lastly, several recommendations called for significant investment in the development of Army Aviation professionals to enhance their training, education, and experience thereby producing the most technically and tactically qualified aviation leaders with a continued commitment to honor the sacred trust with commanders and Soldiers on the ground now and in the future. These recommendations will go a long way to repair the "wear and tear" on the aviation total force and synchronize future investments in reach, protection, and lethality at the objective and the execution of multi-domain battle with the Army of 2025 and beyond.
Future Systems – Balancing Modernization and the Future Force
As the Army begins a significant shift in culture and training from an almost pure asymmetric construct towards a balanced force approach based upon the DATE across the full spectrum of conflict, the present operational demand for Army Aviation remains high. While we have witnessed a reduction in the gross number of aviation assets deployed to combat since 2013 we simultaneously experienced a substantial decline in available force structure. Conversely, our current policy and strategy demand the retention of a strong presence in Afghanistan, Kuwait, Europe, Africa, Central America, South America, and the Pacific. In preparation for operations across the globe, we must execute continuous rotations at our CTCs and support home station training of the Army's primary combat organization, the brigade combat team. Let us not forget the CABs' own collective readiness training requirements. Regardless of conditions, Army Aviation's unwavering support to our ground forces remains constant. The stress placed upon our formations, on both aircraft and personnel has not gone unnoticed. We must continue to assess and balance the competing demands of training, operations and modernization as we look to the future.
Aviation provides our Army and Nation an unmatched asymmetric capability that if not properly nurtured and resourced could be lost. As we look to the future, emerging and evolving threats require that sharpened focus upon DA environments, capabilities, and readiness. Significant effort is necessary to maintain the asymmetric overmatch we as Army Aviation have come to rely on and will need in future conflicts. In order for aviation to remain an integral and relevant player in multi-domain battle, the course has many potential routes and dead ends. As a profession, we know that at a minimum, it is necessary to invest in the technology (manned and unmanned) and leadership of tomorrow (flying, fixing and resourcing) if we are to fight and win in a complex world.
We face enemies armed with an array of technology-enabled threats from a variety of actors: state, non-state, near-peer, regional and transnational. Over the past two decades our adversaries have been "going to school" on how our Nation and Army fights focusing on anti-access and area denial, the use of readily available and inexpensive proliferated 21st century technology, and improvements in cyber, air defense and electronic warfare capabilities. We need to invest in countering these current and emerging threats and do so now!
One example, Future Vertical Lift (FVL) provides the Army and Army Aviation an opportunity to invest in a capability that will provide the speed, range, payload, maneuverability and survivability at the objective necessary to defeat emerging and future threats. It is apparent that the advanced technologies our adversaries are fielding, and those we expect them to field in the future, requires immediate attention. The purpose of aircraft survivability equipment and degraded visual environment countermeasures are to ensure aviation can operate anywhere, under any conditions, and against any enemy. We must also harden our systems to reduce our vulnerability to disruption from cyber operations. Significant investment is also necessary to provide the lethality required to defeat advances in active protection and air defense systems. As a result, we see a critical and compelling need for long-range, precision weapons in the near term. The FVL- light version (Capability Set 1) has potential to fill the critical scout/reconnaissance gap left by the divestment of the Kiowa Warrior, while a medium variant (known as Capability Set 3) meets the needs of future attack and assault requirements. A balance must be struck between the operational risk assumed in today's environment to develop and acquire such systems and the need for modernization of current systems. Balancing of the aviation portfolio cannot go underestimated or ignored. Leaders will need to make difficult decisions and communicate the risk they assume with both the Soldiers operating the equipment, the leadership developing the campaign plans and the civilian policy makers the Army serves.
UAS is another arm in the current and future aviation fight. They too must be able to operate anywhere, anytime, and against any foe. As UAS become increasingly important in doctrine and tactical execution, we must balance the modernization of the MQ-1C Gray Eagle and the RQ-7B Shadow with the need for UAS systems of the future. Whether embedded in CAB Tables of Organization and Equipment, as part of a BCT structure, or independent as logistical movement capability, we must continue to mature our current systems and look to new undeveloped possibilities. There is no doubt that aviation professionals (operating manned and unmanned systems) will develop new and novel ways to team and employ the mutually supporting capabilities of their systems. UAS will allow aviation formations to cover extended areas of the battlefield while providing increased reconnaissance and security. Manned and unmanned teams will also allow us to improve survivability of manned systems, increase lethality and range of our formations, "thicken" the intelligence picture with an array of sensors, extend the reach of possible networks, and provide enhanced sustainment and resupply capacity to touch on just a few.
Finally, providing world-class training and education to Soldiers and leaders will continue to be a critical element to leveraging the immense capability aviation offers. As the old saying goes, "we train for certainty and educate for uncertainty." We MUST continue to provide world-class training to our Soldiers, crews and leaders on the intricacies of their equipment; but that is only the first step. Training them to employ that capability in demanding and unforgiving environments against realistic integrated air defenses and electronic warfare systems is just one example critical to mastering the tactics, techniques and procedures needed to contribute as a partner in the air-ground combined arms maneuver fight. We also need to train our ground maneuver commanders to fully leverage the entire range of capability aviation brings to their formations; well beyond the emergency, "911," troops in contact technique they have grown accustomed to over the past decade and a half. As the complexity of the operating environment increases and intensifies, we must continually dial up the complexity of our own leader education on the nature of current and possible future warfare. We must do so to provide our Soldiers the skills to adapt and solve the problems presented by the unknown and unknowable nature of war. We need agile and adaptive leaders to solve the vexing problems that inevitably face our Nation.
Our Enduring Aviation Branch Commitment
Army Aviation and its leaders must acknowledge, accept and embrace the challenges placed before us. The Aviation Enterprise must learn from the challenges of our past, understand the friction before us and prepare for the future we have yet to imagine. Our decisions as a Branch must never waver from the commitment made to America's sons and daughters both those in the air and on the ground. Across the broad range of missions – attack, lift, assault, or reconnaissance – Army Aviation must retain and continuously earn that sacred trust.
That is why we exist!
LTG Kevin W. Mangum is a former aviation branch chief, the deputy commanding general and chief of staff of the U.S. Army Training and Doctrine Command (TRADOC); together with SGM James H. Thompson, former Aviation Branch Command Sergeant Major, he lead the Chief of Staff Army's Holistic Aviation Assessment Task Force. CW5 (Ret.) Michael L. Reese is a former Chief Warrant Officer of the Aviation Branch and served as a senior consultant to the HAATF.