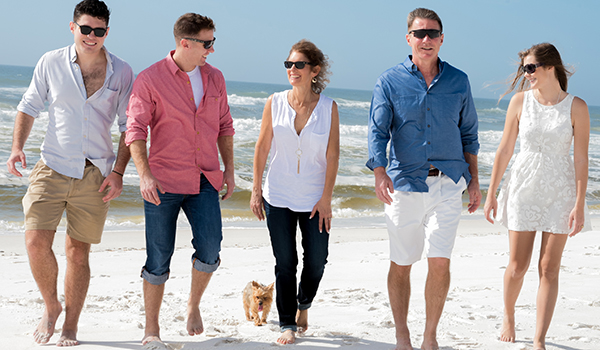 AAAA Family Forum / By Judy Konitzer and Maria McConville: There was a wonderful opportunity to open a dialogue with the professional spouse panelists this year at the AAAA summit, but for those who were not able to attend Maria McConville's "Living Life In Balance" presentation, I offer the following highlights.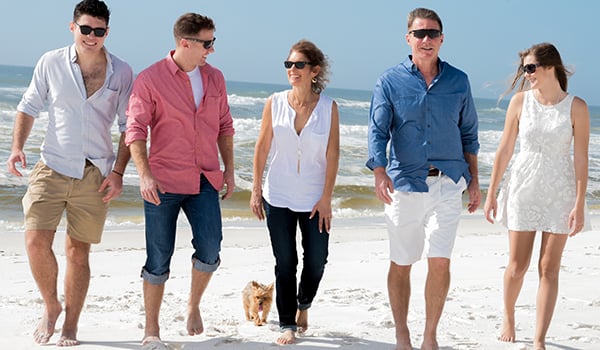 Maria and family enjoy a walk along the beach. / PHOTOS COURTESY OF MARIA MCCONVILLE
Maria is a professional in her own right. She is a registered dietitian/nutritionist, personal trainer, health and wellness coach, the wife of LTG James McConville, U.S. Army Deputy Chief of Staff G-1, and the mother of three children – all serving in the Army. Maria shared that several years ago she found herself struggling with the obligations that many military spouses grapple with. She felt out of balance physically, mentally, and spiritually. She decided to embark on a journey to bring herself back into balance by living HER authentic life – one that honored her interests, purposes, and passions.
Admiration for People With Passion
She admired people who seemed to have a fierce passion about something; something they pursue with purposeful, unbridled, selfless energy. For example, Mother Teresa who, driven by passion, was fully contented living in self-induced poverty in order to provide for others. Or Nelson Mandela who was willing to be imprisoned for 27 years to defend his passion for abolishing apartheid. She quoted him, "There is no passion to be found playing small – in settling for a life that is less than the one you are capable of living." And also Eunice Kennedy Shriver whose passion inspired her to create Special Olympics to give people with disabilities the same opportunities and experiences as everyone else and accomplishing far more than anyone ever thought possible.
Living Joyfully to Keep Our Lives in Balance
Maria believes that "purpose" doesn't have to impact millions of people; it doesn't have to be different from what everyone else does or thinks; it doesn't have to garner world recognition, but it has to be authentic. Living authentically helps us live in balance. She also believes that we need to identify and invest our mind, body and soul into someone or something joyful. Things like being on a beach and experiencing the awesome beauty of the sunset, energizing the body with nourishing habits, connecting with others, and being the best wife and mother she knows how to be. These things bring her joy.
She asked us to write down some things that brought us joy and then to reflect on them. It was a nice experience as things flowed to paper that I personally had not dwelled on but obviously brought me joy in life. I think others in the room had the same experience. Maria explained that the first step in finding better balance and authenticity stems from envisioning what we really want from ourselves. She had us picture ourselves at our optimum health and wellbeing at some time in the near future and identify how we would act, whom we would be with, what we would be doing, and which health habits would be part of our lives. Once we saw that vision, we could construct a plan to achieve that vision through goal setting.
Becoming the "Victor" and Achieving Our Goals
Making New Year's resolutions is far different from setting goals. Resolutions imply doing something that we feel we should change. Sometimes it is wishing or hoping for change and these resolutions are made out of guilt, envy, or the feeling that we should be behaving differently. They are vague and sometimes come with no real plan. Setting goals, however, is something that is specific and measurable and can be broken down into smaller steps that allow for an action plan, versus just a hope for things to be or go better. If there is something that a person really wants to change, there has to be a plan to achieve that goal and a time frame to keep moving in that direction.
Sometimes it is the baby-steps that lead to achieving our goals. The all-encompassing goal of say losing ten pounds becomes achievable when we say, "I will walk an extra few steps or skip the dessert, or just eat better" versus "I can't exercise because I have a stressful job, or I am too busy, or I have to drive my children to their activities," or a host of other excuses.
Maria encouraged us to be the "Victor" and feel strong, powerful, and confident, versus the "Victim" who is powerless, has no control, or is overwhelmed. If we orient ourselves to begin taking responsibility for our thoughts, emotions, action and subsequently our circumstances, we become the "Victor." Maria's belief is that whether we become the Victim or Victor begins with our thoughts. This saying depicts the cornerstone of Maria's own journey and the platform of her coaching business:
Watch your thoughts, they become words;
Watch your words, they become actions;
Watch your actions, they become habits;
Watch your habits, they become your character;
Watch your character, it becomes your destiny." Author Unknown
For more information, go to Maria's website www.balancedbodynourishment.com.
Judy Konitzer is the family forum editor for ARMY AVIATION; questions and suggestions can be directed to her at This email address is being protected from spambots. You need JavaScript enabled to view it..">This email address is being protected from spambots. You need JavaScript enabled to view it..