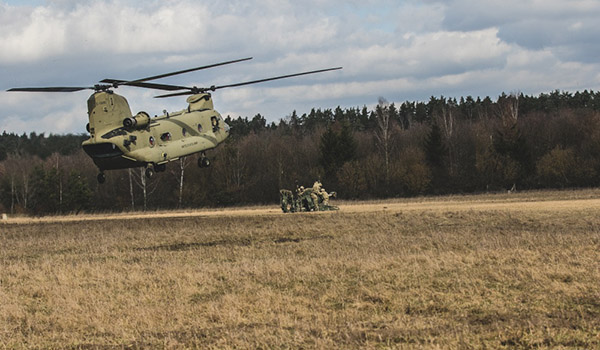 By Sgt. Patrick Jubrey, PAO NCOIC, 1st Combat Aviation Brigade, 1st Infantry Division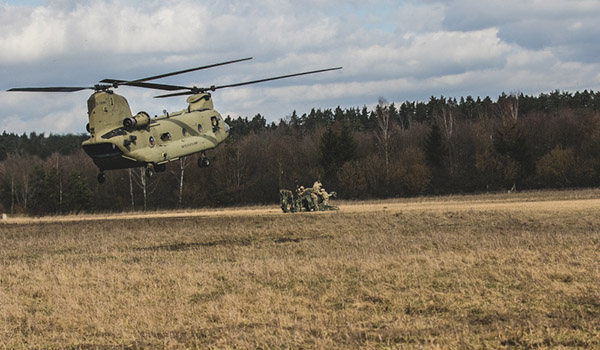 Photo By Sgt. Patrick Jubrey, 1cab, 1id, 2-1 gsab, big red one, atlantic resolve, strong europe, dynamic raid
Grafenwoehr Training Area, Germany – Soldiers from 2-1 General Support Aviation Battalion (GSAB), 1st Combat Aviation Brigade, 1st Infantry Division 'Fighting Eagles' took part in a training exercise called Dynamic Raid alongside the 2nd Calvary Regiment 'Dragoons' on 11 March 2019 thru 13 March 2019. The purpose of this training exercise was to support a ground unit conducting a M777 gun raid. The Fighting Eagles displayed their heavy lift capabilities with their CH47 Chinooks and their ability to complete insertions and airlift transportation of supplies with their UH60 Blackhawks. 
Over the course of this exercise, 5 UH-60 Blackhawks from 2-1 GSAB conducted scout insertions into various observation points, sling load operations, and aerial resupply missions in preparation for the culmination gun raid. Lt. Col. Khirsten Schwenn, Commander, 2-1 General Support Aviation Battalion, 1st Combat Aviation Brigade, 1st Infantry Division said, 'The Fighting Eagles have trained hard over the last 18 months to transition into a force most ready to fight near peer." 
A training exercise like this takes planning. Prior to the start of the mission, 2-1 GSAB integrated with 2nd Calvary Regiment for critical coordination and planning. The GSAB then established a Forward Arming and Refueling Point (also known as a FARP) and the Battalion Tactical Operations Center. 
Once the Blackhawks completed their mission, 6 of GSABs CH-47 Chinooks executed a gun raid. This included sling loading and forward positioning 5 M777 Ultralight-weight Field Howitzer artillery pieces and their associated crews. This enabled the 2nd Cavalry Regiment to quickly focus combat power prior to their Table 18 gunnery and Combined Live Fire exercise. 
"The Fighting Eagles will continue to seek out and develop tough and realistic training for our team while providing exceptional aviation support to the ground force" said Lt. Col. Schwenn. "We look forward to challenging missions in austere conditions where our
Aviators, controllers and supports will continue to grow as a team and exceed expectations!"
This exercise allowed 1st Combat Aviation Brigade and 2-1 GSAB to validate mission planning, command post operations, and increase proficiency in several mission essential tasks while training with a ground unit.