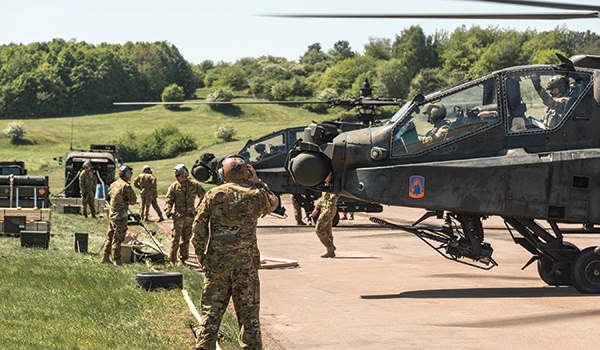 By CSM Brian N. Hauke: I will begin my first contribution to ARMYAVIATION Magazine by acknowledging and thanking Command Sergeant Major Greg Chambers for his 30 months of service to our branch as the United States Army Aviation Center of Excellence and Aviation Branch Command Sergeant Major.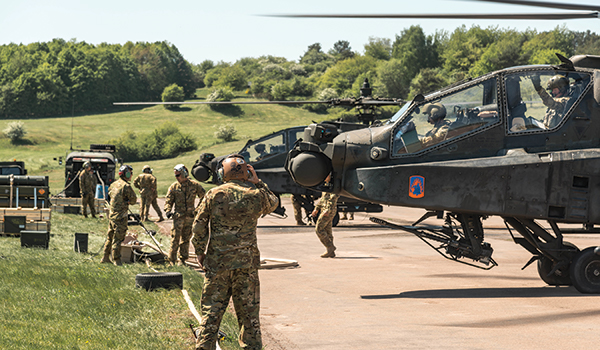 Armament and avionics maintainers with Task Force Viper, 1st Attack Reconnaissance Battalion, 12th Combat Aviation Brigade, prepare AH-64 Apache helicopters at the Baumholder Airfield, Baumholder Military Training Area, Germany, May 7-9, 2018. 
>Greg's dedicated service has made and will continue to have lasting impacts across our branch for years and years to come. Rest assured you've played a pivotal role. So from every Army Aviation Professional, Thank You! Above the Best!
As I assume my responsibilities as your 16th Aviation Branch Command Sergeant Major, I am both professionally and personally humbled and honored to serve our branch and you, its professionals. I am your (officers, warrant officers, noncommissioned officers, Soldiers and Army professionals) command sergeant major, and as such my door is always open to each of you. The truly phenomenal Aviation team not only at Fort Rucker but across the entirety of our Aviation Enterprise continues to show me the "ropes" daily. Thank you for all you and your families do each and every day to make this branch the absolute highest caliber war fighting branch in our Army!
Since the overall theme for the month is simulations and training, I decided sharing some of my thoughts with our warfighters with regard to integrating simulations into and across our training environment in order to best maximize training for resources available seemed appropriate.
The Army trains to win in a complex world (FM 7-0). As we move away from the counterinsurgency (COIN) operating/training environment of the last 17 years, we work towards regaining atrophied skills required for large scale combat operations (LSCO) against what will be a near peer adversary. Training is the most important thing we will do to prepare our Soldiers and aircrews for the uncertainties they will face in combat. Realistic, relevant, standards-based training is all any of our Soldiers expect, and as a leader it's inherently our responsibility to provide that training. How can you as a leader leverage all available training resources in order to best maximize the realism and relevancy?
Maximizing Training Time and Resources
As the current and future operating environment (OE) evolves, the challenges of time and resources can prove difficult for even the most experienced leader to overcome in training. Leaders at all levels must, (and I especially want to emphasis the word "must"), maximize training time and the resources available. In order to help accomplish this I would share for us to take a hard look at better leveraging training aids, devices, simulators, and simulations (TADSS) with a special emphasis on the simulations. As leaders we've all had to overcome the lack of resources at home station, whether perceived or actual. In most cases over the course of my career the simulation resources at home station or elsewhere have been a vastly underutilized resource. I'll cite the Non-Rated Crew Member Manned Module (NCMIII) or the Engagement Skills Trainer (EST) as an example of these simulation resources on a home station that may be underutilized, and while not every combat aviation brigade (CAB)/installation may have a NCMIII, most if not all installations have an EST at a unit's disposal. These are only two of the many simulation resources available to a leader. Trust me: in a LSCO with a near peer threat something as "simple" as basic rifle marksmanship will become extremely important very quickly.
It's All About The Reps!
It's really that simple – repetition and frequency build proficiency, competence, understanding and confidence of a required task. Regardless if that task is "engaging the enemy with your assigned weapon" or "conducting external loads in support of a ground force." Simulations are a cost effective solution to the varied resource constrained environment for our leaders allowing for maximum repetitions. For example, when every unit on an installation is competing for live fire ranges and we're unable for any number of reasons (weather, etc.) to conduct live external load training. Let's look to our simulation resources as a possible solution to better enable leveraging training to enhance building stronger proficiency.
Integration vs Replacement
Make no mistake about it – simulations are not a replacement for live training. There are some things that just can't be replicated in a simulated environment. That's a fact, or at least for now it's a fact. There's something to be said for actually putting bullets down range–the heat or cold, the stress, the control touch, etc. etc. Simulations are a phenomenal tool in a leader's kit bag and will continue to have a place in our training of Soldiers. By integrating simulations to provide the means to train, a leader can gain the repetitions needed to ensure we've optimized our team and individual performance that may just give us the advantage needed to fight and win on a future battlefield.
What requirements the future holds no one knows. With manned and unmanned teams and other revolutionary capabilities quickly becoming commonplace across the breadth and width of our maneuver space, there is one thing I am certain of, simulations will continue to play a pivotal role in how our Army trains Soldiers on an operational, institutional and self-development level. They replicate the operational environment while minimizing the use of finite resources, including aircraft, parts, fuel, ammunition, land, vehicles and time. This is critical to the continued success of Army Aviation in the future!
Thank you again for all each of you do every day for Army Aviation.
Above the Best!
CSM Hauke
This email address is being protected from spambots. You need JavaScript enabled to view it.
CSM Brian N. Hauke is the command sergeant major of the Aviation Branch and the U.S. Army Aviation Center of Excellence, Fort Rucker, AL.