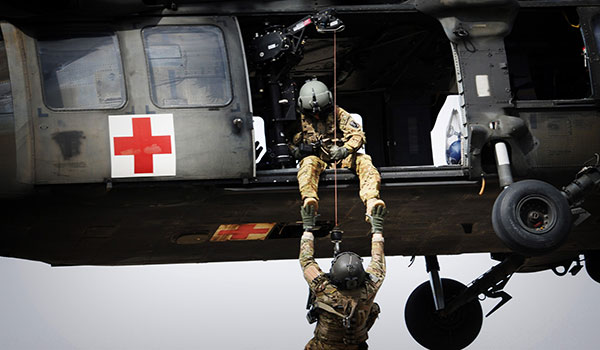 MEDEVAC Proponency / By COL Michael F. Breslin and Mr. Robert D. Mitchell: There is no question that the Army Air Ambulance fleet and its mission set have evolved into the best medical evacuation system with the most proficient aircrews in the world. This is due in large part to the management and synchronization between Army Aviation and the Army Medical Department. Numerous advancements are a direct result of more than 14 years of lessons learned in the Iraq and Afghanistan Theater of Operations. The Medical Evacuation Proponency Directorate (MEPD) at Fort Rucker, AL is aggressively coordinating multiple efforts across the full range of doctrine, organization, training, materiel, leadership and education, personnel, and facilities (DOTMLPF) solutions in conjunction with the U.S. Army Aviation Center of Excellence (USAACE), the Health Readiness Center of Excellence (HRCoE), and the Aeromedical Evacuation Enterprise. This article will address key lessons learned and the Way Ahead for the MEDEVAC fleet 2025 and beyond.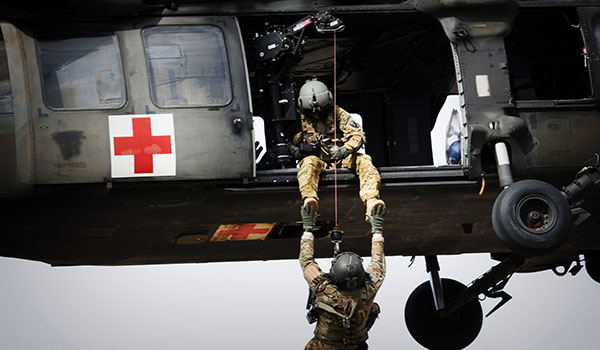 SGT Daniel Buzard of Petersburg, Alaska, reaches out to steady himself against U.S. Army SPC Mark Jordan of New Albany, MS, during medevac hoist training on Forward Operating Base Salerno, Afghanistan, May 9./U.S. ARMY PHOTO BY SGT DUNCAN BRENNAN
Lessons Learned
One of the most significant lessons learned over these last 14 years of combat operations has been the requirement to revamp our flight medic training in treating complex battle injuries. These complex battle injuries involve multiple amputations, severe blood loss, and brain trauma. After careful analysis of numerous lessons learned, the Army Medical Department (AMEDD) made a decision in 2011, to revamp the legacy flight medic training to the Critical Care Nationally Registered Paramedic (CC-NRP). The new CC-NRP training transitioned from a 4-week training program to a demanding and comprehensive 9-month training program, incorporating nationally registered standards that include 8-weeks of critical care training.
Another key lesson learned from treating complex battle injuries was the requirement for blood product transfusions during the evacuation process. In 2012, Army MEDEVAC aircraft began utilizing packaged red blood cells (pRBC) and thawed plasma in theater for complex battle injuries. MEPD was a key contributor in the development of the theater "Vampire" Standing Operating Procedures (SOP) for treating severely wounded individuals requiring damage control resuscitation, which was instrumental in improving the patient's chances for survival.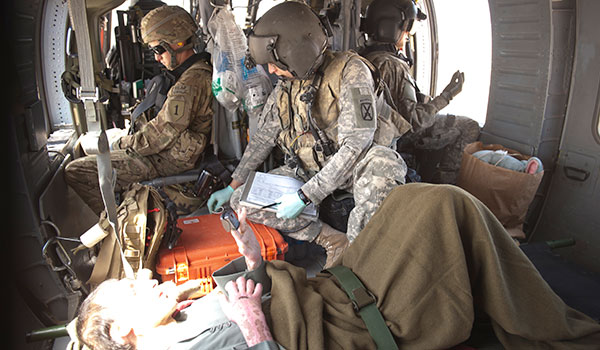 SPC Christian Hinrichsen, a flight medic with Company C "Mountain Dustoff," 3rd Battalion, 10th Aviation Regiment, Task Force Falcon, and native of Clovis, N.M., treats an Afghan burn patient during a patient transfer flight July 11./U.S. ARMY PHOTO BY PFC MICHAEL SY
Another significant lesson learned involved modifications of the medical interior of the newest production model of the MEDEVAC aircraft, the HH-60M, for operations in Afghanistan. Since 2009, when the first HH-60Ms arrived in country, commanders have had to overcome environmental challenges while balancing time sensitive mission execution in evacuating Urgent/Urgent Surgical patients to the first surgical intervention within one-hour (as directed by the Secretary of Defense). Commanders employed several options to include removing some (or all), of the medical interior (i.e., Patient Handling System (PHS), suction, Environmental Control System (ECS), Advanced Medical Oxygen Generating System (AMOGS). Carry-on substitutes were utilized in lieu of the removed equipment, but the current system needed to be reassessed for operational efficiencies.
Medical advancements have played a significant role in improvements for battlefield survival, but the aircraft medical interior has remained relatively static with only interim improvements since the production of the UH60Q in the mid-nineties. The combined pre-hospital capabilities of the CC-NRP and the ECCN have created new challenges. One of the key deficiencies of the PHS in both the legacy MEDEVAC fleet and the new HH-60M is the lack of vertical space between litters in executing the essential enroute critical care tasks. The last time an official study was done for vertical and lateral clearance was more than 29 years ago and was based on basic level medical tasks performed by a 91W (EMT-Basic skill set) versus the 68W (CC-NRP skill set):
To address this aforementioned issue, the U.S. Army Aeromedical Research Laboratory (USAARL) began a space study in 2013 that was eventually released in February 2015. This comprehensive report (Aeromedical Evacuation Enroute Critical Care Validation Study) re-validated the 21 inches lateral separation; however, the study dramatically increased the vertical separation from 20 inches to 28 inches. This additional 8 inches ensured that 93 percent of the CC-NRP tasks could be completed to standard. Additionally, 100 percent of the tasks could be completed to standard if the vertical separation increased to 37 inches. Currently, none of the four air ambulance models (UH-60A/L, HH-60L/M) can meet this requirement in a greater than a two-litter configuration. This issue and others provided the perfect opportunity to thoroughly examine the entire MEDEVAC Mission Systems (MMS) across the DOTMLP-F domains through a deliberate and vetted process, to ensure the platform of the future remained the best air ambulance in the world.
In April 2014, MEPD established an Integrated Process Action Team (IPAT), comprised of Army Aviation and Joint medical subject matter experts, to begin work on a Department of Defense (DoD) MMS Capabilities Based Assessment (CBA). This collaborative effort would be the first documented update in decades and would be instrumental in re-establishing a baseline that predated formal Joint Capabilities Integration and Development System (JCIDS) submission. The team's overall goal was to address deficiencies with the current systems and identify capabilities that would allow un-interrupted access to the patient regardless of weather and environmental conditions to improve operational effectiveness and ultimately save more lives. Using ten different operational scenarios, the team identified the three most critical areas to accomplish our goals: (1) aircraft performance in extreme environmental conditions (high density altitude); (2) ability to execute our mission in limited visibility; and (3) improve onboard medical equipment so it is lightweight, modular, and commensurate with care provider's skill level. It was clear to all involved that the current MEDEVAC platform has to be more modular, lightweight, and rapidly configurable to adapt to any operational support requirement in the future. Furthermore, it is imperative that MEDEVAC be able to support all weather operations in order to provide maximum flexibility to the ground commander in the accomplishment of their mission.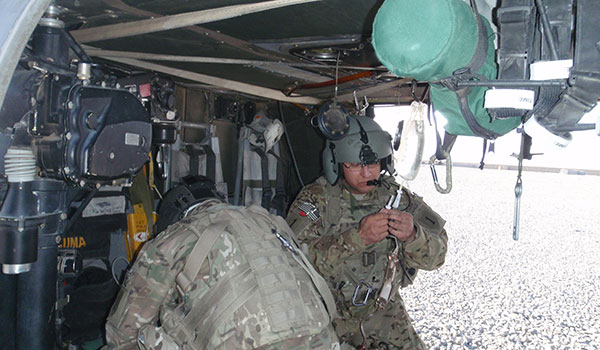 SPC Israel Figueroa, right, and SPC Christopher Jayne, both medics with Company C, 2nd General Support Aviation Battalion, 1st Aviation Regiment, prepare the inside of a UH-60 Black Hawk helicopter for an unpartnered medical evacuation mission in support of a critically injured Afghan National Army soldier in Zabul province, Afghanistan Jan. 2, 2014.
The Way Ahead
The way ahead will be defined by executing three major lines of effort, and they include: (1) Patient Handling System; (2) aircraft performance; and (3) all weather capability. The CBA validated the requirement for an improved PHS that is modular, lightweight, and rapidly reconfigurable. It must provide adequate space to conduct rapid, critical care interventions, unimpeded. Post-CBA efforts include the development of a Capability Development Document(s) (CDD), creation of an Analysis of Alternatives (AoA) Study Plan, and the development of a Request For Information (RFI) to industry. The PHS and the Cabin Space Study will not only serve the legacy Black Hawk fleet for 2025 and beyond, but will serve to inform the Requirements IPT (RIPT) for Future Vertical Lift.
In accordance with the Army Operating Concept, Army Aviation will leverage the advances in technology for vertical take-off and landing to include technologies that will maximize range, speed, payload, performance, and all-weather capabilities. In addressing aircraft performance and all-weather capability, MEPD is supporting the USAACE requirements process for the Improved Turbine Engine Program (ITEP), the next generation Forward Looking Infrared (FLIR), the Brown Out Rotorcraft Enhancement System (BORES), and Degraded Visual Environment (DVE). Clearly, those same technologies will benefit the MEDEVAC fleet, and most importantly, the patient.
Special thanks go out to the entire CBA team and Project Manager, Utility Helicopter for sponsoring this important study. The outstanding product that this team put together will clearly set the conditions to move forward with a modular MMS that will be feasible, adaptable, and suitable for 2025 and ensures our platform of the future remains the best critical care air ambulance in the world.
COL Michael F. Breslin is the director and Mr. Robert D. Mitchell is a senior analyst with the Medical Evacuation Proponency Directorate (MEPD) at Fort Rucker, AL.