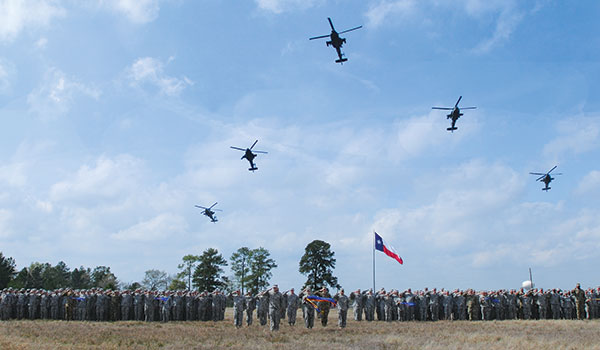 Reserve Components Aviation / By CW5 John W. Bailey: Early on a Sunday morning in March, Soldiers, both current and former, along with family and community members met at the Lone Star Executive Airport in Conroe, Texas.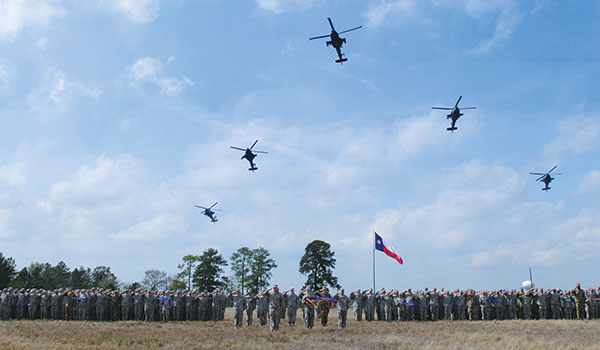 Soldiers from 1-158th Attack Reconnaissance Battalion (ARB) stand in formation as five AH-64 Apache helicopters conduct a ceremonial "fly-over," in Conroe, Texas, to commemorate the final flight of the Apache helicopter in Army Reserve, Mar. 6, 2016. / U.S. ARMY RESERVE PHOTO BY CPT MATTHEW ROMAN, 11TH TAC PAO
The reason for this gathering was to be, in some way, a part of U.S. Army Reserve aviation history by saying farewell to the AH-64D Apache and welcoming the UH-60L Blackhawk.
This story began back in July 1988 when LTC Robert Poland was selected to command the first U.S. Army Reserve Cavalry Squadron fielded with 18 AH-1 Cobras, 12 OH-58 Kiowas and 3 UH-1 Hueys. 7th Squadron, 6th Cavalry Regiment proudly set the foundation for what would become an AH-64A attack helicopter squadron and a revered member of the community of Conroe, Texas. Then, in 2009, 7/6th Cav became 1st Battalion, 158th Aviation Regiment when it replaced the alpha-model Apache with the modern Delta model.
The citizens of Conroe, for nearly three decades, have cared for and supported their soldiers. Not being on a traditional military installation poses a unique set of challenges for the Soldiers and their families. There isn't any base housing, commissary or family programs, but what there is, is an amazing community that has rallied many times over the years to show support to their Soldiers. Each time members of the unit deploy, the town's people would line the roads waving American flags as the buses departed for Fort Hood. When returning, no matter the time of day, they lined the roads for nearly two miles welcoming home their heroes. Time has changed Conroe into a thriving city – the community involvement remains unwavering. So during these times it is only the aircraft that will change not the soldiers and especially not the community that has supported their soldiers for so long.
"The strength of our nation is our Army, the strength of our Army is our soldiers, and the strength of our soldiers is you," added LTC Edmund Naughton, commander of 1/158th Aviation.
Some of the original members stood in the crowd donning their signature black Cavalry Stetsons and gold spurs. The overwhelming feeling of a reunion could be seen in the smiles, slaps on the back and hugs from the former commanders, officers, warrant officers and non-commissioned officers that had served together over the years. The Soldiers of 7/6 Cav and 1/158 along with the Conroe community have answered a call to serve in combat four times since our nation was attacked on that fateful September morning some 15 years ago. Most U.S. Army Reserve units have a combat service support role, like medical, transportation and logistics. The units from Conroe had a direct combat mission to hunt and destroy the enemy, a mission they performed humbly with deadly accuracy.
With a new aircraft comes a new mission. The daunting task of converting to an assault helicopter battalion was given to LTC Naughton.
"Times have changed," BG Scott Morcomb, commander 11th Theater Aviation Command, stated during the ceremony. "Change is good and I am confident that you all will bring that same attack spirit to your new Blackhawk helicopters that you embodied while you were flying our Apaches."
"Even though we are sad to see her go, we are excited about the versatility and multi-functionality that our new helicopter brings to our community," added Naughton. "If the time were to ever come when our support is needed in case of a natural disaster, know that we will be here – equipped, ready and able to help."
CW5 John W. Bailey is the command chief warrant officer of the 11th Theater Aviation Command located at Fort Knox, KY.