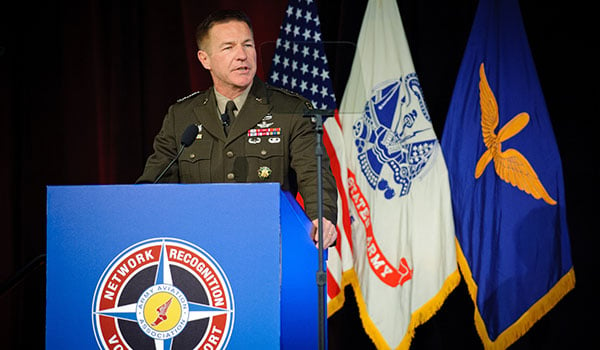 MG Jeff Schloesser, U.S. Army Retired: The annual Blue Book Issue has always been my favorite edition of Army Aviation Magazine.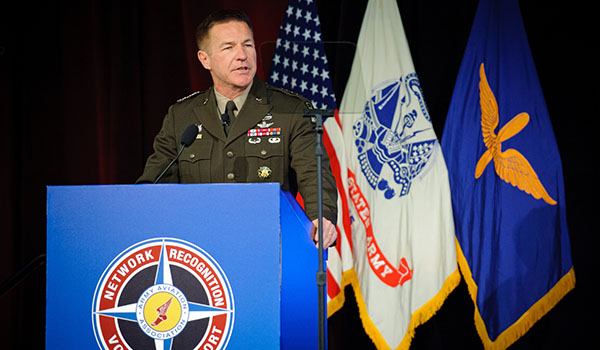 Then-Army Vice Chief of Staff, GEN James C. McConville, keynotes the second day of the annual Army Aviation Mission Solutions Summit in Nashville, TN, April 16, 2019./ AAPI PHOTO BY RENE BIDEZ
My career sometimes took me away from Army Aviation units, which I always felt was the life blood of our branch, and so the pictures and contact information helped me plug back into our branch and to seek out old friends and renew communications with them. Later, as I got more senior, I used the Blue Book as a definitive tool to ensure I was aware of who was where, how units and TDA outfits were changing, and again, who was in charge. Growing up in the active Army, I was shocked about how big our enterprise was, for the Blue Book was the only place I found to learn about the National Guard and Army Reserve outfits – many of whom I would later visit and some that I would be honored to lead on future battlefields in Iraq and Afghanistan. In all honesty, it was the Blue Book I was certain to read cover to cover, and to keep by my desk year around. It was my "go-to" reference to Army Aviation: a "who's who" snapshot in time.
So, I am truly excited about introducing this year's 2019 Army Aviation Blue Book issue. By the time you are reading this, many of the routine summer moves and job changes have been complete, and we have new leaders at every level, from Chief of Staff to battalion, all of them listed in this issue. The new Chief of Staff of the Army, General Jim McConville, is one of our own, and the first branched Army Aviator to serve in this capacity. We wish him and his spouse Maria a superb tour leading our Army!
As I have noted in my previous "President's Cockpit" articles, the past several months have been a period of significant change within the Army Aviation enterprise, and we have already welcomed many new senior leaders as they assumed their new roles. But there is also plenty of continuity with this change. From Battalion Commander, CSM or senior Warrant Officer all the way up to Chief of Staff, Army, there is no doubt that we have experienced, intelligent, and tested leaders. They may be going into new jobs, but they are proven leaders, and this ain't their first rodeo. We at AAAA wish them all success!
In this issue we also focus on a key part of the Army Aviation Enterprise: the DAMO-AV team of the Army Staff's G3/5/7 at the Pentagon. There has been significant turn-over in the Pentagon this summer and DAMO-AV is no exception. BG "Mac" McCurry talks us through some of these changes on his team as well highlighting their critical issues; CW5 Myke Lewis from DAMO-AV Standards also has an article discussing evolving standards in light of Army modernization.
This issue also includes our AAAA Scholarship Foundation awardees for 2019. These 303 recipients are selected through an electronic voting process involving our volunteer leadership of the AAAA Scholarship Foundation and the AAAA National Executive Board, among others, and is fully transparent: the prospective students are judged strictly on their own merit, where names and member's (parents or spouse) titles or ranks are removed. Having participated in the voting process, I can personally attest to the high standards of both the process and the resulting selectees, all of whom are motivated, academically proven, and broadly participating in sports, school clubs, and volunteer work. Congratulations to our 2019 scholarship winners. See page 110 for the full listing.
As a reminder, we are working closely with AMCOM Commanding General MG Todd Royar's staff and Corpus Christi Army Depot's Commander COL Gail Atkins as well as Aviation Center Logistics Command Commander COL Richard Martin to host a highly informative Luther Jones Army Aviation Depot Forum in Corpus Christi 20-21 August. We will have a full report for you in the next issue.
Finally, Patty and I hope you have been able to spend some time with your families this summer. There is no question that many of you have not been able to amongst the incredible demand for your skills and capability world-wide. We appreciate your sacrifices and are working every day at AAAA to support you and our Army to get you the tools, training, and resources you need to lessen the OPTEMPO demands.
Above the Best!
MG Jeff Schloesser, U.S. Army Retired
34th President, AAAA
This email address is being protected from spambots. You need JavaScript enabled to view it.