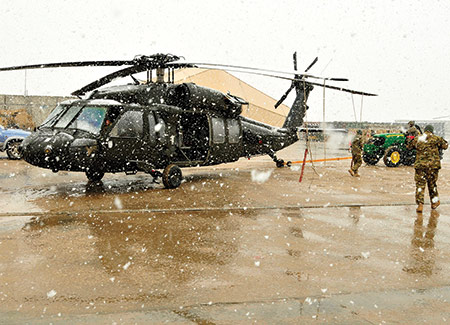 U.S. Army Combat Readiness/Safety Center —By BG Timothy J. Edens
With the new year comes an opportunity for fresh perspective. It gives us a chance to reflect and start anew with a clean slate, with plenty of hope for a better year than the last. 
This opportunity also offers leaders at all levels a chance to reinvigorate their safety programs, especially as Soldiers are more likely to be refreshed and refocused after coming off extended leave.
Perspective has proven powerful. In conflicts throughout time, war has taken such a dramatic human toll that accidental losses were seen as one of the unfortunate costs of doing business. Perspective 150 years, or even 40 years ago held that accidents were an unavoidable consequence of combat, and some even held safety as a hindrance to the mission. Thankfully, we've learned from our history and are changing our perspective, and we're a much better Army for it.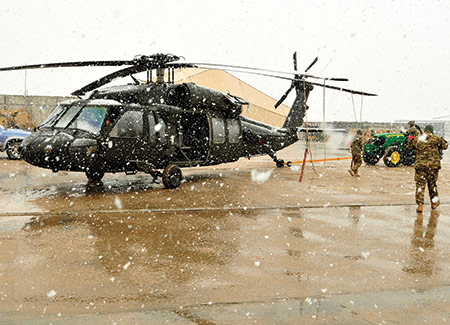 Soldiers from Task Force Viper, 3rd Combat Aviation Brigade, prepare a UH-60L helicopter at Forward Operating Base Wolverine with Air Hammer equipment.
This new perspective, if you will, is as critical as ever since accidents continue to claim far too many Soldiers. After more than a decade of combat losses often outpacing accidental fatalities, we're reaching the point where the opposite is true. As of mid-December, exactly double the number of Soldiers were killed in accidents as those lost in combat for the first quarter of fiscal 2014. That's a pretty sobering statistic, even when you consider both categories fell significantly from the same timeframe during the previous year.
This offers a powerful message for our Soldiers, one we should highlight to our advantage. Many have experienced the gut-wrenching loss of a battle buddy in combat. We must make all our Soldiers see that death by accident is no less tragic, nor is it inevitable, that a loss is a loss and has profound effects across the unit and Family. The bonds between Soldiers run deep; ensuring they realize these bonds extend their commitment to each other in accident prevention is "messaging" that will resonate with them.
Leaders can always benefit from fresh perspective as well, for what we don't know can hurt our Soldiers. The Army Readiness Assessment Program (ARAP) offers commanders a unique look into their biggest safety issues from various perspectives within their commands. ARAP has proven itself a helpful tool in giving leaders the power to bring about positive change. The revised Army Regulation 385-10, released last month, now mandates that all commanders at battalion level register their formations in ARAP at specific intervals. I've talked a lot about the program's successes in recent months, and this change demonstrates senior leadership commitment to it and its potential. The updated regulation, along with a summary of all changes, is available at http://www.apd.army.mil/pdffiles/r385_10.pdf.
Our Army isn't slowing down, and this year is sure to be as eventful as any. What we do with our time is what's important, and safety should be part of all our plans. 
Happy New Year – let's make the best of it! Army Safe is Army Strong!
BG Timothy J. Edens is the Director of Army Safety and commanding general of the U.S. Army Combat Readiness / Safety Center at Fort Rucker, AL.