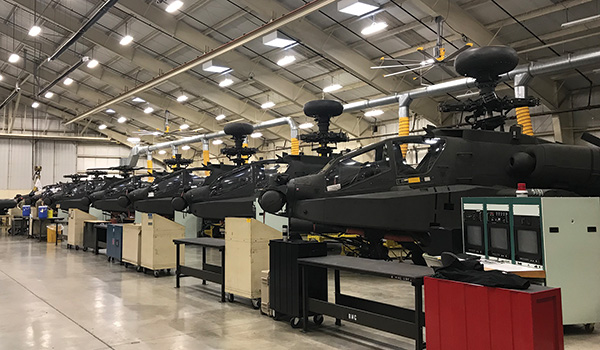 128th Aviation Brigade / By CPT Matthew J. Murray: Since its activation in 2012 the 128th Aviation Brigade has been responsible for training more than 80% of the enlisted Soldiers within our Aviation Branch and providing the force with more than 5,000 trained Soldiers, NCOs and warrant officers each year.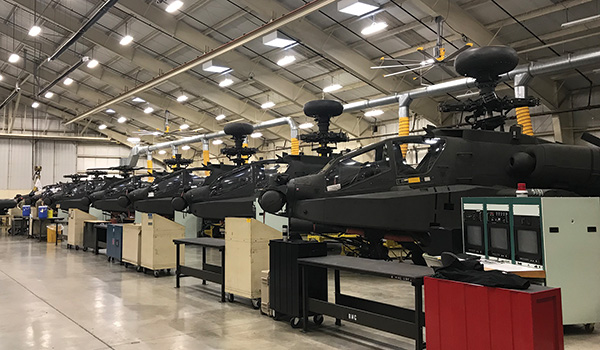 AH-64D L7 MAVWEST training devices in Ottenburg Hall, Joint Base Langley-Eustis, VA./ U.S. ARMY PHOTO BY CPT MATTHEW J. MURRAY
I have commanded Alpha Company, 1-210th Aviation Regiment for 18 months. The company is responsible for all enlisted 15Y AH-64 Armament/Electrical/Avionics Systems Repairer and all warrant officer 151A Aviation Maintenance Technician training. Providing any MOS qualification training brings many unique challenges, but providing that training for AH-64 Apache maintainers brings an additional set of challenges as the force is continuously upgrading to increasingly modern versions of the AH-64 Apache.
As Apache battalions and squadrons throughout the Army are fielded with AH-64Es the demand for "echo qualified" maintainers, or more specifically those with the A4C professional development skill identifier (PDSI), is rapidly growing. In order to meet this demand we at the "armament dog" school must do three things: (1) provide current and relevant courseware, (2) support that courseware with the most up to date training aids and devices, and (3) continue to return instructors with expert level knowledge to the force.
Training Challenges
Providing current and relevant training is a twofold challenge. First, we continuously maintain our current courses, the AH-64D 15Y MOS qualification course and the AH-64E 15Y transition course. This is done through our Course Management Office incorporating changes as the aircraft is modernized and by our instructors that ensure the most current and relevant material is presented to students. This follows the same process as submitting a DA Form 2028 to update or correct an Army publication. Our NCO instructors rotate out every three years, similar to other assignments, which ensures we always have access to most up to date tactics, techniques and procedures from the force. The continuous instructor turnover is balanced by our DA Civilian instructors that provide continuity and decades of expertise.
Simultaneously we are building the next iterations of the courses. Beginning in FY19 all 15Y Soldiers completing their Initial Military Training will attend the AH-64E transition course prior to moving on to their first assignment. This course will be a bridge to FY21 when the course will fully integrate both the AH-64D and AH-64E and will focus more heavily on training and testing troubleshooting procedures which will be a significant step forward in ensuring our aviation maintainers have the knowledge and mentality required to perform fiscally responsible maintenance from day one at their first assignment.
Devices and Simulators
Instructors are the key to providing training, but they cannot accomplish this task without a vast array of training devices and simulators to support them. Within this company alone we have more than 40 major training devices with a value surpassing $600 million supporting 15Y training. Some of our training devices are quite old such as one of our L7 Multiplex Avionics, Visionics, Weapons, and Electrical Systems Trainer (MAVWEST) whose airframe was the first production AH-64A delivered by Hughes Helicopter on September 30th, 1983. As the force is fielded with AH-64Es the configuration of that L7 MAVWEST is being upgraded to AH-64E. Additionally our current AH-64E training devices are sequentially being upgraded from the lot 2 configuration to lot 4 ensuring our students are trained on exactly what they will find in the force. We are also incorporating AH-64E training devices newly built from the ground up. These training devices utilize modeled or simulated systems inside the aircraft. With simulated systems also come simulated test sets. The differences will be transparent to students in training, but allows us to return some test sets and equipment back to the force, reducing the demand our courses place on equipment needed by line units.
Change on such a large scale is never a fast process, but it is a continuous process that is spearheaded by our exceptional NCO and DA Civilian instructors at the 128th AB.
CPT Matthew J. Murray is the commander of Company A, 1st Bn., 210th Avn. Regt., 128th Avn. Bde. at Joint Base Langley-Eustis, VA.