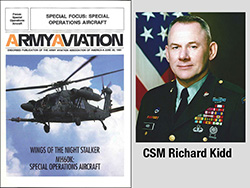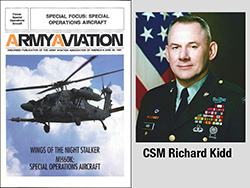 By Mark Albertson: General Gordon Sullivan, Army Chief of Staff designee, has selected CSM Richard Kidd, 47, as the next Sergeant Major of the Army.  CSM Kidd, currently assigned to I Corps, will replace SMA Julius "Bill" Gates, who is retiring June 30, 1991, after a career of more than thirty years.
CSM Kidd is a graduate of the Sergeants Major Academy, Special Forces Operations and Intelligence Course and Airborne School.  He is a veteran of two combat tours in Vietnam, 1966-67 and 1970-71.  Among his decorations are the Bronze Star Medal, Legion of Merit (with Oak Leaf Cluster), Air Medal, Combat Infantryman's Badge, Master Parachute Badge, Vietnamese Cross of Gallantry (with Palm). . .
Source:  Page 69, Army Aviation, June 30, 1991 issue.