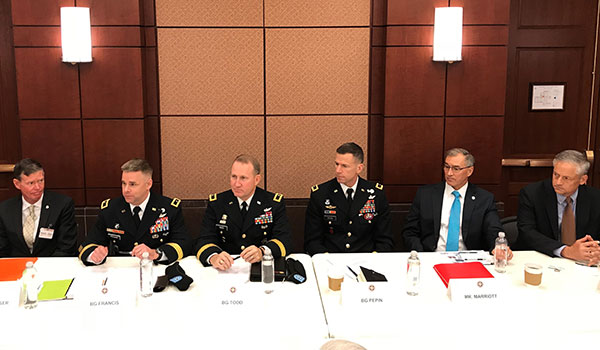 President's Cockpit / MG Jeff Schloesser, U.S. Army Retired: Army Aviation is moving out to achieve a lethal, decisive and sustainable Multi-Domain Operations maneuver and fires capability by 2028.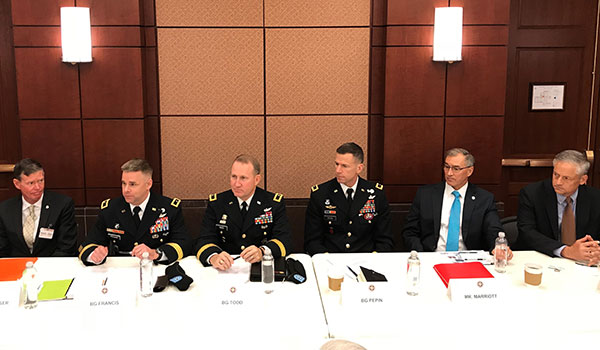 MG (Ret.) Jeff Schloesser, AAAA President, with the Army Aviation Senior Leadership at the Army Aviation Congressional Caucus during an AAAA-sponsored breakfast in Washington, DC, May 16, 2019. / AAPI PHOTO BY BILL HARRIS
From left, MG Dave Francis, U.S. Army Aviation Branch Chief; MG Thomas Todd, PEO Aviation; BG Allan Pepin, Commanding General, U.S. Army Special Operations Aviation Command; Mr. William Marriott, then-Executive Director, U.S. Army Aviation and Missile Command; and Mr. Geoffrey Downer, AMCOM Director, Special Programs.
In this issue of Army Aviation, four senior Army Aviation leaders lay out how their organizations are driving towards that goal. Branch Chief, MG Dave Francis explains how the Branch and Aviation Enterprise is going to achieve this goal across the Doctrine, Organization, Training, Material, Leader Development, Personnel, Facilities and Policy structure for both the current force as well as the future force. His focus on leader development and education is critical: as MG Francis points out, the new soldiers, be they enlisted or officer, joining our formations today will be the leaders of our Future Force tomorrow, and we must get their development RIGHT.
Our Program Executive Officer for Aviation, MG Thomas Todd, speaks in his article to how his team of teams work within the broader Enterprise on "providing our Soldiers unmatched capabilities required in the current environment" while "setting the conditions to ensure the CABs' (combat aviation brigades) future success through continuous innovation to support large scale ground combat operations."
Aviation and Missile Command Commanding General MG Todd Royar's article highlights his two co-equal priorities: readiness of our current fielded and fielding fleets, including using Condition Based Maintenance-enabled Aviation Inspection and Maintenance and Sustainment, as well as ensuring future fleets are design-built with a higher material availability rate using commercial and DOD best practice concepts, such as the Maintenance Steering Group-3 (MSG-3) process.
Also in this issue, Army Reserve Aviation Command commanding general, BG Jami Shawley and her command team, provide insight as to the impacts of the 1/30 rule on the overall readiness of USAR Aviation. As she states, "AR Soldiers are not 1/30th the Soldier," and "Soldiers do not have the option of only knowing 1/30th of the information required…" This has been the official position of AAAA as well since the National Executive Board passed a formal resolution on April 9, 2006 calling for the abolition of the 1/30 Rule for ARNG and USAR Aviation Soldiers.
We have devoted much of the remainder of this issue to set the stage for the upcoming AAAA Aircraft Survivability Equipment Symposium on November 18-19, followed by the Joseph P. Cribbins Product Support Symposium, November 20-21, both in Huntsville. You will find some insightful articles from our ASE, Air Warrior and Aviation Mission Systems & Architecture PMs, as well as chiefs of Survivability Branch, ASDAT, ARAT, and I2WD EW. If the acronyms puzzle you, I challenge you to dig into the magazine and the relevant articles to learn more!
By the time you are reading this, we will have held a semi-annual National Executive Board meeting on October 13, followed by another Army Aviation Caucus on Capitol Hill with key mem-bers of Congress, their staff, and our Army Aviation leadership on October 17. Finally, we will have hosted a dinner meeting between our AAAA Senior Executive Associates (four and three star retired non aviator Army leaders) and our Army Aviation leadership on the evening of October 17th. The purpose of these high-level engagements is to ensure Army Aviation and our members have a voice with our elected leaders and other senior leaders in the National Capital Region.
Achieving an MDO capable aviation force by 2028 is a great objective and a significant challenge. As our Chief of Staff, General Jim McConville often says, "it's time to get after it!"
MG Jeff Schloesser, U.S. Army Retired
34th President, AAAA
This email address is being protected from spambots. You need JavaScript enabled to view it.