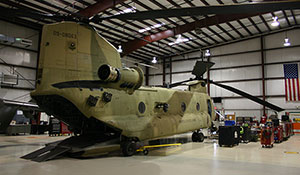 SPECIAL FOCUS – Industry Support and Challenges
By Ms. Monika Crannell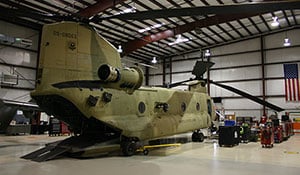 Yulista Aviation, Inc. (YAI), a subsidiary of Yulista Holding, understands that Army Aviation is an essential element of both the present and future battlefield. In supporting this mission, our aviation roots run deep providing a reputation of responsiveness and customer focus. YAI (an ANC 8(a) company) was strategically developed to perform aviation integration efforts for the Prototype Integration Facility (PIF) at Redstone Arsenal, Alabama and eventually replace Yulista Management Services (YMS) as the prime contractor supporting the PIF.
The PIF's primary role is providing rapid response solutions to our military. Initially, both the PIF and Yulista accomplished minor modifications to weapon systems, primarily limited to integration of commercial-off-the-shelf hardware. Over the past 12 years, Yulista has experienced continuous growth of experience with all aircraft platforms and the nature and complexities of modifications to every type of Army aviation asset. Our maintenance teams deploy worldwide to modify, repair and install modification work orders on U.S. produced aircraft for PIF efforts, often in combat zones. Increasingly, foreign customers are using the PIF to improve and modernize their aircraft via Foreign Military Sales (FMS).
YAI's competencies now encompass all aspects of the product realization process from requirements definition to integration onto rotary and fixed wing aviation assets as well as ground, maritime, and unmanned systems. These efforts entail improving combat system performance through technology insertion involving military systems of all types, with aviation as our primary focus. The PIF has provided YAI the opportunity to expand its abilities beyond aviation with non-aviation technical support services to a wide range of Government, DOD, and FMS customers.
YAI is currently managing over 800 employees and an industry team of over 250 subcontractors and 1,100 material vendors. To date, Yulista has collectively managed the execution of over 5,000 individual task orders for the PIF resulting in approximately 450 improved and fielded new capabilities. On any given day, YAI averages over 230 on-going programs/projects with dedicated managers and key technical staff. Yulista has grown rapidly via the PIF primarily due to repeat customers.
Quality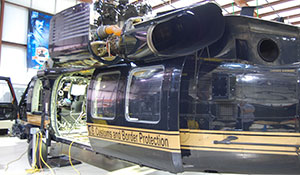 Yulista considers our commitment to quality the key to our growth. YAI is an FAA Part 145 Certified Repair Station and is also ISO 9001:2008, AS9100, and AS9110 certified, assuring our customers the highest possible quality with built-in procedures to ensure accountability and continuous proactive improvement to both processes and products. YAI employs FAA licensed mechanics and electricians and our Ground/Flight Operations are compliant to DCMA 8210.1 (AR 95-20). The YAI Quality Control Program was developed in compliance with these standards to maintain a consistent quality product, prevent non-conformances, focus on customer satisfaction, and pursue continual improvement.
YAI's Impact on Aviation Systems
Every effort performed by our team is important and one example of our work with Army Aviation is the installation of the Aircraft Survivability Product Improvement (ASPI) kit onto the Apache helicopter in both the U.S. and foreign countries, including Afghanistan and Iraq. The ASPI kit increases aircraft and crew safety and survivability by a tailored application of insulation, blockers, and a redesigned exhaust system that significantly reduces aircraft susceptibility to heat seeking missiles by redirecting exhaust for dispersal through the blades.
YAI has performed countless H-60 modifications with improvements that include avionics, communications, and instrumentation upgrades to multiple platform configurations. YAI's experience with the Army Blackhawk involved integration of the Army Airborne Command and Control System Mission Kit; redesigning existing deployed systems to improve capability, make it modular, and reduce weight and cost. Additionally, YAI has made extensive modifications to the Department of Homeland Security Customs and Border Patrol (CBP) Blackhawk, enhancing CBP's mission performance by integrating state-of-the-art avionics, communication and sensor technologies into several of their fleet of H-60s.
Recently, YAI was selected to convert the UH-60L to the UH-60V configuration by incorporating a digital cockpit. Yulista will deliver three Engineering Development Model aircraft, supporting Technical Data Package (TDP), and updated technical and training materials to support the prototype and qualification efforts to upgrade the UH-60L fleet. This TDP will provide the Corpus Christi Army Depot UH-60L Recapitialization line with the engineering and modification data required to accomplish fleet-wide conversion to a single aircraft cockpit configuration that is expected to reduce training and transition requirements for all UH-60 pilots.
The most extensive and technically challenging aviation modification program conducted by YAI for the PIF was the Kiowa Warrior OH-58F Cockpit and Sensor Upgrade Program (CASUP). This effort involved multiple subcontractors and was a major Army Aviation aircraft modernization project to convert the OH-58D to an OH-58F model extending service life until 2025. This involved the overhaul, recapitalization, RESET, modernization and delivery of components, systems, subsystems and associated software and hardware for this aircraft. YAI led the design, integration, and testing of 29 total upgrades that included a digital cockpit, digital Hellfire and 2.75-inch rocket interface, nose-mounted FLIR, laser designator and aircraft survivability upgrades, which improved armament and lethality, sustainability, performance, communication/ identification interoperability, advanced sensors, and survivability.
FMS
One example of an FMS project conducted in support of the PIF was the Iraqi Armed 407 task, which involved the rapid modification of a Bell 407 commercial helicopter and fielding a fully functional military platform for the Government of Iraq. Built to meet FAA standards, these commercial aircraft were re-modified to comply with U.S. Army airworthiness requirements and upgraded to include armament systems, aircraft survivability enhancements, an advanced sensor suite, navigation and guidance, communications/identification, and airframe enhancements.
YAI's modification efforts are not limited to rotary wing aircraft. YAI's fixed wing capabilities include performing the upgrade of the NAVAIR C-26 aircraft to meet Global Air Traffic Management (GATM) standards and included program management, engineering and aircraft modification tasks. As part of the task to complete aircraft GATM modification to the C-26E configuration, Yulista was required to identify and develop any deviations from or changes to STC SA0009MC-D (Pro Line 21 Avionics System).
 
Training and Simulators
In June 2010 YAI was awarded its first contract outside the purview of the PIF. YAI provided the manufacturing and aviation integration for the CH-47 Transportable Flight Proficiency Simulator (TFPS) Systems. TFPS is a transportable training system capable of simulating ground, takeoff, flight, operational, and landing characteristics of the aircraft under a wide range of realistic environmental conditions providing initial and proficiency training of pilots.
YAI also has proven expertise in the development and engineering of other training systems such as the Cargo Engineering Analysis Cockpit trainer, Iraqi Bell 206B trainer, UH-60 Cockpit Emergency Procedures trainer, Armed 407 training aids and Sky Eagle Apache Block III Maintenance Training Aircraft subsystems.
Commitment to the Future
Over the past several years, YAI's aviation capabilities have grown tremendously, resulting in recognition as an industry leader in the modernization and service life extension of all types of aircraft. With YAI's support, the PIF has received eight "US Army Top 10 Greatest Invention Awards." The above examples are only representative, and not inclusive, of all ongoing aircraft modification and maintenance programs at YAI and clearly depict the innovative, high-tech nature of the work we are capable of performing and the ongoing support we hope to provide our country's defenders.
Ms. Monika Crannell is the proposal manager at Yulista Aviation, Inc., headquartered in Huntsville, AL.
Caption: Above Left: Kiowa Warrior Cockpit and Sensor Upgrade Program (KW CASUP) converted the OH-58D to an OH-58F extending service life of the aircraft.
Above Top Right: YAI supports CH-47 Program Management Office in restoration and modernization of the CH-47 fleet.
Above Lower Right: YAI performing state-of-the-art modifications and upgrades to a Customs and Border Patrol Black Hawk./ ALL PHOTOS YULISTA AVIATION PHOTO BY WHITNEY DORNING