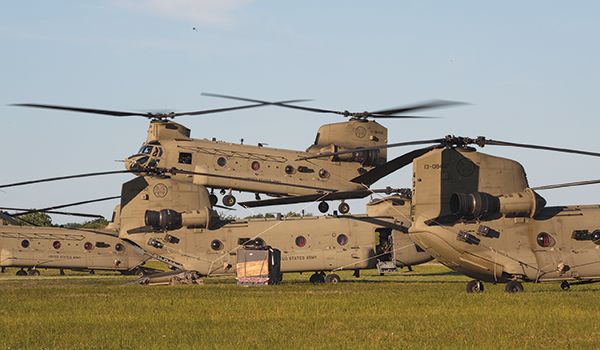 Aviation Branch Chief Update / By MG William K. Gayler: Throughout its history, Army Aviation has faithfully provided sustained, dependable, and professional support to commanders and Soldiers on the ground.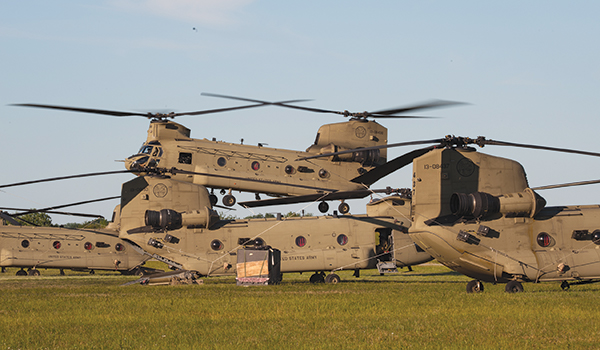 Soldiers from the 1st Battalion, 214th Aviation Regiment, 12th Combat Aviation Brigade, "Big Windy," conduct operations with CH-47 Chinook helicopters at Inowroclaw, Poland during Saber Strike 18, June 6, 2018. Saber Strike 18 facilitates cooperation between U.S., Estonian, Latvian, Lithuanian, Polish and other allied and partner nations to improve joint operational capability in a variety of missions. This year's exercise anticipates participants from 19 different countries distributed across four nations./ U.S. ARMY PHOTO BY VISUAL INFORMATION SPECIALIST EUGEN WARKENTIN
The tremendous contributions and sacrifices of Army Aviation units and Soldiers over the past 17 years of counterinsurgency operations (COIN) in Iraq and Afghanistan have cemented our commitment to that purpose while further strengthening the bond between aviation and ground units. Given today's increasingly complex security environment and the increased threat posed by potential adversaries, we cannot rest on past accomplishments. Consequently, it is imperative that we increase the lethality and tactical competence of our Soldiers and units to best posture them for the fights of tomorrow.
In the April/May 2018 edition of Army Aviation magazine, I discussed the need to shift our focus towards continuous competition among great powers. This compels our military to regain overmatch, underscoring the importance of readying units for large scale combat operations (LSCO) in far more lethal and contested domains. This represents a significant change to Army Aviation, and we must therefore adapt the capabilities that our branch provides to the Army and Joint Force to those appropriate for LSCO. Only then will we be postured to deliver on our enduring commitment to support Soldiers and commanders on the ground.
Finding the Balance
TRADOC published the new FM 3-0, Operations, in October 2017, describing how Army forces, as part of a joint/multi-national team, conduct LSCO against a peer threat. In a corresponding effort, USAACE's Directorate of Training and Doctrine is holistically reviewing our capstone field manual, FM 3-04, Army Aviation, to ensure it nests with FM 3-0 and provides a refined direction for our branch. Substantive changes will also be made to ATP 3-04.1, Aviation Tactical Employment, and ATP 3-04.2, Aviation Combat Tactics and Survivability – with an increased focus on warfighting techniques optimized for peer and near-peer adversaries.
To ensure Army Aviation is postured to fight and win on future battlefields, we must also shift how we train – and that begins with optimizing what we teach and what we evaluate in order to increase tactical proficiency across both the institutional and operational force. Clearly, our branch is highly technical and requires mastery of certain technical information. Over time, however, technical knowledge largely took precedence over tactical knowledge in our training and evaluations. The complexities associated with LSCO demand a rebalance of our knowledge base to a more refined mixture of technical and tactical skills. This past spring, we introduced the Aviation Warfighting Initiative to implement solutions to increase the tactical focus and competency of our aviators. While this initiative is far-reaching, I will highlight several critical components of this effort.
Revising ATM ACATs
One of the most significant measures to optimize tactical proficiency in our formations is to ensure our trainers and evaluators are best postured to train and evaluate warfighting skills. As a result, we are updating Instructor Pilot and SI/ FI courses to increase focus on tactical tasks in instruction and evaluations. Instructors must be equally able to teach and evaluate the tactical employment of aircraft and aircraft systems as well as base tasks. Courses will begin to integrate updated content over the next six months. In a supporting effort, in conjunction with the publishing date of TC 3-04.11, Commander's Aircrew Training Program (expect mid-July), the Directorate of Training and Doctrine (DOTD) will publish updated Aircrew Catalogs of Academic Topics (ACAT) for each Aircrew Training Module (ATM). These revised ACATs will increase emphasis on tactical operations and tactical employment for use during crewmember evaluations. Our aviation instructors will play an absolutely critical role in helping lead the branch's focused shift to LSCO.
DOTD's Flight Training Branch is the proponent for all standard aircraft ATMs. This team, in concert with entities across Army Aviation is currently conducting tactical task reviews to ensure the appropriate information is contained within ATMs. The feedback provided by trainers and evaluators from the field will help shape the revision of tactical and mission tasks within the ATMs to ensure they are more instructive and better nested with emerging doctrine and the shift to LSCO.
To ensure that Army Aviation continues to provide an asymmetric advantage to commanders and Soldiers on the ground in the future, we must be experts in fighting, whether it be in COIN or LSCO environments. We all must pledge to improve our tactical proficiency to ensure that when a ground commander calls for Army Aviation, we continue to be there without fail. This is what we must expect of ourselves and it is surely what our ground brethren deserve and demand of us!
Above the Best!
MG William K. Gayler is the Army Aviation branch chief and commander of the U.S. Army Aviation Center of Excellence and Fort Rucker, AL.