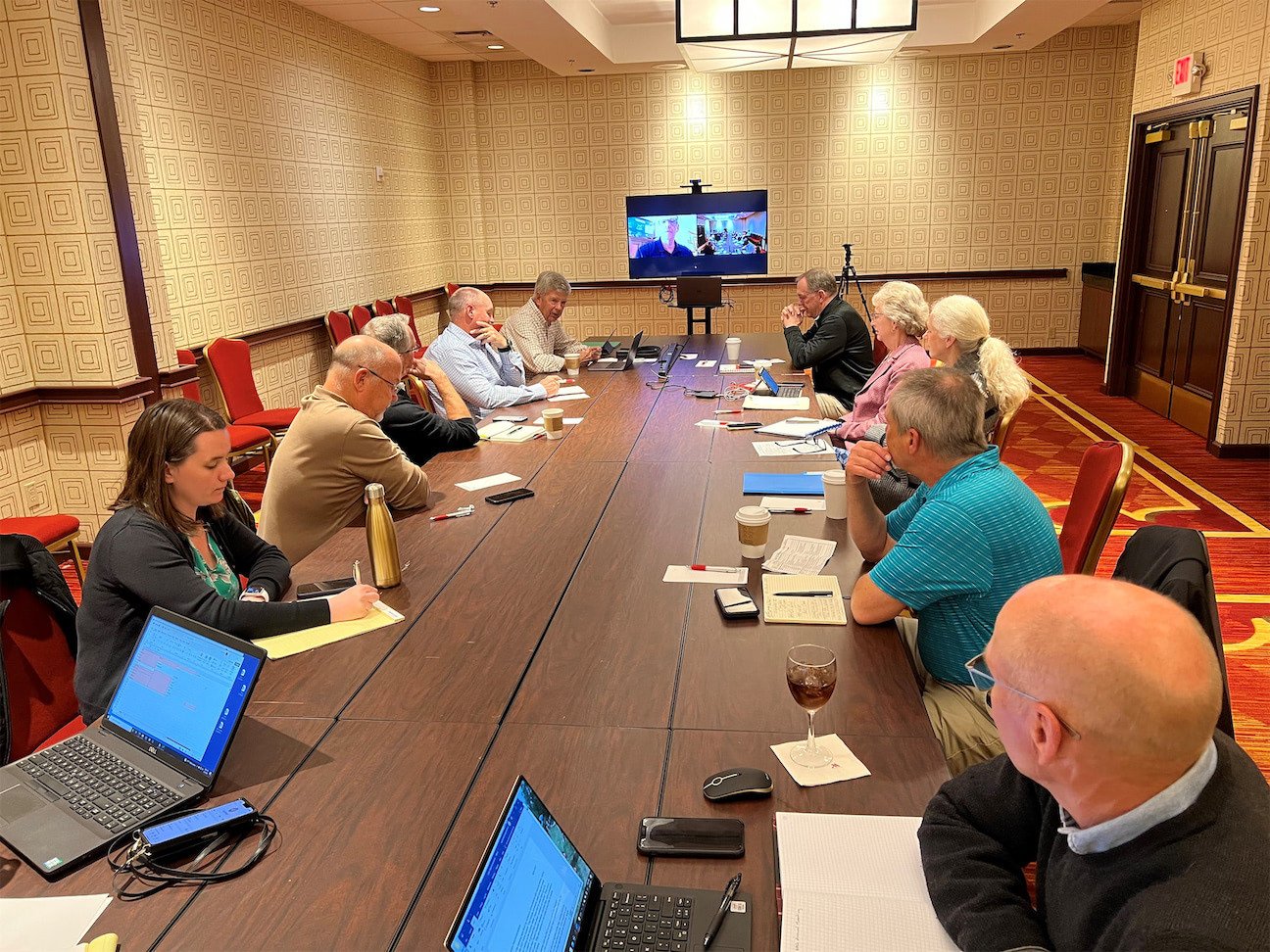 MG (Ret.) Tim Crosby makes a point during a hybrid strategy meeting of the AAAA National Executive Group on May 3, 2022 at the Trumbull Marriott Hotel, Trumbull, CT. Pictured are (left to right): Laura Arena, staff director, Membership Engagement/Chapters; LTC (Ret.) Jan Drabczuk, VP Chapters; MG (Ret.) Les Eisner, VP Guard & Reserve Affairs; MG (Ret.) Wally Golden, Treasurer; Crosby; MG (Ret.) Walt Davis, Sr. VP; COL (Ret.) Shelley Yarborough, Chair, Strategic Planning and Communications Committee; CW4 Becki Chambers, VP Membership; Mr. Ray Sellers, VP Civilian Affairs; and Mr. Cole Hedden, VP Industry Affairs.
AAAA President's Cockpit / MG Tim Crosby, U.S. Army Retired:
Your AAAA Leadership Team has been quite busy since we left the 2022 Summit in Nashville.
We assembled the AAAA National Executive Group up in Connecticut at the beginning of May. Our purpose was to  review short term initiatives for the next year, and we started to implement the longer-term Strategic Plan for AAAA which was so ably drafted by COL (Ret.) Shelly Yarborough.
All ten of your NEG (eight in person and two virtually) were introduced/re-introduced to the AAAA staff members. What a great team of dedicated professionals that passionately support you every day. They work quietly in the background to make our Association the premier aviation association that is envied by all. We especially enjoyed meeting all the new young folks who have joined over the last two years of the COVID-19 pandemic who are covering everything from social media, to meeting planning, marketing, sales, and member engagement.
Over the next couple of days, we worked initiatives in the areas of membership, increased benefits to our corporate members, chapter activities and support, and updated our SWOT (Strength, Weakness, Opportunities, and Threats) analysis to better inform our decisions going forward.
Our two newest NEG members, Cole Hedden, VP Industry Affairs, and Ray Sellers, VP Civilian Affairs were very dynamic in their input, challenging us to look at opportunities to embrace our entire population. I am sure they will cover more details in their magazine articles in future issues. I am confident that embracing industry and our DACs is key to AAAA's future success and these are the right guys to drive those sectors.
I am very encouraged by the NEG Team and their thoughtful and engaged approach to the future of the AAAA and to you our members. Remember that these are all volunteers who serve simply because of their passion for Army Aviation. I am proud to serve with them.
By the time you read this I will have launched on my longest chapter sojourn yet in my quest to try to visit all 79 AAAA Chapters during my tenure. I am visiting eight chapters in eight days out West starting with the Arizona Chapter and ending with Zia Chapter in New Mexico, ("A" to "Z" get it?) by way of Grizzly Chapter in California, Oregon Trail Chapter, Mt. Rainer at Joint Base Lewis-McChord in Washington state, Big Sky in Montana, Idaho Snake River Chapter, and Pikes Peak in Colorado. Yeah, I know I am going to be burning up those rental car miles for sure!
As I am drafting this Cockpit article, I just finished meeting with the incoming president of the Vietnam Helicopter Pilots Association for dinner last night in Nashville. I have to say this is one outstanding group of patriotic Americans. Don LeMaster the new president, and Art Jacobs a VHPA past president himself and now head of their Legacy Committee, Bill Harris, Executive Director, AAAA, and I discussed how AAAA can better support the VHPA in coming years. More to follow on this after they have their upcoming annual meeting in Tampa after this magazine goes to press. Suffice it to say we owe these guys a lot as we all stand on their shoulders.
Keep those cards and letters coming into all of us in your AAAA leadership team. Chapters are our foundation and you the members are what makes the chapters. We depend on you all to provide the input we need to make sure AAAA meets your expectations through our four pillars, Networking, Recognition, Voice, and Support. We strive every day to achieve our mission to Support the U.S. Army Aviation Soldier and Family!
MG Tim Crosby, U.S. Army Retired
35th President, AAAA