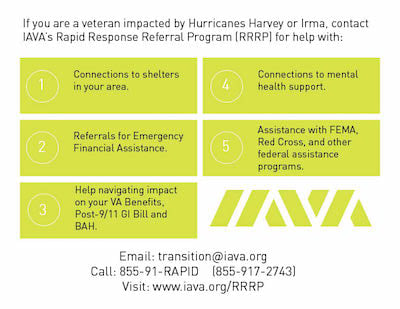 It's been over a week since Hurricane Harvey hit Texas, and Hurricane Irma has made landfall in Florida as well as in Puerto Rico and the Caribbean. And IAVA is doing all we can to help. 
We are sharing critical information with our veterans and their families, as well as advocating, supporting, and sending in reinforcements. And, as always, veterans are stepping up in a big way to respond when disaster strikes. We continue to get reports of IAVA members responding bravely on the ground across the region. Many are first responders. Many are just dedicated citizens stepping up to do what they can to help. Just like they always do. When the chips are down, veterans always step up. They are the helpers.
In the important weeks and months to come, IAVA will advocate to ensure Washington is responding strongly and swiftly to the needs of veterans impacted by Hurricane Harvey and Irma. We'll also do as much as we can to support, advocate and reinforce. 
 
Support
IAVA's RRRP program is standing by to support veterans impacted by storms who do not know where to turn. Share it with your networks and with anyone who needs help: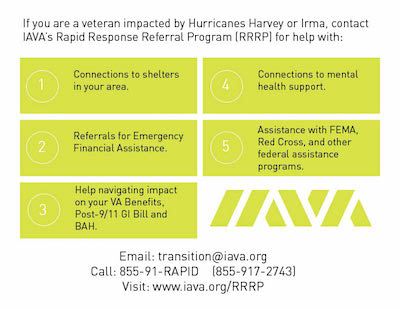 Advocate
Follow IAVA on Facebook and Twitter , where we'll continue to ensure that veterans impacted remain in the conversation in the coming months and years, as well as posting information on resources available to veterans impacted, including: 
VA – Click here for updates, and call the Telecare Call Center at 211 for further assistance. ???
Disaster Assistance – residents and business owners in counties who sustained disaster related damage due to Harvey can apply for assistance by registering online. ???

FEMA – information and how to apply for assistance can be found here???.

TexVet –  Visit   http://www.texvet.org/hurricaneharvey??? for more information on resources.

Red Cross – call 211 for assistance???.
Reinforce:
If you want to get involved in reinforcing veteran efforts on the ground, join and support our incredible friends at Team Rubicon USA???
Again, America is facing a crisis. And again, America's veterans will lead the response. We will be a source of strength, unity, experience and inspiration. When the balloon goes up for America, we've got your back. And times like this are what #VetsRising (and America) is really all about. 
Together, we will respond, rebuild and recover.