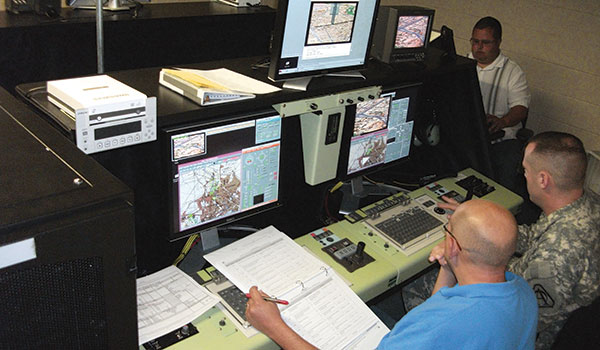 Reserve Component, Aviation / By COL J. Ray Davis: Greetings again from your Army National Guard (ARNG). It's December. Cold temperatures, lousy flying weather, and holiday schedules all add up to not much flying. How better to keep your edge in this low OPTEMPO month than with simulation.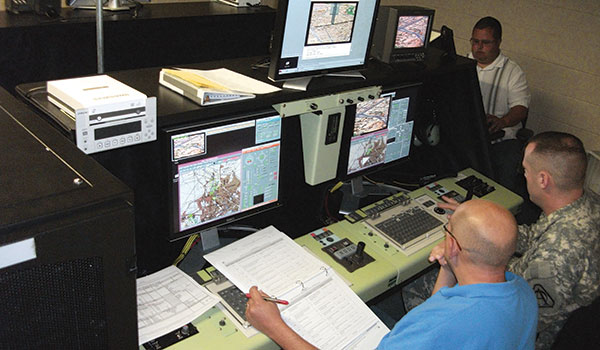 North Carolina Guardsmen training on a Shadow Crew Trainer. / NORTH CAROLINA NATIONAL GUARD PHOTO BY MICHAELINE KOLBICKA
The ARNG's aviation simulation capacity is quite substantial – over 100 simulators total – use it to your best advantage.
UH-60 – Since the Guard owns about 900 Black Hawks, we've got plenty of UH-60 simulator capacity in addition to IMCOM's regional simulators. Seven UH-60A/L Synthetic Flight Training Systems (SFTS) and three UH-60L/M Transportable Black Hawk Operating Systems (TBOS) are distributed across seven ARNG locations to provide regional support. Soon we'll add five UH-60M/V Black Hawk Aviation Trainers (BAT) to boost our capacity.
CH-47 – The ARNG provides facilities for and operates three Tactical Flight Proficiency Simulators (TFPS) to support its fleet of 161 CH-47s.
UH-72 – Currently, the Guard operates the Army's only three Cockpit Procedural Trainers (CPT) at our Eastern and Western Aviation Training Sites (EAATS, WAATS). By April 2018, the Guard will add eight UH-72 Synthetic Flight Training Systems, distributed among EAATS, WAATS, and our six Security and Support (S&S) Battalions.
RQ-7 – To support its 30 Tactical Unmanned Aircraft Systems (TUAS) platoons, the Guard operates 28 Shadow Crew Trainers (SCT), all co-located with the platoons (Texas and Pennsylvania have multiple platoons, but share one SCT). These are being upgraded to the UAS Universal Mission Simulator (three already completed, four more in FY16).
AVCATT – The Guard currently operates eleven Aviation Combined Arms Tactical Trainers, distributed regionally, and moved among Reserve Component units upon request for maximum support.
NCM3 – The Non-rated Crewmember Manned Modules are enlisted crew member simulators that have proven to be quite popular and effective among UH-60, CH-47 and UH-72 standardization instructors (SI) and flight instructors (FI), for their ability to simulate gunnery, hoist, and external load tasks with high fidelity. The ARNG currently operates 11 such devices, with another one to be acquired shortly for the Eastern ARNG Aviation Training Site (EAATS) SI/FI Course.
Air Traffic Services (ATS) – The Guard co-locates 31 ATS Simulators (tower and radar) with its ATS companies. While labeled "desktops," the tower simulator's visuals are quite impressive – three 55-inch screens that provide 180 degrees of airspace observation.
As budgets shrink and flying hours decrease, these simulators will become even more important to sustaining individual and collective flight skills. All aviators must embrace simulation as a key component in their development as a pilot. Our ARNG Aviation Simulation's points of contact are Mr. Don Wellen (This email address is being protected from spambots. You need JavaScript enabled to view it., 703-607-9755) and Mr. Gil Robertson (This email address is being protected from spambots. You need JavaScript enabled to view it., 703-601-8167) – feel free to contact them with your questions.
Two other quick issues to discuss:
As the holiday season approaches, I ask Guard Aviation leaders to pay special attention to their less-connected teammates. There are Soldiers in our force who don't have the family-based love and support they may need during this holiday season. Identify them, lead them, care for them. Make sure they know just how special they are, how important they are, and how loved they are.
Finally, I'd like to highlight one special Trooper who's (regrettably) hanging up his spurs. Stephen Mauro is retiring after 40 years of serving the Nation and its Army. Through an Active Duty career that spanned from the Fulda Gap in Germany to Fayetteville, NC, a Guard-support career that touched every major aviation decision in the last ten years, and service as an AAAA chapter vice president, Stephen's impact has been sizeable. He's been the consummate teammate, and we are all better Soldiers because of his service and friendship. Well done, Stephen.
Happy Holidays! Fly Guard.
COL J. Ray Davis is the chief of the Army National Guard Aviation and Safety Division located in Arlington, VA.