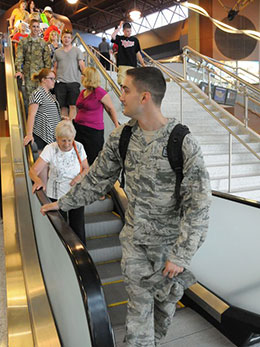 Junior enlisted service members can get help paying for their travel home from their military bases during the holidays, thanks to a partnership between the nonprofit Armed Services YMCA and The Jack Daniel Distillery.
Operation Ride Home is open to active-duty members in paygrades E-4 and below, in all branches of service, single or married, who otherwise might not be able to afford to travel home for the holidays. Family members of married troops also are eligible.
The program offers either a voucher for a plane ticket, limited to $400 per person; or a prepaid debit card for $100 per person for gas, lodging and food.
"It's not meant to completely cover all transportation costs, but to help those who can no way afford the travel," said retired Army Brig. Gen. Tom Landwermeyer, chief operating officer of Armed Services YMCA.
Participants are selected and prioritized based on need, in coordination with their installation commands. Travel must be at least 350 miles from the service member's installation.
Officials expect to book travel arrangements through Dec. 11. They'll also transfer funds if some branches are unable to use all their funds.
Operation Ride Home originated during the 2011 holiday season. Jack Daniel donated $100,000 to kick off this year's campaign, as it has the previous four years. Additional donations are being accepted at jdoperationridehome.com; donations are tax deductible.
Airline miles also can be donated. In 2014, 772 individuals — 393 single and married service members, the rest family members — traveled home with the help of the program, at a cost of $168,812.
The funds can be used for holiday travel extending from Thanksgiving through New Year's Day, for whenever the service member can get leave. If they are unable to get leave time to travel before the New Year, the travel may extend some days beyond New Year's Day. ASYMCA officials will work with military leadership in such instances.
Service members apply through their local Armed Services YMCA branch; information about those locations is available at www.asymca.org. More information about this year's Operation Ride Home is expected to be on the website soon.
The only two Armed Services YMCA branches not participating are those in Alaska and Hawaii, due to the high cost of flights to and from those states.