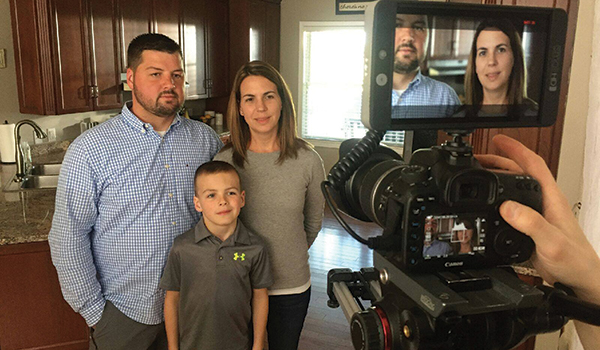 Family Forum / By Judy Konitzer: It was an exciting time to be in Nashville attending the 2017 AAAA Summit! For those who were not able to participate, I would like to share what I learned about two wonderful not-for profit organizations who were exhibiting there (gratis AAAA).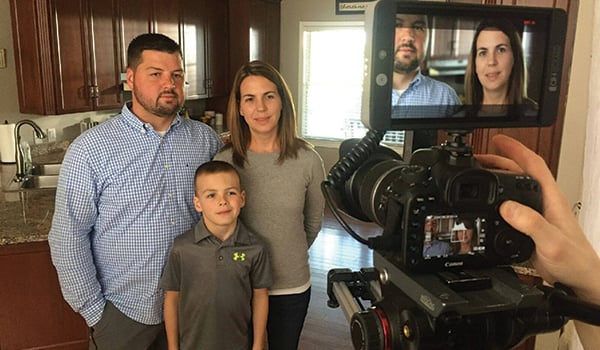 Retired Marine Sergeant Adam Kisielewski and his family posed for a photo in their specially adapted home in Lillington, North Carolina, while Homes for Our Troops was producing a video about "Rebuilding Lives" to be released in June 2017. / PHOTO BY HOMES FOR OUR TROOPS
I was impressed with both because they build new homes or provide assistance to adapt homes for severely injured Veterans and their families.
Unfortunately with this population growing daily, I feel it is important for us in our AAAA extended family to learn about and share information with those who are in most need of interventions to improve their quality of life.
Homes For Our Troops
The mission for HFOT is to build and donate specially adapted custom homes nationwide for our most severely wounded service members injured in the Iraq-Afghanistan theatre since September 11, 2001. From its inception in 2004, HFOT has built 231 of these custom homes, with 89 more projects underway, for those with missing limbs, varying levels of paralysis, blindness, and traumatic brain injury in areas where the Veterans have chosen to live.
After a home is delivered, each Veteran is provided with three years of pro bono financial planning and household budgeting education to ensure they can become successful homeowners for life. HFOT also offers a full warranty to guard against defects and works with the Veteran to resolve any issues. Homes are 2,650 square feet and feature over 40 major special adaptations like wider halls and doorways, roll under sinks, stove tops and counters, and pull down shelving to allow full accessibility, as well as being energy efficient.
For more info and to apply, Veterans, or their representative, complete an online inquiry form at https://www.hfotusa.org. They must also be approved for the Specially Adapted Housing (SAH) benefits by the Veterans Administration. http://www.benefits.va.gov/homeloans/adaptedhousing.asp.
At their exhibit booth, I had the pleasure of meeting retired Marine Sergeant Adam Kiselewski, a 2011 home recipient and currently a member of HFOT's Board of Directors. Since moving into his specially adapted home, he shared how this organization helped him to rebuild a life for himself and his family. Adam recalled the challenges of trying to raise an infant son in a three story home when he was dealing with multiple limb amputations and further explained how most of the parenting duties landed on his wife. His specially adapted home now enabled him to take on the normal responsibilities of a father and live a much more independent life.
Of importance too was the financial stability provided by this mortgage free home that allowed him to temporarily suspend his career in nonprofit management and pursue an education. In 2014, he graduated with highest honors from Mount St Mary's University and was recently accepted into a graduate program at Georgetown University. Adam also pursued his interest in aviation and has an instrument rating with plans to complete a multi-engine rating this year.
He attributes his successes to being selected for an HFOT home and was very thankful for the opportunity to be in Nashville and visit with so many members of AAAA.
House of Heroes
Since its inception in 2000, volunteers for House of Heroes have performed over 900 repair projects nationwide at no cost to our military who are disabled, living on a fixed income, or facing other physical/financial challenges. Installing screen windows and doors, access ramps, repairing or replacing basic appliances, and yard improvement are some projects all of which were supervised by a local contractor and met applicable codes.
Last September, Soldiers from the Iron Mike Chapter Fort Bragg, NC aided Tarah and Zach Siekert, Army Aviation veterans who were challenged with raising a young daughter with special needs. Through "Operation HOHAAAA" chapter volunteers provided bathroom and kitchen renovations, new plumbing and major property cleanup. Tarah felt that everyone was amazing and the help could not have come at a better time.
The Air Assault Chapter was the first chapter to work a project – theirs was for a former Vietnam POW and there are many more future opportunities.
For more information about eligibility visit houseofheroes.org or if your AAAA Chapter is willing to adopt a Chapter project visit http://www.hohct.org/operation-hohaaaa.html
Judy Konitzer is the family forum editor for ARMY AVIATION; questions and suggestions can be directed to her at This email address is being protected from spambots. You need JavaScript enabled to view it..">This email address is being protected from spambots. You need JavaScript enabled to view it..