COLUMBIA, S.C. – As September marks the halfway point through the 2019 hurricane season, a unique team of civilian firefighters and Army National Guard helicopter crews, known as Helicopter Aquatic Rescue Teams (HART) work together to hone their skills at a school called HART Academy.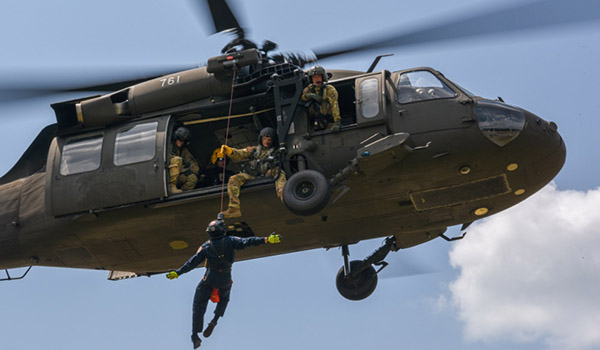 The Helicopter Aquatic Rescue (HART) Academy hosts its first joint training event at the South Carolina Fire Academy in Columbia, South Carolina, Aug. 12-16, 2019.  South Carolina National Guard Soldiers and first responders will provide other states on best practices and procedures for HART team implementation throughout the country, Indiana being the first class to train at the academy.  The academy is a joint training initiative by South Carolina, North Carolina, Pennsylvania and Texas to create full-scale training events between the National Guard and civilian agencies, implementing complex scenarios to ensure seamless response during real-world emergencies.  The training includes an overview of the program, flight crew roles and responsibilities, equipment rigging, rescue techniques, communication strategies between the National Guard and civilian partners, and more.  (U.S. Army National Guard photo by 2nd Lt. Jorge Intriago)
Not being a new concept, HART is a state-developed emergency response asset, which deploys to fly in the harshest environments and brings first responders to rescue citizens in need.
"We combine the [special operations] of firefighters with the best of Army aviation," said U.S. Army Chief Warrant Officer 5 Sean Reynolds, South Carolina National Guard helicopter pilot and program manager for the new academy. "Together, we build a capability that cannot be matched."
Instructor teams from Texas, North Carolina, and South Carolina are taking their experiences as seasoned rescue crews and starting a multi-state emergency response training, coined as HART Academy. Rescue teams from other states will learn core-level training on the fundamentals of rescue program management, risk mitigation, crew coordination, and other aspects that every HART rescue team must know. The intent is that every HART team that goes through the academy will successfully accomplish core-level day and night operational training.
"We are developing a common national standard to measure HART's capability and proficiency with the blend of National Guard and rescue technician training," said Reynolds.
For these rescue crews; coordination, safety, operations in-flight, deployment and extraction of rescue technicians, equipment familiarization and the importance of bridging communications for search and rescue missions are just a few of the technical training they receive from the core curriculum at the academy.
Indiana National Guard Soldiers from Charlie Company, 2-238th General Support Aviation Battalion and three rescue technicians from South Bend swift-water rescue completed the initial core training. After attending the training Indiana is starting their own HART program within their state.
"As aviators, we have to step our game up," said U.S. Army Sgt. Todd Overbeck, Indiana National Guard UH-60 Black Hawk crew chief. "We looked at what we could do to be more effective state-side that would also help our military mission. The HART concept gives us something to train for to respond to domestic operations, but also build our skills for overseas deployments."
The vision of the HART Academy will incorporate advanced-level training such as swift water rescue, mountain rescue, open water and wide area search and rescue, to be taught in different states. Additionally, the academy will have a course on program management, as well as creating a safety and standardization committee. This committee will assist with solving and addressing the more complex rescue issues that the HART program encounters.
"Training with civilian first responders has some language barriers," said Overbeck. "They have different ways of talking, using different hand signals, and we have to find a balance between military and civilian jargons. We have seen a lot of different ideas at the academy and we see where we can incorporate the training into our procedures for environments we operate in."
With the core training completed by Indiana crews, the success of the academy was seen by the deployment of the newly trained crew from Indiana to South Carolina to assist with Hurricane Dorian response. The team was able to incorporate themselves with South Carolina Army National Guard aviators and stood by to respond if needed based on the common operating standard they learned at the academy.
"What we saw during Hurricane Dorian, is we were able to bring in the civilian rescue technician component from Indiana and operate in an Army aircraft, which is an intent of the academy," said Reynolds. "After the initial in-briefs, a rehearsal, coupled with their training (at the HART academy), the crew was prepared to operate in the back of an Army aircraft. They knew the standard we operate by, my expectations of them, and their expectations of me were the same."
The HART Academy is a multi-state emergency response training initiative hosted by 59th Aviation Troop Command, South Carolina National Guard, in partnership with South Carolina Emergency Management, South Carolina Fire Academy, and HART program's from Texas, North Carolina and South Carolina to train military personnel and first responders in HART operations.
"South Carolina is taking the program forward," said Reynolds. "And we are building the right team to realize the academy's vision."
When there is an issue or need of rescue, the HART Academy provides crews the training for mission accomplishment.- 2nd Lt. Jorge Intriago