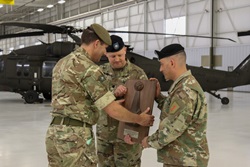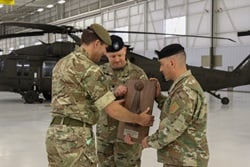 Story by Sgt. Takita Lawery
Fort Riley, KS
The Lt. Gen. Ellis D. Parker Awards are the top unit honors in Army Aviation.
The 601st Aviation Support Battalion, 1st Combat Aviation Brigade, 1st Infantry Division, was announced to receive the Lt. Gen. Ellis D. Parker Aviation Unit Award in the best combat service support battalion category Feb. 1 at the Army Aviation Senior Leader Conference in Fort Rucker, Alabama. On Feb. 28, Maj. Gen. Doug M. Chalmers, deputy commanding general for support, III Corps, was on hand to present the award.
"You are all absolute all-stars," said Brig. Gen. Patrick D. Frank, acting commander of the 1st Inf. Div. and Fort Riley. "Well deserved. You're phenomenal maintainers."
The Parker Award, a multi-component Department of the Army-level award, recognizes excellence at the battalion level in the primary warfighting aviation force. The annual award also aims to encourage innovation and provide incentive to excel in areas of leadership, training, maintenance and safety. There are four categories that make up the Parker Awards based on unit mission statement and/or unit Mission Essential Task List: combat battalion, combat support battalion, combat service support and table of distribution and allowances battalion.
"What a phenomenal, phenomenal job," said Lt. Col. Aaron M. McPeake, the battalion's commander. "I was so ecstatic and honored because this award is not only for me, but for the hardworking Soldiers in the battalion."
The unit's accomplishments included deploying to the field in September in support of Operation SABER Focus, 1st Squadron, 6th Cavalry Regiment's, mission readiness exercise in preparation for their deployment to the South Korea. During this two-week field training exercise, the battalion synchronized staff functions, employed perimeter security and provided continuous forward armament and refuel support to "The Fighting Sixth."
On a regular basis, the 601st ASB provides a robust phase maintenance inspection capability, servicing three different airframe types: UH/HH-60L/M, AH-64D and CH-47F. During fiscal year 2016, the battalion conducted 17 phase maintenance inspections, providing more than 349 working days to phase inspections alone. Also in FY16 the battalion allowed the brigade to fly more than 15 thousand flight hours, having zero fuel or munitions incidents.
"You're a team, you're a family," Chalmers said. "You are cutting the edge and setting a path and example for us all to follow."
Chief Warrant Officer 5 Sam R. Baker III, command chief warrant officer for 1st CAB, attended the conference and accepted the award on behalf of the "Guardians."
"I was honored to accept the award on behalf of the CAB and the 601st commander," he said. "The unit is trained, disciplined, hard working and is developing leaders, as it is the key to readiness for the brigade."
The Guardians also won the prestigious award in 2015 in the same category.