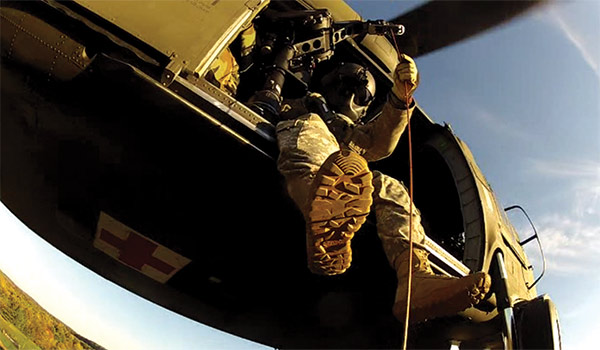 By CW5 (Ret.) Ronald C. Moring and CW4 David P. Peveto: When Hurricane Katrina made landfall on August 29, 2005, it pummeled Louisiana, Mississippi, and Alabama. More than 34,000 people were rescued by the Coast Guard alone, and more than 15,000 refugees entered the Superdome in New Orleans to evade the storm surge. The after-math of the super storm which killed nearly 2,000 people and damaged over 90,000 square miles of our homeland, invigorated multi-agencies to prepare, plan and work together for future disasters.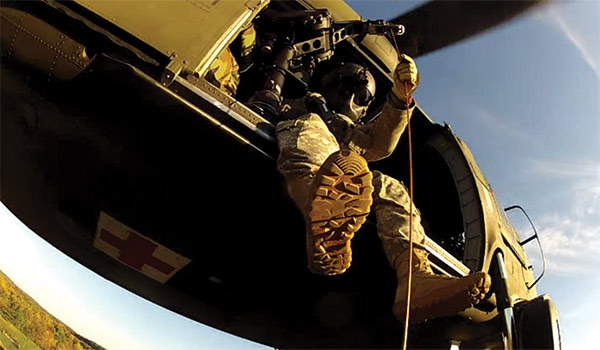 SFC Frank Palfrey of 1st Bn., 224th Avn. Regt., PAARNG, conducts rescue hoist operations in a PA HART training exercise at the Butler County Community College, Butler, PA./ PHOTO BY MR. RYAN WALT, SENIOR STRIKE TEAM LEADER, PA HART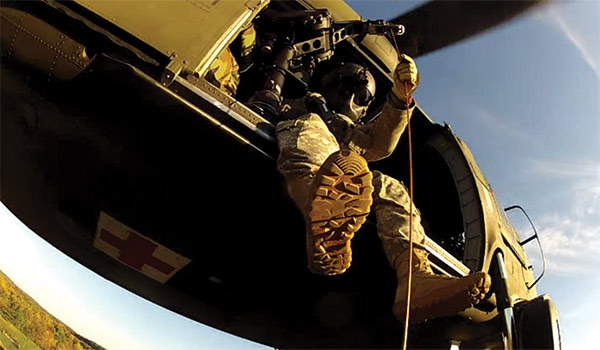 In response to natural disasters like Hurricane Katrina, Helicopter Aquatic Rescue Teams (HART) were implemented throughout our nation. These teams are specialized search and rescue teams made up of both National Guard Soldiers and civilian emergency responders. These teams specialize in flood evacuation and swift water rescue. HART teams are also trained in many other areas of technical rescue to include mountain rescue, high angle cliff extraction, and building extraction.
To support a civil and military special operations team, such as HART, each participating agency jointly plans and coordinates training. HART's synergy is the combination of military capability with civilian emergency management. The military receives realistic training during non-combat/deployed environment and the civilians receive necessary training on helicopter rescues. This joint civil-military relationship allows HART to increase readiness while reducing risk for both military and domestic rescue operations.
There are several HART programs in place across the nation and each state shares a common mission: to always be ready to respond to life threatening incidents. The Pennsylvania (PA) -HART is one of these programs. It is a partnership between the Pennsylvania Emergency Management Agency (PEMA), Pennsylvania Fish & Boat Commission (PFBC), and Pennsylvania Army National Guard (PAARNG).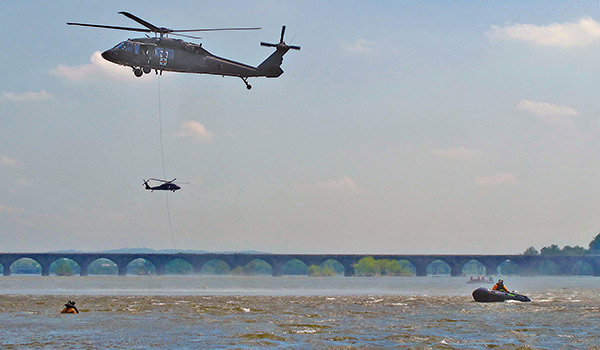 Aircrews during Vigilant Guard 14, a large-scale, multi-state disaster response exercise sponsored by USNORTHCOM and the National Guard Bureau, respond to multiple victims stranded on rocks in the Susquehanna River, Harrisburg, PA. / PHOTO BY MR. RYAN WALT, SENIOR STRIKE TEAM LEADER, PA HART
PA-HART is a specialized aerial search and rescue team that provides an air asset for the Commonwealth of Pennsylvania and the nation to respond to natural and manmade disaster incidents. Team members receive technical training that prepares them to engage in hostile environmental conditions in both urban and wilderness settings.
Increasing Readiness While Reducing Risk
The challenge with responding to swift water and/or flood rescues is that they are low frequency and high risk missions. According to Gordon Graham, a risk management consultant for the Department of Homeland Security, there is a relationship between risk and frequency. Gordon identifies the critical difference between high risk/low frequency (HR/LF) incidents and high risk/high frequency (HR/HF) incidents. The difference between high and low frequency is what Gordon calls Recognition Prime Decision Making (RPDM). RPDM is why the military trains as they fight and the reason why training reduces risk. Specialized units such as HART that train frequently are much better prepared to respond to water rescues than just an untrained aircrew. Specialized teams that either train or act frequently can make good decisions in a high risk /low frequency incident to continue the current response, adjust the response, or stop the response prior to catastrophic results i.e. death, liability, and/or bad public relations.
What about flood rescues that are HR/LF? How can HART better their RPDM to make good decisions in an HR/LF incident? The answer is excellent training programs that simulate real rescue scenarios to increase crew level experience.
PA-HART trains with a "Crawl-Walk-Run" philosophy for its rescue technicians and aircrews. In addition to the hands on training with helicopters, rescue hoist, and other equipment the team trains on communication procedures in accordance with the National Incident Management System (NIMS) and Army Air Crew Coordination (ACC). When communication fails or when multi agencies are not operating from the same play book risk will increase in both training and actual incident responses.
HART Structure
In addition to developing individual and crew-level skills, key leaders in PEMA, PFBC, and the PAARNG provide the structure of HART. PEMA is the lead agency that coordinates HART training and response to actual incidents across the commonwealth. The PFBC is the lead agency that trains the water rescue technicians to National Fire Protection Association (NFPA) standards and provides the law enforcement force protection element with their Waterway Conservation Officers for the team on deployments. The PAARNG provides the technical expertise in providing aircraft, trained and ready crews, and mission command.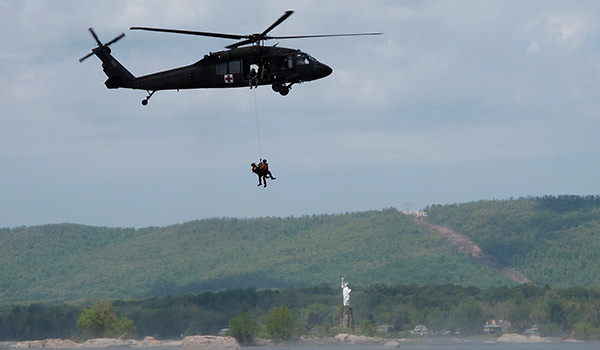 As a result of the team's realistic and large-scale training events, the Commonwealth has an effective process for both training events and actual disaster response scenarios. Such training and real world responses have exercised the notification and response process from local 911 centers to the actual crews responding to an incident thru the PAARNG's Joint Emergency Operations Center (JEOC) that receives its mission from PEMA and its State Emergency Operations Center (EOC).
Recognizing Success
The HR/LF swift water flood rescue has been changed to an HR/HF mission for PA-HART that reduces risk and increases readiness. The hundreds of hours of training earned PA-HART the prestigious Higgins and Langley Swiftwater Rescue "Program Development Award" at the National Association for Search and Rescue (NASAR) annual conference in 2014.
You might ask yourself why we can't reduce the risk further. Any team responding to inland Search & Rescue (SAR) is a dynamic environment and is not for the inexperienced. No matter the training, the risk of hooking a person on a cable from a helicopter in fast moving water results in death if mistakes are made.
In Army Aviation we constantly evaluate risk and manage it appropriate whether in combat or in domestic rescue missions. We must identify hazards correctly to reduce our risk or the rest of our risk management doesn't work. Having untrained personnel without proper personal protective equipment is never the way to respond to flood rescue or any other aviation mission. Training is what we do in the Army when we are not deployed or on a mission. When we get the call to respond to a civilian emergency we should take a line from Mr. Graham in his risk management, and that is to "slow down, slow down, and slow down." Let's not rush to failure, but plan ahead and prepare with the proper training and equipment for the next storm.
As we all train for the next disaster let us not be too reserved in how realistic our training should be. It was not long ago that 230,000 people perished by the devastating effects of the tsunami in Indonesia in 2004. Let us continue to improve interagency relationships across the nation to be "always ready and always there" for the American people.
MAJ Michael T. Girvin is the executive officer for 2nd Battalion, 104th Aviation Regiment, 28th Combat Aviation Brigade, Pennsylvania Army National Guard, Annville, PA.