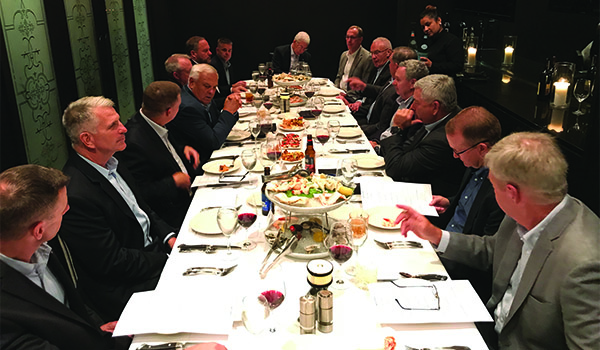 President's Cockpit / By BG Stephen Mundt, Ret.: Happy Veterans Day and a very Happy Thanksgiving everyone! As we take a day out of our routine to reflect on our blessings, I thank each of our 17,000 members of AAAA for all you do every day to make this country safe and secure.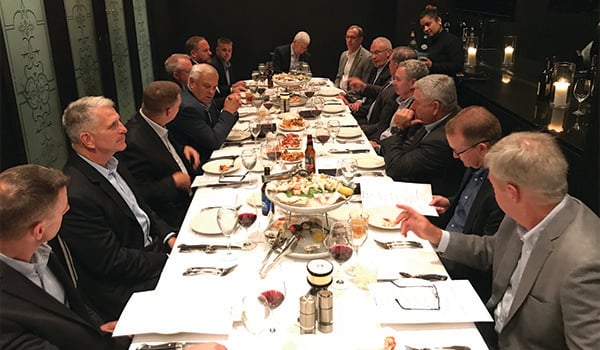 Chairman GEN Scott Wallace, Ret., opens the 11 October 18 Senior Executive Associates meeting.
I hope that each and every one of our members took time to "Vote" on November 6th as it is one of the liberties that those in uniform have fought so hard to protect and defend. Some say is a right but those who know me know I see it as an obligation.
For AAAA's part we want to assure that we strive every day to meet your expectations for the Networking, Recognition, Voice and Support actions and activities you have told us you want and which are the pillars of "Supporting the U.S. Army Aviation Soldier and Family!" Over the last month these events have taken us from the east in Washington DC, to the west to Corpus Christi, TX, and back to Huntsville, AL in the Southeast. These events have ranged from AAAA sponsored symposia on depot maintenance and the industrial base, to logistics and maintenance and very specific topics like the state of our aircraft survivability equipment.
The fall AAAA National Executive Board meeting took place at the AUSA Annual Meeting in DC on Sunday, October 7, 2018. The focus was on how we might better serve all of you. Items included: a new expanded tangible membership benefit program led by VP Membership CW4 Becki Chambers; a new AAAA sponsored A&P License Enlisted support program to launch by the end of the year; and even a think piece white paper written by our Strategic Planning Committee led by former VCSA, GEN (Ret.) Dick Cody on Future Vertical Lift and the implications for the Branch and the Army across AC/ARNG/USAR components. Look for that article in the December issue and stay tuned as part two of that article is due out in time for our annual Army Aviation Mission Solutions Summit in April.
We held our Senior Executive Associates meeting on October 11 in DC with Chairman GEN (Ret.) Scott Wallace presiding. There was a spirited discussion among the retired three and four star non-aviation general officers who are the Associates, and the members of the Army Aviation Six-Pack. Real-world issues that impact your lives were discussed from training challenges, loss of experienced personnel to airlines and other markets, technology and industry's understanding of Army requirements and their response impacting the ability to provide what is needed when needed, simply put we need strategic depth in our parts and ability to repair.
With respect to the Luther Jones event held October 24-25, 2018 I particularly want to thank COL Gail Atkins and her whole CCAD team for allowing us to help showcase what this national treasure does to provide strategic depth to our industrial base. For me the highlights were the recognition of our Depot Artisan of the Year SGT Cameron Renth and his wife Rebecca from the F Company, Task Force 1-160, and the AAAA sponsored luncheon in the hangar with hundreds of the artisans themselves. The individual speakers and the panels were superb and took us from readiness for the warfighter, to training the needed skills for tomorrow's aviation repairers and management specialists, to the future platforms and the needs that are emerging for sustainment. It was a great venue that allowed for a very intimate connection between Industry and their customers the Warfighter and those who support the warfighter. See page 60 for the full wrap up on the Luther Jones event. Next month we will have a full report on the Joseph P. Cribbins Army Aviation Product Sustainment and ASE Symposia. These events provide a platform for networking and discussion of solution sets for the issues facing you in the field every day.
Again, as we enter this special time of year, let's all support and thank each other as we go about our missions. Army Aviation is indeed a team sport and every one of our AAAA members plays an important role in the success of the Enterprise, from family member to warrior, and engineer to industry – you are all "Above the Best!"
BG Stephen Mundt, Ret.
33rd President, AAAA
This email address is being protected from spambots. You need JavaScript enabled to view it.