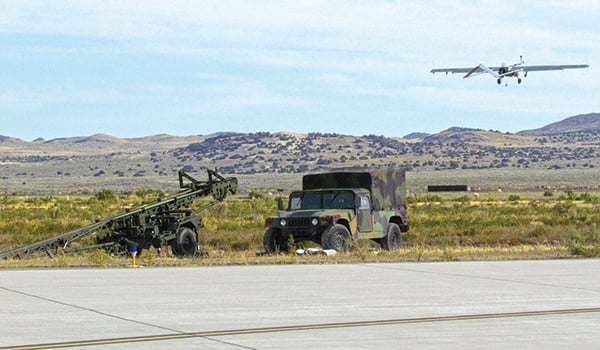 Chief Warrant Officer of the Branch / By CW5 Joseph B. Roland: The Unmanned Aircraft System (UAS) Warrant Officer (150U), while not new, is still relatively immature. Our ability to fully capitalize and leverage our UAS capabilities is directly related to the level of training and development we invest in our 150U community.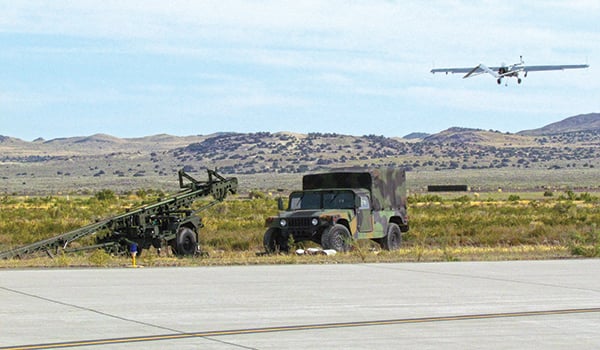 An RQ-7 Shadow Unmanned Aircraft System launches at Dugway Proving Ground, Utah. / U.S. ARMY PHOTO
A CW2 150U serves as an intermediate level expert who is technically and tactically proficient at leading, training, managing, maintaining, sustaining, and advising the commander on all assigned unmanned systems. He functions as a platoon leader providing leadership development, advice and counsel for enlisted soldiers and officers. The roles and responsibilities we've defined for our UAS warrant officers is extensive and requires a requisite level of initial training and development to ensure success.
WOBC
Upon graduating a six week Warrant Officer Basic Course a newly minted WO1 is responsible for supervising UAS operations that include; mission planning, payload operations, aerial reconnaissance, target detection, target engagement, and launch/recovery procedures. If that was not enough we've also asked these officers to provide direction, guidance, resources, assistance, and the supervision necessary for their subordinates to perform their duties. These young WO1/CW2s are required to provide standardization, maintenance, and safety oversight; each of these responsibilities is individualized within our manned community. We as a branch must ensure they get the depth of knowledge required to meet these challenges right out of the gate.
To enhance the preparedness of our UAS WO1s and CW2s we redesigned the Warrant Officer Basic Course in order to enhance leadership and adequately address the required skill sets. We opened up assessments to non-15Ws to meet demands and place quality commissioned and non-commissioned officers in the program. Being a qualified UAS operator is a bonus, it is even more important that we assess individuals with the leadership and aptitude to meet the vast demands placed on its officers.
AWOAC
The 150Us are now fully integrated into the Aviation Warrant Officer Advanced Course. While not perfect, this Branch continues to develop scenarios, course material, and modify the curriculum to ensure we give our officers the tools required to succeed in their profession. Future "Track Specific" training weeks will facilitate the requirement for our 150Us manage and supervise standardization, maintenance, logistics, safety, and tactical operations. We have incorporated UAS into our Master Gunner course and are working to ensure 150Us are provided an opportunity to attend the resident course. The Aviation Branch is working to ensure the our UAS warrant officers are afforded an opportunity to attend the following training throughout their career: Aviation Safety Officer Course, Tactical Operations Course, Phase 1 Maintenance Managers Course, Armament Officer Course, Government Flight Representative Course, Master Gunner Course, Joint Firepower Control Course, Brigade Aviation Element (BAE) Course, and Joint Fires Observer.
The UAS may very well be the future of armed conflict and our 150U warrant officers will be integral to the success of Army Aviation. We as the Aviation Branch have the responsibility to provide our warrant officers with the level of training and development required for success and fully committed to getting it right.
Above the Best!
CW5 Joseph B. Roland is the chief warrant officer of the Aviation Branch with the U.S. Army Aviation Center of Excellence, Fort Rucker, AL.