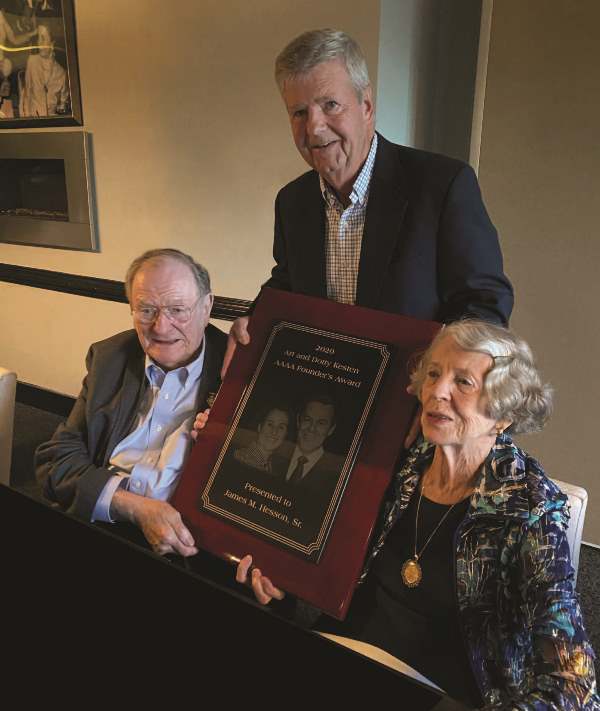 President's Cockpit / MG Tim Crosby, U.S. Army Retired: By the time you read this we will have held our first live and in-person event in exactly two years. The Joseph P. Cribbins Training, Equipping and Sustainment Symposium was held on November 15-17 in Huntsville, AL, and as of this writing we have had a record registration of over 1,200 attendees. In addition, the support from our industry member partners has been truly outstanding and represents a growth this year of over 500% from the past Cribbins events. This symposium has now grown to be second only to the April AAAA Annual Summit itself six months later. Look for a full report in the next issue.
While Cribbins was a huge success, I was very disappointed in the reaction of some of our former members who elected to resign as a result of the vaccination mandate to attend the event. I certainly hope that these members will reconsider. AAAA is not a political organization; we are a professional organization that shares a passion for Army Aviation patriots. To execute our mission, we must actively interact with our military and government agencies to enhance our Association pillars. The government would not be allowed to attend nor participate unless all were vaccinated. AAAA is not mandating vaccines; we are imposing the requirement simply to ensure Association success. I can only hope that those members will reconsider as we are an association that values every member.
As I travel around to more AAAA chapters in my quest to visit all 78 before the end of my term, I continue to be impressed with the can-do attitude and efforts to re-energize as we emerge from the pandemic. It is a great reminder that each chapter is unique and their pool of members is different. A consistent theme I keep hitting is that our AAAA Chapters are literally the life blood of AAAA. If you the members are not having an engaging, fun, and quality experience at the local chapter level, you simply will not continue to be part of this great organization. AAAA National exists to support the chapters, and we must embrace the chapter differences and foster their growth. We need you all to step up and express yourselves to your local chapter leadership and/or directly to me so we can make sure you are getting the experiences you are looking for.
Last month, at the conclusion of AUSA Annual Meeting, we were privileged to have the Chief of Staff of the Army, GEN Jim McConville, join us for an AAAA Senior Executive Associates dinner along with the "Six-pack + one" led by MG Dave Francis, our Branch Chief. The purpose of this meeting is to make sure AAAA and especially the dozen retired non-aviator three and four-star General Officers are fully aligned with the Chief's vision and can help support the Army and the Branch as we posture for the emerging challenges around the world. Several remarked after the event that it was the most enlightening and productive Associates meeting ever. It was truly informative and inspiring.
Finally, I want to bring to your attention a very special award that was presented back in May to BG Jim Hesson, Ret. Jim not only was one of my predecessors as Chinook PM, and AAAA President, but really devoted his life, in and out of uniform, to AAAA and the Army Aviation Soldier and Family. He and Joyce embody selfless service, what AAAA is all about, and richly deserve the Art and Dotty Kesten AAAA Founders' Award.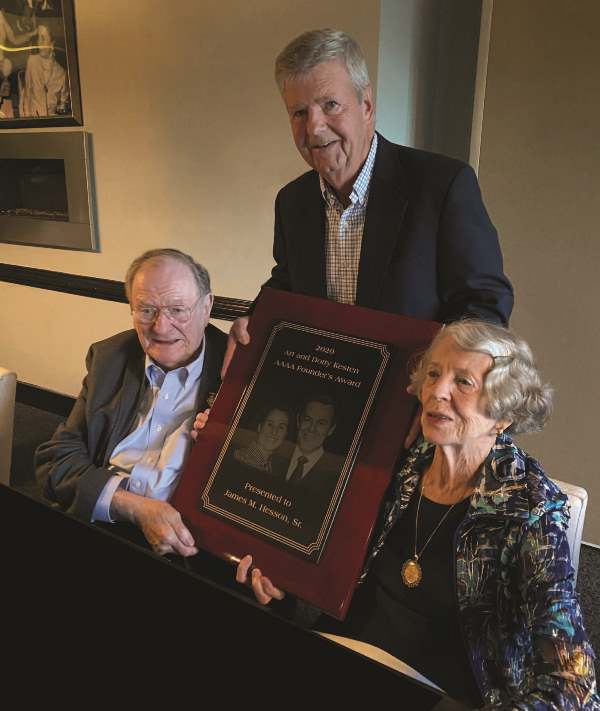 Photo: BG (Ret.) Jim Hesson receiving the Art and Dotty Kesten AAAA Founders' Award with wife, Joyce at his side, from AAAA President, MG (Ret.) Tim Crosby.
As I stated above, remember to send me and you chapter presidents your cards and letters with how we can better serve you. I am very serious about this.
Have a great Thanksgiving! We have a lot to be thankful for.
MG Tim Crosby, U.S. Army Retired
35th President, AAAA