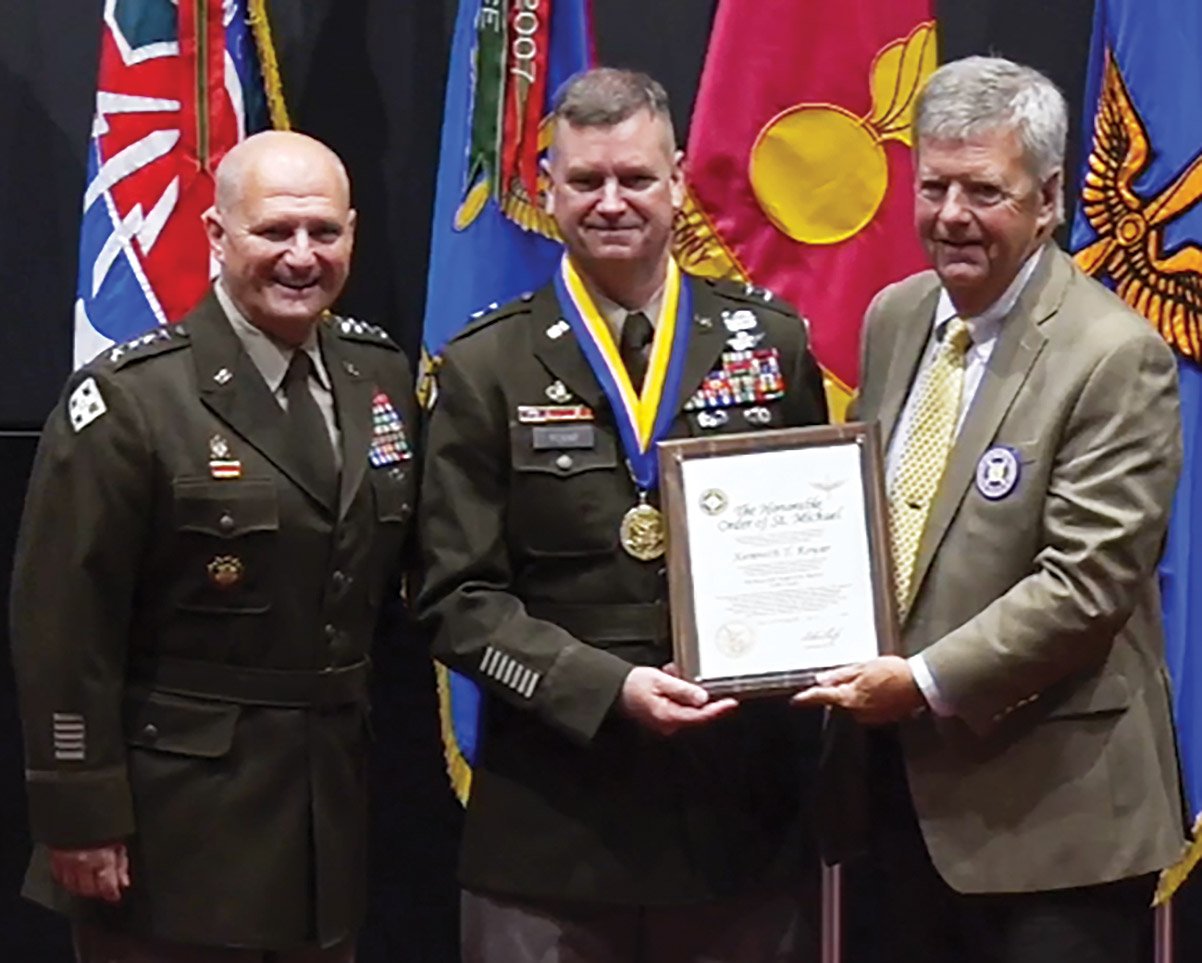 MG K. Todd Royar is inducted into the Gold Honorable Order of St. Michael by AAAA National President, MG (Ret.) Tim Crosby in conjunction with the AMCOM change of command on Aug. 12, 2022 at Redstone Arsenal, AL. Army Materiel Command Commanding General, GEN Edward Daly, was on hand to congratulate Royar for his more than 34 years of service to Army Aviation.
AAAA President's Cockpit / MG Tim Crosby, U.S. Army Retired:
One AAAA national event down with two more to go before the end of the calendar year.
By all measures the September 11-13, 2022 Aircraft Survivability Equipment Symposium in Lexington, KY was a great success. From the over 400 attendees and the outstanding awardees and families, to the terrific industry partner support in the exhibit hall, we were very fortunate indeed to have such a record-breaking event considering we had not held one since 2019! See page xx for more details and photos. All that said, I feel I owe the attendees an apology because we just did not have enough seats… a good problem to have, and we vow to do better.
Now our focus shifts to Huntsville, Alabama. As we move to our next event, the AAAA Cribbins Army Aviation Readiness Conference next month, I would like to highlight our vision for this ever evolving event begun by Joe himself along with COL Don Luce and Paul Hendrickson. They started this event in 1973 in St. Louis. Cribbins is really a mini AAAA Annual Summit six months out of phase from the April Summit itself. Although it will always feature acquisition and sustainment elements, it has now matured to include the total aviation enterprise. Led by the Army Aviation Branch Chief and other members of the six pack plus one, the Cribbins Readiness Conference will give you a broad picture of the state of the Branch with the opportunity to visit with key PMs and leaders in the previously mentioned Acquisition and Sustainment communities as well. Capping it all off on Tuesday evening, November 15, 2022 will be our first Annual AAAA Scholarship Foundation, Inc., (AAAASFI) Dinner Concert which will feature outstanding Country recording artist Michael Ray! Don't miss this great opportunity to support the AAAASFI and have a wonderful time doing it. By the time you read this there may still be a few tickets left but no guarantees.
The December depot-focused Luther G. Jones Forum in Corpus Christi TX rounds out the calendar year on December 6-7. This forum is always a professionally rewarding and fun event that shines a light on the incredible artisans and sustainment professionals of this national asset. While there, we get the opportunity to recognize the year's outstanding depot artisans through our AAAA awards program.
One last item I would like to mention that has emerged from my various chapter visits around the country. The chapters have raised the issue of rebooting our "Speakers Bureau" that used to exist back in the day. Specifically, the chapters would like to have a list of speakers that would be willing to attend Chapter events and address them on various subjects to include Army Aviation Hall of Famers, Industry representatives, outstanding leaders from among our Army Leadership, AAAA Boards, and the retired community. If you are interested in participating, please contact Laura Arena, our Director of Member Engagement. Laura will endeavor to get your availability out to the 79 chapters around the world to assist them in their professional program planning and development. As you may know AAAA underwrites almost $200,000 a year for our chapters to sponsor local events, and this would be a way to share past lessons learned and visions for the future with our over 18,000 members and their families.
I am still on my mission to visit all the chapters before my tenure is over next April. If I have not been to your chapter, believe me, I am headed your way.
Finally, the submission period is open for our National Awards recognizing outstanding Soldiers and units – active, Guard and Reserves. Get your submissions in by January 1st … information and forms can be found on our website at www.quad-a.org/awards.
As always, send me your thoughts on anything AAAA at tim.crosby@quad-a.org. Hope to see you at an upcoming AAAA event soon.
MG Tim Crosby, U.S. Army Retired
35th President, AAAA