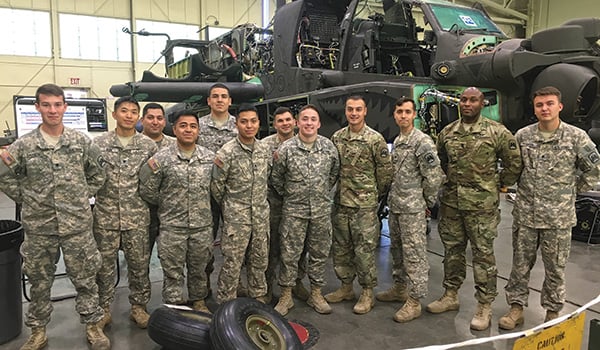 Branch Command Sergeant Major / By CSM Gregory M. Chambers: Gaining the edge on aircraft maintenance and maintaining aircraft maintenance proficiency takes leader engagement at all levels to be successful.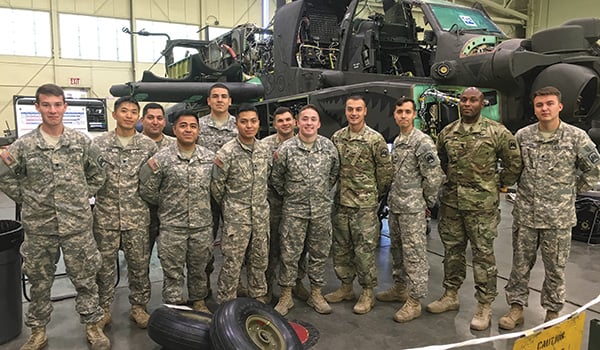 Soldiers from Company D, 1st Battalion (Attack/Recon), 229th Aviation Regiment gather near a unit AH-64D undergoing scheduled maintenance in September 2016 at Joint Base Lewis-McChord, WA. / U.S. ARMY PHOTO BY CSM GREGORY M. CHAMBERS
More importantly, when we succeed at this as a branch, the branch and the Army succeeds.
In this month's issue of ARMY AVIATION magazine, the focus is on the Program Managers. I briefly talked about them as part of the "Enterprise" a couple of months ago. Bottom line, our PM teams are the personnel and organizations that are responsible for getting us our new aircraft and managing those aircraft throughout their lifecycle.
Once we receive those new aircraft it's up to the operational units to maintain those highly sophisticated machines. We all know that the ratio between maintenance time and flight time is huge, meaning we will spend hundreds more hours maintaining an aircraft than we will flying it. Rightfully so, I think we all want to fly airworthy and safe aircraft.
It's our responsibility as senior NCOs and officers to train our Soldiers, specifically in their technical field as an Aviation mechanic. We all know the importance and the advantage of a well-trained Soldier and a well-trained unit. Using aircraft maintenance whether it's scheduled or unscheduled is the best venue we have to train our Aviation Soldiers. I believe as a branch we are making great headway on collective maintenance tasks such as phases and the removal and reinstallation of major end item components on aircraft. These are great events to train Soldiers but we need to continue to look at other means of training as it concerns aircraft maintenance.
Military Occupational Specialty (MOS) testing, I am not talking about the old SQT examination, but there is nothing stopping us at the unit level from developing our "your" own test. Most Soldiers thrive on learning, sometimes they really want to know where they stand in their own field. There is endless material out there to develop your own test. For example, a 15B supervisor could develop a component identification test on an engine to ensure one, his Soldiers know what all the components are and two, the 15R and 15T knows what the components are because that engine is on their aircraft.
Cross training between MOSs, although our branch has a lot of specialty MOSs due to the complexities of work required on our aircraft, there is no reason why we can't cross train or at least educate across MOSs. Cross training builds knowledge and proficiency and more importantly creates cohesive teams that can work independently on their own.
MOS Individual Critical Tasks List (ICTL) proficiency; you can find these ICTLs on the web in the Army's digital job book for a given MOS. ICTLs at a minimum give a good reference of what tasks are important for a Soldier to know and how to perform them for their MOS at their current rank. For example, a 15T has 91 ICTLs as it concerns working on the UH-60 aircraft. Although ICTLs are very MOS specific and are macro in size per task, one task can be selected to train multiple Soldiers. Additionally, Soldiers need to understand general aviation tasks in order to complete an ICTL successfully. Junior leaders can also use ICTLs to set up training opportunities, but probably the best thing ICTLs do for a junior leader is it gives them the ability to track progression and experience. And, if leaders track experience that can be passed onto gaining units.
Condition Based Maintenance
(CBM), although not an individual training opportunity or a method to measure experience or progression, CBM offers a great method for Soldiers to learn how a particular system works on their aircraft. When Soldiers understand how a component works, interacts with the aircraft and what the component is comprised of, the Soldier becomes a better technician. Aviation Soldiers that become better technicians become better trouble-shooters, they become better inspectors and they become better trainers.
Outside of scheduled aircraft maintenance actions, there are numerous ways junior leaders can train their Soldiers on their assigned aircraft. Again, the Program Manager provides us the aircraft, it's up to us to maintain it and keep it combat ready, because at the end of the day, that's what we do in our Army as an Aviation maintainer.
Above the Best!
CSM Chambers
This email address is being protected from spambots. You need JavaScript enabled to view it.