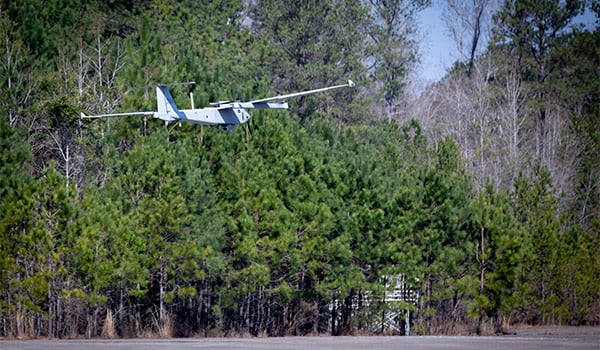 Team Update / By MG Walter T. Rugen with LTC John Michael McClean: Since my update last year, the Future Vertical Lift Cross-Functional Team (FVL CFT) remains on glideslope with the Aviation Enterprise, Joint Services, and industry partners to deliver transformational maneuver and tempo to our Army's corps and divisions, and I am excited about the future.
Future Vertical Lift Cross-Functional
The Arcturus JUMP 20 lands at Fort Benning, GA during the FTUAS Rodeo, March 2021.
Moving ahead and building on our past, I look forward to the Experimental Demonstration Gateway Event (EDGE) 21 this May to test out new tactics, technologies, and interconnecting architectures to transform joint kill chains. This includes progressive efforts connecting Joint All Domain Command and Control (JADC2) to the lower tier of the air domain by extending the reach and lethality of the Future Attack Reconnaissance Aircraft (FARA) ecosystem. The continuing deliberate focus on experimentation, demonstration and high-fidelity modeling increases the critical shared understanding of the FVL's decisive contributions facilitating the joint kill chain.
FARA
FARA remains Army Aviation's top modernization priority and is happening as vendors are about 30% built and on track to fly before December 2022. Employed as an ecosystem, FARA's speed, range, endurance, and survivability will enable operation from relative sanctuary, employ a mesh-network of attritable Air Launched Effects (ALE) to identify, target, and effect the enemy, and organically neutralize Anti-Access/Area-Denial / Integrated Air Defense Systems (A2AD/IADS) with organic Long Range Precision Munition (LRPM) beyond 30km. As an ecosystem, FARA will enhance the future competition space by informing and expediting joint kill chains beyond any current capabilities.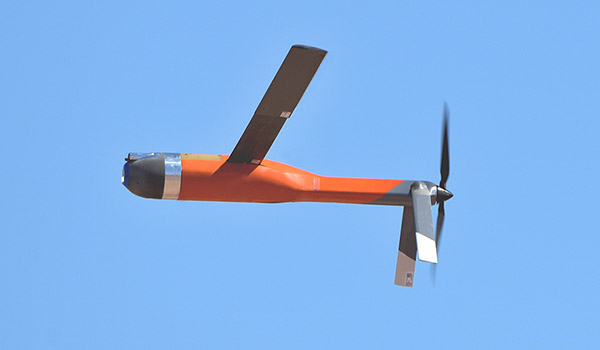 Last March, the Army selected Bell's 360 Invictus and Sikorsky's RaiderX for continued development as FARA Competitive Prototypes (CP). Both vendor CP aircraft are currently in production and on track for first flights by 1st quarter FY23. The CFT continues to coordinate with PEO Aviation to monitor the progress of FARA's critical technologies integration, specifically the Improved Turbine Engine Program (ITEP), the XM 915 20mm cannon, and the Modular Effects Launcher (MEL). FARA's development requirements are currently in staffing with Army Senior Leaders, with approval expected by May. The 2021 budget increase represented a four year acceleration of this highly successful program.
FLRAA
Future Long Range Assault Aircraft's (FLRAA) speed, range, endurance, and agility embody the transformational direction of the Army's next generation assault platform to replace the UH-60. Both Bell's tiltrotor V-280 "Valor" and Sikorsky-Boeing's coaxial lift-offset compound DefiantX represent game-changing capabilities delivering tactical effects at operational and strategic ranges throughout contested Joint All Domain Operations (JADO) environments, with first units fielded in 2030.
In October, Army Senior Leaders approved FLRAA's development requirements. The Project Management Office for FLRAA continued refinement and maturity to transform JMR-TD airframe designs into the DefiantX and Valor weapon system designs throughout the ongoing Competitive Demonstration and Risk Reduction (CD&RR) efforts. Congress saw the tremendous value of CD&RR and added $90.5 million to the program, fully funding a second phase. These activities maintain FLRAA's critical path for an Army down-select to a winning vendor anticipated by summer of 2022.
FUAS
The Future Unmanned Aerial System (FUAS) family of systems Future Tactical UAS (FTUAS), Air Launched Effects (ALE), and the Scalable Control Interface (SCI)) embodied the "Buy, Try, Inform" approach by placing prototype capabilities directly into warfighter's hands.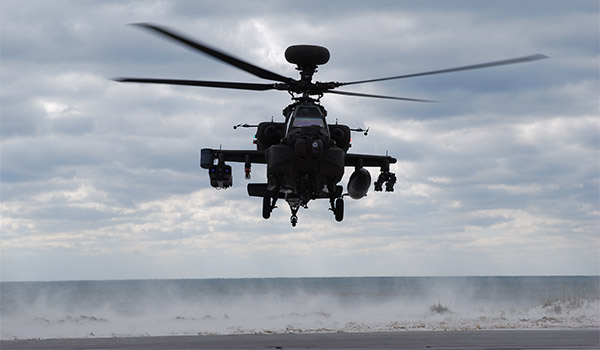 AH-64E modified with Spike NLOS missile hovers off the coast of Florida before engaging overwater target at 32km./ U.S. AIR FORCE COURTESY PHOTO
Last March, five FORSCOM BCTs fielded four Vertical Take-off and Landing (VTOL)-capable FTUAS prototypes. Unburdened by runway dependence, units demonstrated innovative FTUAS applications in a contested environment. Last month the yearlong FTUAS "Try and Inform" effort culminated at an FTUAS Rodeo at Ft Benning, GA. Army Leaders, BCT operators, and industry partners participated in side-by-side demonstrations and conducted roundtable discussions to inform requirements and provide the Army with options to accelerate an RQ-7B replacement.
Small form-factor, quiet, and collaborative, ALE will enable situational awareness and the joint kill chain. Last May, Army leaders approved ALE's development requirements. By August, ten ALE development contracts, worth nearly $30 million, were issued to maintain the momentum in technological development. At Project Convergence 20 we progressed the concept demonstrating the reach and lethality employing six simultaneous ALEs extending mess network out to 60km.
As FTUAS freed BCTs from runway dependence, SCI will unburden operators from ground control stations as we demonstrated with a Joint Tactical Air Controller at Project Convergence 20. More importantly, SCI will enable permission based levels of interoperability to facilitate rapid information dissemination, and near-immediate sensor and weapon control to the appropriate echelon to magnify Army Aviation's effectiveness in the JADC2 kill chain. SCI's capability development requirements are awaiting formal staffing, with approval anticipated in FY21.
MOSA
FARA, FLRAA, and FUAS will deliver transformational capabilities, but Modular Open Systems Architecture (MOSA) will ensure that each platform will retain a decisive advantage for decades. Arguably the most vital FVL signature effort, MOSA is the pathway for system interoperability between platform and mission systems via an openly defined digital backbone (DBB). A MOSA enabled DBB will allow Army Aviation to update current technologies and rapidly adapt new capabilities on a timeline required to outpace emerging threats. Efforts from the Mission Systems Architecture Demo (MSAD) and the FVL Architecture Collaborative Working Group (ACWG) have allowed us to begin to define the standards and specification pathway to open interfaces. In addition, during the past year, Army Senior Leaders approved MOSA's initial development requirements for codification and integration into FVL systems.
Lethality
FVL lethality continued to focus capability development to improve precision and extend weapon effective ranges as a means to achieve overmatch versus increasingly capable and long-range threat A2AD/IADS. In February, the CFT led an overwater Spike Non-Line of Sight (NLOS) missile demonstration at Eglin Air Force Base to validate its lethality and effectiveness in a maritime environment and counter Fast Inshore Attack Craft and counter Maritime SOF mission sets to name a few. Spike NLOS successfully engaged a target watercraft from 32km to prove the munition's multi-domain viability. The Army formally announced an LRPM Shoot-Off in late 2022 for the Army industry nominations to succeed Spike NLOS as the interim LRPM solution.
Survivability
FVL Survivability focused on technological development and integration to enable high speed and low altitude missions in degraded visual environments (DVE), against peer/near-peer multi-domain threat capabilities. This focused on identifying emerging and cross-service DVE materiel solutions to facilitate 360 degree situational awareness augmentation via pilotage sensors and terrain-enabled databases. FVL's DVE increment 1 requirements are undergoing staffing, with Army Senior Leader approval expected in the upcoming months.
Reach
Last September, Project Convergence 20 showcased the FVL ecosystem's approach to extend reach deep into a contested A2AD/IADS area. FVL CFT partnered with adjacent CFTs to experiment and demonstrate advanced targeting, communications, and multi-domain information dissemination. As targets were cued by assets from the Tactical Space Layer, a surrogate FARA ecosystem deployed six ALTIUS ALEs to establish a functioning mesh network 60km beyond the FARA's forward trace to facilitate targeting and communications. Sensor-to-shooter processing time decreased from tens of minutes to tens of seconds enabled by Artificial Intelligence, aided Threat Detection and Recognition (AiTDR), and automated information and target dissemination significantly demonstrated FVL's transformative impacts to the JADC2 kill chain.
Life-Cycle Affordability
FVL partnered with AMCOM and several academic institutions to apply innovative thinking towards revolutionary practices to increase FVL's life-cycle affordability, operational readiness, and deployed maintainability. The United States Military Academy Center for Innovation and Engineering is assessing Maintenance Free Operating Period initiatives. The University of South Carolina is conducting research to enhance Army Aviation's materiel readiness and identify cost saving initiatives in FVL programs. Lastly, Wichita State University and the National Institute of Aviation Research are digitizing the UH60L to increase readiness and reduce costs on current systems with tremendous potential for our future systems.
Modeling and Simulations
This past year, the CFT's modeling team partnered with the U.S. Army Aviation Center of Excellence, The Research and Analysis Center, and the U.S. Government's premier threat and capability organizations to complete a detailed, high-fidelity model of the FVL ecosystem's efficacy in a maritime Defense Planning Scenario. This effort went far beyond threat rings and engagement table probabilities and critically assessed the applied physics of the domain, classified threat capabilities, and overlaid applied tactics to comprehend the FVL ecosystem's decisiveness in the lower tier of the air domain. Bottom line, FVL's reach, survivability, and lethality create operational and strategic opportunities that do not currently exist.
Conclusion
Over the last year, the FVL CFT and Aviation Enterprise achieved key milestones and sustained the momentum to deliver transformational maneuver and tempo to the warfighter posturing Army Aviation to dominate in the lower tier of the air domain. Through continued communication, synchronization, and tough choices that we must collectively make as a branch, we will deliver FARA, FLRAA, and their critical enablers to the Force in 2030
Forge The Future!
MG Walter (Wally) T. Rugen is the director and LTC John Michael (Mike) McClean the Future Attack Reconnaissance Aircraft Lead Integration Officer of the U.S. Army Futures Command Future Vertical Lift Cross Functional Team, located at Redstone Arsenal, AL.