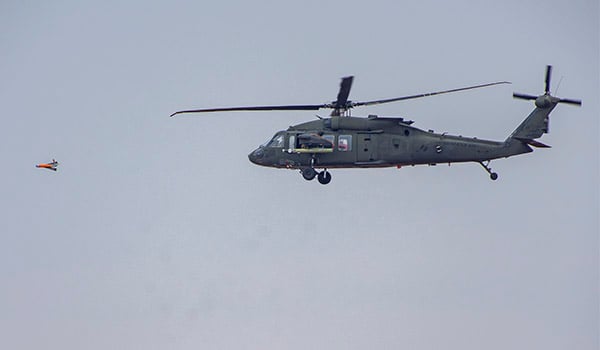 Branch Chief's Corner / By MG David J. Francis: Layered stand-off is the real enemy in Multi-Domain Operations. Our adversaries employ it at all levels – economic, political and military – to separate us from our allies in order to achieve their strategic means short of igniting conflict.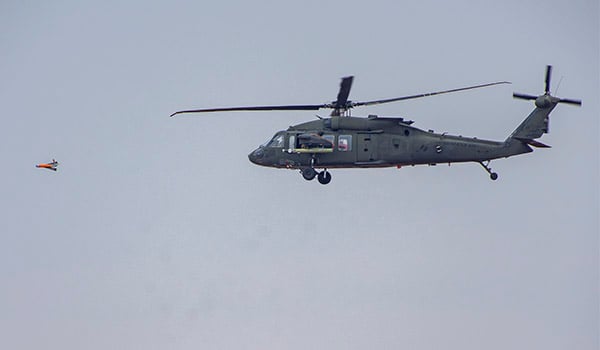 An Air Launched Effects (ALE) system is launched from a UH-60L Black Hawk as part of capabilities testing during Project Convergence at Yuma Proving Ground, AZ, Sept. 15, 2020. The autonomous weapons system was designed to launch from in-flight aircraft at high tactical altitudes./ U.S. ARMY PHOTO BY SPC JAVION SIDERS, 92ND COMBAT CAMERA COMPANY
If conflict does come, they will employ multiple layers of stand-off in all domains to separate our forces in time, space, and function in an attempt to defeat us.
Our adversaries have established a robust Anti-Access/Area Denial (A2AD) capability. One of Army Aviation's significant missions, in conjunction with the rest of the Joint Combined Arms Force, is to find or create a gap and negate this capability. To prevail we must penetrate and dis-integrate the threat's A2AD systems and exploit the resultant freedom of maneuver to defeat their systems, formations and objectives so as to achieve our own strategic objectives.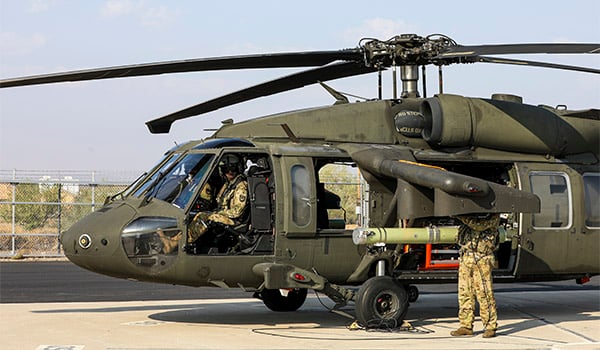 An Air Launched Effects (ALE) system is loaded onto a UH-60L Black Hawk as capabilities testing commences during Project Convergence, at Yuma Proving Ground, AZ, Sept. 15, 2020./ U.S. ARMY PHOTO BY SPC JAVION SIDERS, 92ND COMBAT CAMERA COMPANY
Within our innovative modernization strategy there are two prominent and complementary systems that address this mission set and provide reach, survivability and lethality – Future Tactical Unmanned Aircraft System (FTUAS) and Air Launched Effects (ALE).
FTUAS is a substantial increase of capability at the brigade combat team (BCT) level that provides ground forces the capacity to project power into the other domains to defeat our very capable adversaries. To fully enable these capabilities, FTUAS will require the ability to be runway independent and to interact with multi-role air vehicles that optimize manned-unmanned teaming for air and ground maneuver units across all environments. These systems are being optimized to generate overmatch and provide the ground commander with multiple options, specifically to enable joint force freedom of maneuver.
Air Launched Effects (ALE) represents an asymmetric approach that will be part of the Future Attack Reconnaissance Aircraft (FARA) ecosystem, and the overall effort for Army Aviation to overcome our advisories' stand-off strategy. These small, air or ground launched loitering aircraft will provide Future Vertical Lift (FVL)/FARA optionally-lethal and optionally-recoverable systems that enable us to regain the advantage in reach, protection, and lethality required in the execution of joint combined arms and maneuver operations. ALE provides a means for Army Aviation to extend its reach and lethality to conduct reconnaissance, security, and attack operations during the penetration, dis-integration, and exploitation of enemy A2AD systems in the close and deep maneuver areas. ALE is able to detect, identify, locate, and report threats, represent a credible decoy, disrupt threat communication, targeting and acquisition systems, and deliver lethal and non-lethal effects.
Currently the FVL Cross-Functional Team (CFT) is achieving significant successes with ALE at Project Convergence, which is ongoing at Yuma Proving Ground. Project Convergence brings all the CFTs to Yuma to test and experiment with their systems in an MDO environment to ensure that they function as desired, and that they function with each other.
The combination of FTUAS and ALE are game-changing capabilities that will undoubtedly have considerable impact on the joint force's ability to disrupt our adversary's layered stand-off strategy and create windows of opportunity. However, Army Aviation – as part of the Combined Arms Team – must be ready to take advantage of these windows with the ability to maneuver across strategic distances, employ capabilities across all domains, and pose multiple and compounding dilemmas on the adversary.
Above the Best!
MG David J. Francis is the Army Aviation branch chief and commander of the U.S. Army Aviation Center of Excellence and Fort Rucker, AL.