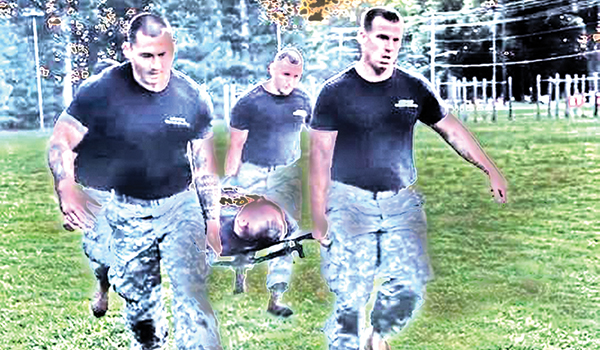 128th Aviation BrigadeComponents Aviation / By CSM Drury M. Puckett III: Our Army is currently in the process of evolving from the old Noncommissioned Officer Education System (NCOES) to the new Noncommissioned Officer Professional Development System (NCOPDS).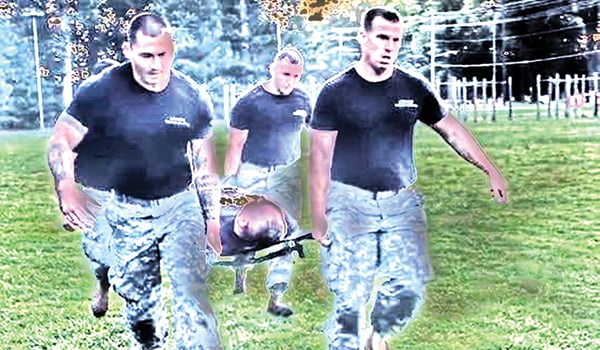 USAACE NCOA Students performing litter carry event during Iron Squad Competition / U.S. ARMY PHOTO BY SFC STEPHANIE SMITH, USAACE NCOA, JBLE, VA
The change is based on the strategy outlined in Training and Doctrine (TRADOC) command's NCO 2020. The strategic vision of NCO 2020 is a "Noncommissioned Officer Development System integrated and synchronized in the development of the next generation of competent and committed NCOs of character as trusted Army professionals capable of thriving in chaos, adapting and winning in a complex world."
What does this strategy and new NCOPDS mean to us and how we train NCOs in the Aviation Enterprise? To answer that question it is important that we understand the difference between NCOES and NCOPDS. The NCOES was a system that focused on leveraging experience in the operational realm and providing an exposure to technical training in the institution. The NCOPDS is a system with a more holistic approach focused on integrating and synchronizing training, education, and experience across the operational, institutional, and self-development learning domains.
This change in development strategy means that we in the Aviation Enterprise must develop deliberate progressive and sequential processes across all three learning domains. Historically when we have developed the programs of instruction (POIs) in the institutional learning domain for the Advanced Leaders Course (ALC) and the Senior Leaders Course (SLC), we have developed two POIs. One that came from critical task lists that focused solely on the technical aviation tasks specific to each individual military occupational specialty (MOS), and a second that drew from a critical task list that focused on common aviation maintenance (CAM). The NCOES POIs were not necessarily developed in a way that sequentially synchronized and integrated the training, education and experience that occurred in the operational and self-development learning domains. Prior and subsequent institutional levels of training were also not well incorporated.
Collaboration Across the Enterprise
In order to fully capitalize on the benefits that the new NCOPDS strategy offers, we will have to work in a more collaborative way across the Aviation Enterprise to ensure that our Career Management Field (CMF) strategy for training is not done in a stovepipe fashion. In the institutional domain we have started to take steps towards that end. The two Aviation NCO academies, the United States Army Aviation Center of Excellence (USAACE) NCO Academy (NCOA) at Fort Rucker, Alabama and the USAACE NCOA at Joint Base Langley-Eustis, Virginia have opened up a continuous dialogue with a goal of ensuring that the training we are providing for ALC and SLC are synchronized and sequential. An example of how we are doing this can be seen in how we train physical readiness training (PRT). Since we evaluate ALC students on their ability to conduct and lead PRT we are no longer evaluating them again in SLC for the same competency. SLC will instead focus on how to develop, implement, and monitor an overall PRT program. We are looking across all POIs to continue this synchronization.
Shifting Training Focus
Another step in our evolution to the new NCOPDS is to shift some of our focus from developing training that is exclusively task based training to training that will also teach the skills and competencies necessary to successfully lead in any environment. The United States Army Sergeants Major Academy is currently developing ALC and SLC Common Core POIs that we expect to be delivered sometime around April of 2017. These POIs will incorporate more training in communications (to include written communication), leadership, management, joint and Army operations, training management, Soldier readiness and other considerations.
As we continue in our evolution of the new NCOPDS, we at the USAACE NCOA at Ft. Eustis look forward to communicating with leaders across the Aviation Enterprise so that we can synchronize the training of our Aviation NCOs across all three learning domains. It is definitely an exciting time to be an NCO as we move forward in creating a more rigorous and effective system for training our NCO leaders of the future!
Above the Best!
CSM Drury M. Puckett III is the commandant of the USAACE NCOA at Joint Base Langley-Eustis, VA.