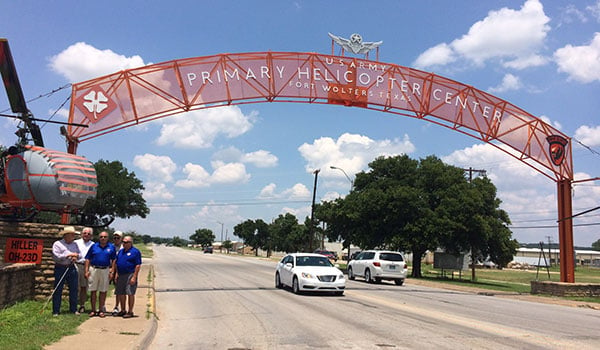 News Spotlight / By LTG Daniel J. Petrosky, Retired: Fort Wolters, Texas was the place where the Army Primary Helicopter Flight Center/School was conducted during the Vietnam War. Many, if not most, of the newly minted Vietnam helicopter pilots trained at Ft. Wolters. I was one of them. I graduated from Primary in August 1967. To this day Ft. Wolters remains a mystical place for me. It was a place where significant events in my life began.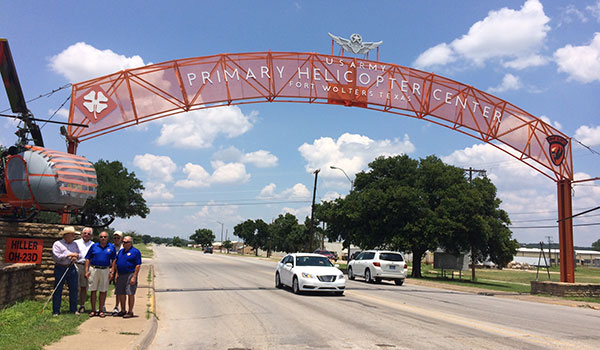 Former 101st Abn. Div. Vietnam veterans: (left to right) Stan McGowen, 2-327 Inf.; Jim Mitschke, Dan Petrosky, Rick Freeman, and Clint Miller, all with 4-77th ARA; next to the old front gate at Ft. Wolters, TX./ ARMY NATIONAL GUARD PHOTOS BY SGT BRIAN CALHOUN
I was fortunate to be able to visit Ft. Wolters recently with members of my Vietnam unit the 4th Battalion, 77th Aerial Rocket Artillery, 101st Airborne Division, and my cold war border patrol unit 4th Squadron, 2nd Armored Cavalry Regiment. I was invited to give a speech at the National Vietnam War Museum on the occasion of adding names to their very stunning Vietnam War Wall.
Each time I visit Fort Wolters I am overwhelmed by memories that the overgrown heliports and stage fields invoke. Stage Fields with names like Pinto, Sundance, Ramrod, Mustang, Rawhide, Bronco, Wrangler, An Khe, Bac Lieu, Ben Cat, Ben Hoa, Cam Ranh, Can Tho, Chu Lai, Da Nang, Hue, My Tho, Phu Loi, Pleiku, Qui Nhon, Soc Trang, Tay Ninh, Tuy Hoa, Vinh Long, and Vung Tau were part of the Wolters training area. These places always bring memories of those I had the good fortune to train with; my fellow student pilots, Southern Airways instructors, and military IPs.
Driving through Ft. Wolters (now an industrial park for Mineral Wells, TX) I can tell where the main heliport was even though it is now overgrown. I can almost hear the OH- 23, OH-13, and TH-55 helicopters landing by the dozens. Some of these helicopters entered into ground resonance upon landing (an unintended consequence) when piloted by a student. I am struck by the memory of so many aircraft lined up in the daisy chain landing at these sites. The warrant officer candidate (WOC) billets are still standing. I met two former WOCs who were looking for their old billets. They too were walking down memory lane.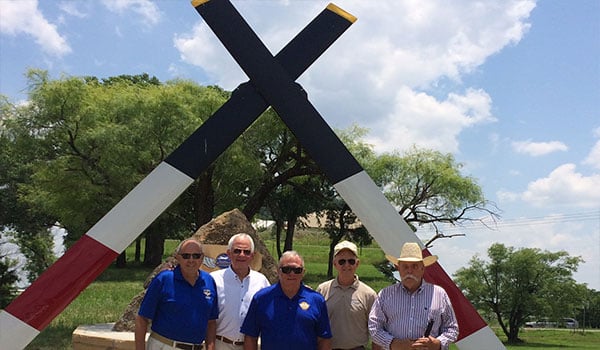 During my speech, I said those who served in the Vietnam War mattered, not only to their families but to the Nation and to today's military. The recent conflicts our nation has been involved in, the peace we imposed, and the humanitarian missions our military has supported since Vietnam are on a large measure built on what we learned from Vietnam. The courage, candor, and commitment of our Vietnam force were remarkable and live on in today's Army, Navy, Air Force, Marine, and Coast Guard troopers. I believe the American military did not lose one major battle during our entire involvement, including Tet '68, which was a major military defeat for the Viet Cong (VC) and North Vietnamese Army (NVA).
The "So What?" of my story was that the U.S. Army Infantry played a major role in why the UH-1C gunship was built, then the Cobra, and why we have Apaches, Blackhawks, Lakotas, and Chinooks today. I believe it still is the Army's Infantry, Armor, Artillery, and combat support forces that allow Army Aviation to exist. And, it is the Joint ground forces that ensure Army aviation is always in the fight.
Every battle, every mission our Army aviators flew in Vietnam and today, was designed to support our unified ground forces. It is why we existed in Vietnam, it is why we exist today.
We know the images behind the names on the Vietnam Wall. They are our friends, our relatives, our battle buddies. We know the good they did for our Nation. They had a higher sense of duty than those who would not go. Unfortunately, we didn't return home to victory parades and to a degree that still defines Vietnam Veterans today. It was a troubled time for our Nation.
This is also the time and place to remember our families, their sacrifices, and their commitment to their Soldier. When you think about it, we took our families into the Vietnam War with us. Often they were left alone in the American community, surrounded by families who did not serve, nor understand what the Soldier's family was experiencing. Our lives were never the same after serving in Vietnam and Southeast Asia. We remain forever changed.
We have an important part of our Aviation history at Ft. Wolters. It is a mystical place that still lives in the history of Army Aviation through the students like me who trained here. Anyone who flew at Ft. Wolters owes it to himself to visit. Be sure to also visit the National Vietnam War Museum just one mile east of Ft. Wolters on U.S. Highway 180. It is cared for with great love and devotion for the Vietnam Soldiers and their families.
Dan Petrosky
Yellow Hat 68/24
Griffin 33 C/4/77, 101st ABN
LTG (Ret.) Daniel J. Petrosky is a former Aviation Branch Chief, past president of the Army Aviation Association of America, and member of the Army Aviation Hall of Fame.