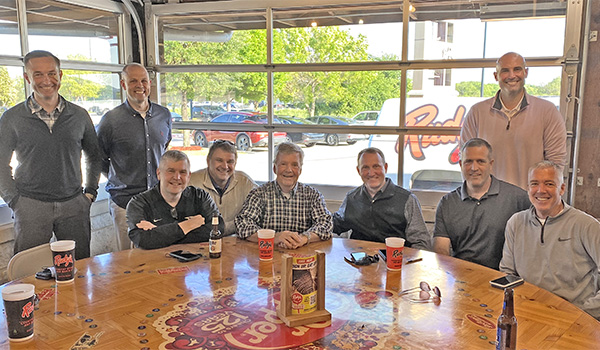 President's Cockpit / By MG Tim Crosby, U.S. Army Retired: Let me start by saying that I am honored to serve as your 35th AAAA President. As your new President, I first want to thank MG (Ret.) Jeff Schloesser for his outstanding leadership these last two very, very tough years.
Jeff has left us an Association in great shape from membership to finances to organization despite the complications and stress of COVID.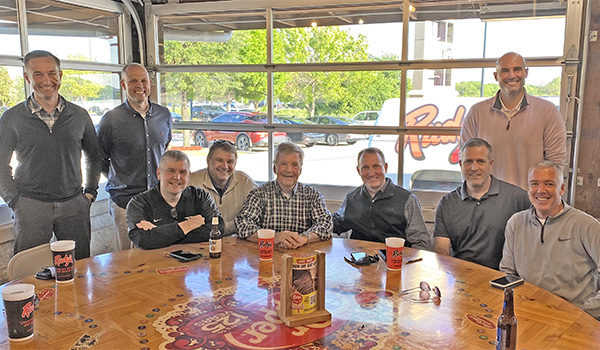 Aviators love BBQ. There was a large group attending the Bell V280 demonstration on April 21, 2021 in Arlington, VA. Somehow this crew all ended up at the same BBQ house the night before. (l to r) COL Dave Phillips, PM Future Long Range Assault Aircraft (FLRAA); COL Greg Fortier, PM Future Attack Reconnaissance Aircraft (FARA); BG Rob Barrie, PEO Aviation; Mr. Jeff Langhout, Director, CCDC Avn & Missile Center; MG (Ret.) Tim Crosby, AAAA President; LTG Thomas Todd, Dep. CG for Acquisition and Systems Mgmt., Army Futures Command; CW5 Travis Dixon, PEO Avn Chief Warrant Officer; MAJ Hunter Gray, XO to LTG Todd; SGM Woody Sullivan, PEO Avn Senior NCO. / Photo by MAJ Jon Denton, XO to BG Barrie.
Next, I want to welcome BG (Ret.) Tim Edens to the National Executive Group (NEG) as our new national Secretary. The Senior VP is now MG (Ret.) Walt Davis, and the new Treasurer is MG (Ret.) Wally Golden. Rounding out the rest of the NEG is MG (Ret.) Les Eisner, VP National Guard and Reserve; VP Membership, CW4 Becki Chambers; LTC (Ret.) Jan Drabczuk, VP Chapters; and Dr. (COL, Ret.) Hal Kushner, our VP of Member and Family Wellness.
We have just completed our annual National Executive Group visit to the AAAA National Office in Connecticut and with the new team now in place, we have many new initiatives that you will see coming to fruition over the next few months.
Over the two years of my term, my focus is going to be on our Chapters. Specifically, what we can do to facilitate them to provide the BEST experience possible for our members at the local level. We at National exist to support you… not the other way around. As we emerge from COVID, it is absolutely critical that our chapters provide dynamic and FUN events that will reenergize the membership. Our members are looking to get back together and to participate in our mission of "Supporting the U.S. Army Aviation Soldier and Family" through our four pillars of Networking, Recognition, Voice, and Support.
I have set a goal and am personally committed to visit EVERY one of our 78 chapters during my tenure to hear directly from our chapters' leadership and members their challenges, ideas, and needs. Each chapter is unique and thus has different needs and challenges. Not every idea will be able to be realized but many will. My commitment to you is that we will support your local efforts to make things happen for your members. Because it will take me awhile to visit each of your chapters, we welcome your input anytime, and in some cases, we will also be asking you directly for feedback and ideas that will work on your local level.
In order to jumpstart the process and celebrate coming out of the COVID crisis, the NEG has just agreed to provide an additional $1,000 above their standard $5,000 per year allocation. The chapter presidents have already been notified as to the specifics of how to request the funding, but in a nutshell, this stipend is designed to spark participation following COVID and must be used for a chapter event within 90 days. This is solely designed to get our members back together and remind ourselves of how unique we are as an association.
One big note I want to make to our chapter leadership. The annual allocation of funds to each chapter is not designed to be an entitlement. The intention of this $5,000 allocation has always been to help make events more affordable, especially to our junior ranking Soldiers and families. Please keep this in mind when planning your events.
Lastly, as most of you know, chapter representation at the National Executive Board is comprised of chapter presidents from chapters with more than 150 members. There are 44 chapters of our 78 that are less than 150 members. While we would like for every chapter to be over 150 members, our population and geographic dispersion prevents some chapters from ever growing to that level. In order for their voice to be heard, I am using two of my appointments to the National Members at Large to facilitate their participation. Each year, the winner of the small chapter of the year will be appointed to the NEB as well as a chapter president from one of the most active chapters with less than 150 members.
As I look back on my career and involvement with AAAA the key piece, beyond the professional development and networking access it afforded me, was always that… AAAA was simply FUN! The camaraderie and the closeness of our community is clearly unique. Let's make sure that we all re-capture that sense of togetherness and share experiences with each other again in our post-COVID world.
There is much, much more to share that has come out of our first NEG meeting but that is enough for now.
Send me your thoughts directly at This email address is being protected from spambots. You need JavaScript enabled to view it..">This email address is being protected from spambots. You need JavaScript enabled to view it..
MG Tim Crosby, U.S. Army Retired
35th President, AAAA