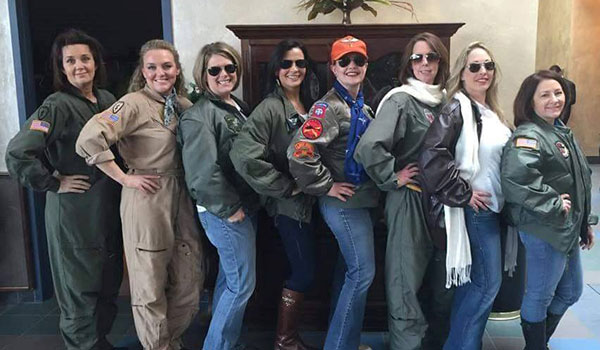 AAAA Family Forum / By Sadie McCurry: "Hey honey, I got my orders today!"
"Oh that's great, babe. Where does the Army want to send us now?"
"I'm so excited; we'll get to see beautiful scenery and wildlife. We can take cruises, see foreign cities, explore historical sites, and get the kids involved in all kinds of outdoor activities."
"Um, babe…where are we going?"
"Fort Drum, New York!"
Silence…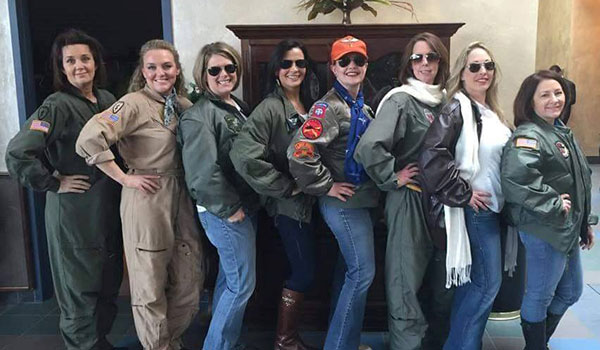 10th Cbt. Avn. Bde. Family Readiness Group Advisors show their Aviation pride at a Spouse Leadership Symposium on Ft. Drum, NY. Pictured are (l-r) Kelly Hill, Christie Hurst, Erin Thornburg, Manda Martini, Sadie McCurry (author), Charity Lent, Jennifer Cupp, and Ronnie Velesky. / 10TH CAB FRGA COURTESY PHOTO
For families assigned to Ft. Drum, located in the "North Country" of New York, this conversation is not uncommon. Nestled a mere thirty-five miles from the Canadian border, Ft. Drum is home to the historic 10th Mountain Division of which the 10th Combat Aviation Brigade (CAB) is a vital part. For Soldiers who want to be challenged and to prove their mettle as "Mountain Tough" warriors, this assignment is a dream. But when families think of moving so far north, just off the shores of the Great Lakes, where daily snowfall can be measured in feet rather than inches, the initial reaction is often less than positive. However, in many circles, Ft. Drum is known as the Army's "best kept secret." The families of the 10th Combat Aviation Brigade know this secret well.
Like the rest of the 10th Mountain Division, 10th CAB is among the most heavily deployed units in the Army. From its activation in 1988, the CAB has supported missions ranging from hurricane relief efforts to operations in Haiti, Somalia, Kosovo, Iraq, and Afghanistan, just to name a few. At the time of this writing, a Gray Eagle company is deployed and other parts of the brigade are actively preparing for upcoming missions. Such a rapid optempo can weigh as heavily on families as it does on Soldiers. Add in the long winter, and one can understand a family's hesitation at moving to the North Country.
Opportunities Abound for Fun Excursions, Great Restaurants, and Winter Sports
This is why 10th CAB strives to keep its families informed of all there is to do in the area. Offerings include local farmers' markets and festivals, battle reenactments at Sacket's Harbor, boat shows and ferry rides from Alexandria Bay and Clayton, trips to Canada and New York City, concerts and fireworks in the summer, and snowshoeing and skiing in the winter. There are wineries to tour, farms to visit, and restaurants to meet every palate. And the on-post agencies such as Army Community Services (ACS) and Family and Morale, Welfare and Recreation (FMWR) strive to meet the needs of families.
The Local Communities Provide Great Support
The beauty of being stationed at Ft. Drum lies not only in its on-post offerings, but also in the surrounding communities. The local citizens embrace the military in a unique fashion. In March of this year, a public rally at the local community college brought out thousands of citizens who proclaimed their support. At the monthly Community Leaders Information Forum (CLIF), speakers such as school superintendents and hospital personnel often come to discuss their offerings for military families. And at the monthly retirement ceremony, one can find nearly half of the retirees choosing to remain in the local area.
Canada is a Doorstep Away
Speaking of surrounding communities, Ft. Drum is one of only a few CONUS assignments where a trip to a foreign country can happen in a day. Canada is just a few miles north, so armed with just a tank of gas and a passport, families can check off bucket list items such as seeing Niagara Falls from both the American and the Canadian sides. They can attend a Montreal Canadiens ice hockey game and explore local shops, museums, and restaurants.
Family Members Voice A Love for Ft. Drum
Feelings about being stationed at Ft. Drum are best summed up by those who are doing it. The following are a few quotes from 10th CAB family members:
"I cried when I found out we were moving to Fort Drum. I don't enjoy the cold and snow at all. However, since we've been here living on post, I've enjoyed the close knit community and how most spouses want to get together and socialize often. We've helped each other make it through the harsh winter. I know I've made lifelong friends."
"The best thing about Fort Drum to me is the slow pace piece of life it gives to the kids."
"I have visited many places around the U.S. and the Fort Drum area is one of the prettiest and cleanest places in the world."
"I had heard things like, 'It is worse than Alaska…' After almost three years here, I love it! We have survived the winters and built our family here. We actually want to stay!"
Embracing the beauty, local community, and activities available at Fort Drum is what helps 10th CAB Soldiers and Families "Fly to Glory" and makes their experience here "Over the Top."
Sadie McCurry is the senior family readiness group advisor for the 10th Combat Aviation Brigade at Ft. Drum, NY and the wife of COL Michael C. McCurry, 10th CAB Commander. She was born at Ft. Rucker, AL. so Army Aviation has been in her blood since day one!
Judy Konitzer is the family forum editor for ARMY AVIATION; questions and suggestions can be directed to her at This email address is being protected from spambots. You need JavaScript enabled to view it..">This email address is being protected from spambots. You need JavaScript enabled to view it..
I was approached by a lovely young woman at the AAAA Summit this year with "Forgive me for being bold, but I went to school with your daughter Christy." Can you imagine just how excited I was to not only reminisce with Sadie about those high school days, but to share our experiences with having large families and to learn about her life as an Army spouse who now is enjoying life at Fort Drum. Sadie accepted my offer to share some of her thoughts. —Judy Konitzer