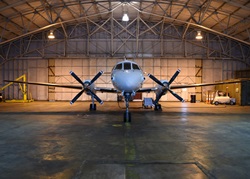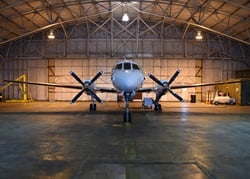 West Columbia, SC, United States
Story by Capt. Jessica Donnelly
Located near the Columbia Metropolitan Airport is a small South Carolina Army National Guard aviation unit that has the ability to carry out real-world missions on a daily basis, transporting passengers and cargo to anywhere in the continental United States.
Soldiers with Bravo Company, 2nd Battalion, 641st Aviation Regiment, fly the C-26 twin turboprop aircraft, which is an aviation asset specific to the National Guard.
"It's a National Guard unit that does real-world missions almost every day," said Chief Warrant Officer 2 Graham Gilstrap, operations officer. "We're not really well known, but we do really cool things."
The unit is made up of four fulltime staff and two additional drill-status Soldiers, and typically conducts flying missions 3-4 days a week, along with a day for aircraft maintenance, explained Gilstrap. There is a priority system that determines what unit gets assigned each mission and what missions get fulfilled. Priority one would be emergencies, priority two is when the mission is essential and cannot be completed by another mode of travel, and priority three is official business travel and is the majority of the flights conducted. The missions can range from transporting service members to training events, conferences, and site visits, to moving mission essential cargo from one state to another, or even providing casualty evacuation in an emergency situation.
"As a pilot, it gives you this unique perspective because of the types of missions," added Gilstrap.
The aircraft can hold up to 14 passengers or be reconfigured to have additional space for cargo, based on the assignment. Gilstrap explained, there is a simple process to request the aircraft that includes a military member or DoD civilian filling out a Military Air Passenger/Cargo request form and submitting it to the service airlift validation office where it will be entered into a system and assigned based on assets available. Once the mission has been assigned to the unit, the crew can coordinate directly with the passengers.
"There is no reason our Guard members can't use this asset," said Gilstrap. "It's a very capable aircraft."
In addition to this stateside mission, the unit is also a deployable asset. Both personnel and aircraft can be deployed overseas to provide transportation assistance throughout the operational area.
"We do the exact same mission while deployed, transporting passengers and cargo," said Chief Warrant Officer 4 Clinton Zimmer, C-26 pilot.
It is an efficient aircraft that burns less fuel per hour and can carry more people while doing it, said Zimmer. For this reason, it's a cheaper aviation asset to have over other aircraft.
The crew also enjoys flying the aircraft and completing the assignments, whether stateside or in a deployed location, added Zimmer. The profession can take them to a new location each day based on the needs of the military.
"We fly all over the country," said Zimmer. "We love the mission, it's a great mission."