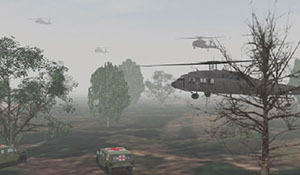 SPECIAL FOCUS Industry Support and Challenges
By Mr. Steve Phillips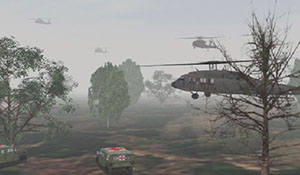 FlightSafety International serves governments and military agencies around the world including all those in the United States. We offer mission-training programs and proven advanced-technology simulators, visual systems and displays. This includes training for virtually all types of military aircraft as well as commercial aircraft operated by government and military agencies.
FlightSafety provides a full range of advanced technology training equipment. This includes the design and manufacture of weapons system trainers for tankers, transport, tilt-rotor, rotor-wing, cargo load and refueling aircraft. We also build classroom training equipment and specialized devices such as trainers for refueling boom operators, loadmasters, egress systems, gunnery stations, battle master centers, and fuselage trainers.
Full Flight Simulators
Our full flight simulators and training devices can replicate the operating characteristics of virtually any military or commercial aircraft. The simulators provide the highest level of realism. They feature advanced instructional capabilities and are designed for maximum reliability, ease of maintenance, and support. The new FlightSafety FS1000 full flight simulator will outperform current generation simulators in virtually all aspects. Its new lightweight and highly robust modular design offers added configuration flexibility and ease of systems integration. This enables us to respond quickly as new aircraft and advances in technology are introduced and will serve to increase reliability and reduce maintenance time.
VITAL 1100 Visual System
FlightSafety's new VITAL 1100 Visual System offers out-the-window fields of view over 300 degrees horizontal and 70 vertical, delivering resolutions with tens of millions of pixels. VITAL 1100 simulates the imagery and environmental conditions experienced during aircraft taxi, takeoff, en-route and tactical flight operations, visual navigational and instrument flight, and landing maneuvers.
Simulated flight conditions include continuous time of day, night, dawn/dusk, and a comprehensive set of physics-based weather features. It features five times greater computational performance than predecessor systems for exceptional visual realism. Environmental effects, such as physics-based weather models, develop and react as in the real world. Dynamic shadowing and enhanced shading add a new dimension to the training environment. Using the latest PC technology and high-performance off-the-shelf graphics processors, VITAL 1100 provides a fully certifiable PC image generator.
The system is completely compatible with other aircraft systems such as head-up displays, enhanced and synthetic vision systems and radar. VITAL 1100 also simulates high quality forward-looking infrared (FLIR) and electro-optical sensors including ColorTV, LowLightTV, All Light Level TV and aircraft remote direct view camera systems. VITAL 1100 also exceeds the FAA Level D and military equivalent standards for training with night vision devices.
VITAL 1100 provides a whole-Earth model for a realistic training environment between high detail airport and other objective area models. The worldwide database incorporates the latest terrain information with geo-specific satellite images for unprecedented realism. and includes sophisticated weather simulation that can be controlled automatically by current and forecast weather inputs of temperature, humidity, wind, ceilings and visibility. Seasonal weather includes snow, ice, hail and rainfall.
CrewView All-Glass Mirror Displays
Our CrewView All-Glass Mirror Displays provide superior optical performance, sharper image clarity, long-term reliability, and are night vision capable. The true collimated images they present are free of visible distortions and artifacts out to mirror edge, eliminating ground rush distortion in the bottom field of view. Combined with our VITAL visual system, CrewView delivers unprecedented simulation training fidelity.
The displays offer the industry's greatest level of realism. Its modular design produces fields of view (FOV) up to 300 degrees horizontally. By filling the entire aircraft window, these devices also allow greater levels of training and effectiveness by moving critical training tasks (checking for prop feathering, checking landing gear deployment, brownout training, search and rescue scans and advanced mission rehearsal scenarios) out of the aircraft and into the simulator.
Containerized Flight Training Devices
FlightSafety can offer a variety of Containerized Flight Training Devices (CFTDs) to meet a wide range of training and budget requirements. These devices can include high performance visuals, including the VITAL 1100 and the CrewView display, to create a high fidelity device in a containerized system that can be relocated, deployed, or transported based on mission, training and budget requirements.
Distributed Mission Operations
Our Distributed Mission Operations (DMO) Center develops, integrates and delivers simulation capabilities to prepare warfighters for combat in joint and coalition environments through exercises, training, tactics, techniques and procedures. Capabilities include warfighter readiness, testing, experimentation, tactical to operational-bridged events, and standards development.
Our designs are HLA/DIS (High Level Architecture/ Distributed Interactive Simulation) compliant, and we are a member of DMO Standards Group, SISO (Simulation Interoperability Standards Organization). FlightSafety's DMO enabling technology includes IGY (Interoperable Gate Way) and DISCO (Distributed Interoperable Simulator Connection Object). Our interoperable gateway server connects the training device with the DMO battle space. DISCO provides the software functionality to support IGY's connection to any synthetic environment.
Key FlightSafety programs featuring DMO include the HC-130 P, MC-130 W, HH-60G and UH-1N. We have installed 24 TH-67s and two TH-1H simulators in Warrior Hall at Ft. Rucker, Alabama – all with Distributed Interactive System (DIS) capability.
Integrated Training System
MATRIX, FlightSafety's Integrated Training System, brings the realities of the Level D simulator experience into the classroom and to other training devices. It draws on the same software that drives our full flight simulators. MATRIX consists of the DeskTop Simulator, Integrated Courseware, Graphical Flight-deck Simulator and the SimVu simulator session debriefing system. The DeskTop Simulator can be used for instructor-led or self-paced instruction. It is an interactive PC-based training system used to demonstrate and learn the function and control of aircraft systems. It provides an interactive representation of the cockpit displayed on multiple touch-screen monitors enabling the pilot or technician to monitor or perform all the functions that would be performed in the aircraft. The Graphical Flight-deck Simulator provides an interactive representation of the cockpit displayed on multiple touch-screen monitors. This allows the user to monitor or perform virtually all the functions that would be performed in the aircraft. System schematics and flows are illustrated through animated graphics. An instructor operating station with the same appearance provides control of the Graphical Flight-deck Simulator, just as on our full flight simulators. SimVu provides the pilot with a detailed visual representation of a full flight simulator training session.
Mobile Combat Tactics Trainer
Our Mobile Combat Tactics Trainer provides an advanced system with the capacity to train multiple flight and ship crews at the same time, under the same conditions and in the same airspace. The system's networking capabilities allow military units to conduct mission type-specific training, combat exercises or other customized training events and mission rehearsal in shared virtual airspace with real-time interaction among all networked simulators.
FlightSafety Services Corporation
FlightSafety Services Corporation has been providing aircrew training systems since 1984 and has operations at 15 U.S. military bases providing military crew training, support for simulators, advanced-technology training devices and computer-based training workstations.
FlightSafety also offers customized training for commercial aircraft operated by government and military agencies. This flexibility allows government operators to utilize their own checklist and standard operating procedures. FlightSafety also offers professional aircraft maintenance, flight attendant and aircraft dispatcher training to support government aircraft operations.
Mr. Steve Phillips is vice president of communications for FlightSafety International headquartered in Flushing, NY.
Caption: VITAL 1100 Visual System includes out-the-window field of view, and a whole-Earth model for realistic training environments. / FLIGHTSAFETY INTERNATIONAL IMAGE