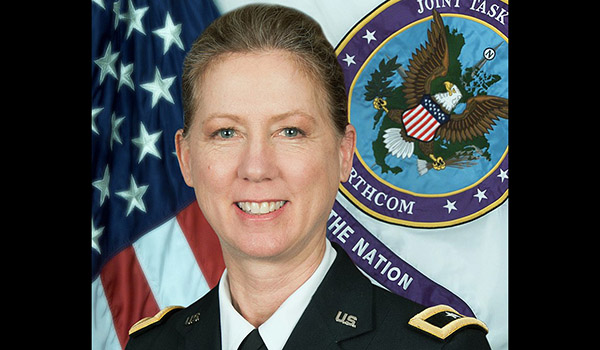 Brigadier General Laura Yeager took command of the 40th Infantry Division of the California National Guard.  Outgoing commander was the retiring Major General Mark Malanka.  Ceremony to effect command change was at 11:00 AM, June 29, 2019, at the Joint Forces Training Base, Los Alamitos, California.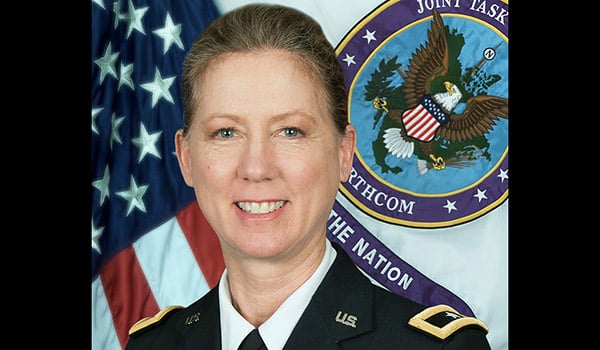 General Yeager began her eight-year active duty career in May 1986, upon receiving her commission as a second lieutenant from the Reserve Officers Training Corps, California State University, Long Beach.  By 1989, she completed helicopter training, becoming a UH-60 Black Hawk pilot assigned to medical evacuations.  She concluded her active-duty career with the birth of her son; thus began her long career in the California Army National Guard.
General Yeager served in a variety of command roles, among them:  Deputy Commander of the California National Guard's 40th Combat Aviation Brigade when in Iraq, 2011.  Battalion commander of the 3rd Battalion, 140th Aviation Regiment.  Brigade commander of the 40th Combat Aviation Brigade.  General Yaeger was commander of Joint Task Force North, U.S. Northern Command, Fort Bliss, Texas.
The 40th Infantry Division itself is a Great War creation, 1917.  In addition to that conflict, it saw service in World War II, the Korean conflict, Kosovo, Iraq, Afghanistan. . .   The division recently returned from conducting training, advising and assisting missions in Afghanistan.
Data for General Laura Yeager
Educational Degrees:
BA, Psychology, University of California, Irvine
MA, Psychology, Chapman University
MSS, Strategic Studies, United States Army War College
Military Schools Attended:
AMEDD Officer Basic Course
AMEDD Officer Advanced Course
Aviation Officer Advanced Course
United States Army War College
United States Army Command and General Staff College, Brigade Pre-Command Course
Dual Status Commanders Course (NORTHCOM)
Army Senior Leader Development Program-Basic (ASLDP-B)
Harvard University, General and Flag Officer Homeland Security Executive Seminar
CAPSTONE
Joint & Combined Warfighting School (JCWS) JPME-II
Decorations and Badging: 
Legion of Merit (with 2 Bronze Oak Leaf Clusters); Bronze Star; Meritorious Service Medal (with 3 Bronze Oak Leaf Clusters); Iraq Campaign Medal; Global War on Terrorism Medal; Army Service Ribbon; Overseas Service Ribbon; National Defense Service Medal (with Bronze Service Star); Expert Field Medical Badge; Senior Army Aviator Badge; Parachutist Badge . . .
Promotions:
Second Lieutenant, May 30, 1986
First Lieutenant, October 21, 1987
Captain, December 1, 1989
Major, December 1, 1998
Lieutenant Colonel, March 23, 2004
Colonel, May 1, 2011
Brigadier General, March 8, 2016
Flight Information:
Rating:  Senior Army Aviator
Flight hours:  More than 1,500
Aircraft flown:  TH-55, UH-1, UH-60.
Pilot's  wings:  Fort Rucker, Alabama.
Bibliography
California National Guard, News Release, Lieutenant Colonel Jonathan Shiroma, Release No. 05-01, June 4, 2019.
National Guard Biography, Brigadier General Laura L. Yeager.