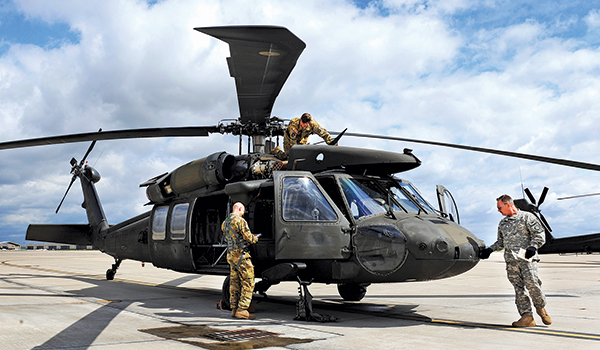 Chief Warrant Officer of the Branch / By CW5 Joseph B. Roland: Over the past three years, Army Aviation has undergone a transformation unlike any of its kind since our establishment as a branch in 1983.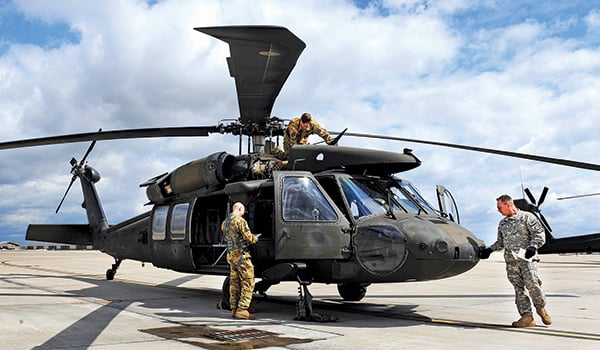 Missouri Army National Guard SSG Brandon Isabell, a crew chief, left, CW4 Marcus Moore, a standardization instructor pilot, middle, and CW5 Robert Moore, a standardization instructor pilot, all assigned to the 1st Bn., 135th Avn. Regt., Army Aviation Support Facility #1, perform pre-takeoff inspections on a UH-60 Black Hawk at Whiteman Air Force Base, MO, April 1, 2016./ MISSOURI NATIONAL GUARD PHOTO BY AIRMAN 1ST CLASS MICHAELA SLANCHIK
Events such as sequestration, execution of the Aviation Restructure Initiative, ongoing modernization initiatives, manpower reductions, doctrinal changes, emerging threats, and unrelenting operational demands are just a few of the major challenges facing our Branch. The Army warrant officer by design, definition, and demand is required to ensure the integration and exploitation of these initiatives and technological advancements. For those who are prepared, there has never been a more target rich environment from which to seize the opportunity to be the innovative and adaptive combat leader, trainer, and advisor the Army requires. Change is inevitable – our ability to successfully adapt is not.
The National Commission on the Future of the Army and Holistic Aviation Assessment Task Force Study Report recently published reports and EXORDS addressing the need to adapt in the current environment. Potential changes reach into every command and all aviation structures. Change brings with it a degree of uncertainty. For some, change will mean chaos, friction, and difficulty, while others will see the opportunities change presents. One of the byproducts of change is the leveling of the playing field; we find ourselves at the same starting point. Our young warrant officers, not saddled with experiences of how "we used to do it," have the distinct advantage of not having to unlearn years of training and muscle memory. Proposed changes and initiatives cover the entire spectrum; doctrine, training, organization, sustainment, leader development, and governance. The warrant officer must ensure these changes are fully integrated and our force is trained and prepared to exploit new capabilities.
The Army Operating Concept (AOC), ADPs, ADRPs, TCs, TMs, and our own FM 3-04 (Army Aviation) were introduced, rewritten or are in the process of changing. It is essential that we integrate and incorporate these new tenets and requirements into our training plans, SOPs, and battle rhythms. This time of transition and change will provide our proactive and adaptive leaders, young and old, a unique opportunity to set conditions, develop processes, and integrate new tactics, techniques, and procedures (TTPs) and technologies. Regardless of rank or position, those that embrace change, understand and apply these new tenents will earn a seat at the table of professionals.
As you review TTPs, SOPs, training and maintenance programs do not be "paralyzed by perfection" as you seek to integrate and implement required changes. In our profession, those who execute, assess, and reattack find themselves much more ready than those who fail to execute while waiting for a perfect solution. Remember, Murphy never shows up during planning. You will find him waiting anxiously at point of departure or on the objective. TACSOPs, tactics, and maintenance practices based on how we fought for the last 15 years lack the depth required for decisive action and expeditionary operations. As administrators, managers, integrators, maintainers, and operators it is our responsibility to embrace the change. Areas of special focus include; reliance on contractor maintenance, leveraging modernization and new technologies, expeditionary capability, and unmanned aircraft systems (UAS) standardization.
For the innovative and adaptive warfighter there has never been a better opportunity to improve your unit, yourself, and the Army. Focus your efforts on those areas within your formation that you are responsible for, striving to improve your foxhole at every opportunity. Your commitment to competence and compliance through this period of transition will make you not only relevant but indispensable. The Army has presented you with multiple opportunities, are you ready to take a seat at the table?
"Above the Best"
CW5 Joseph B. Roland is the chief warrant officer of the Aviation Branch with the U.S. Army Aviation Center of Excellence, Fort Rucker, AL.