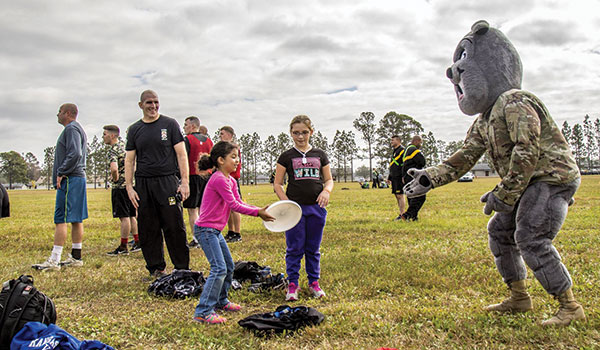 Chief Warrant Officer of the Branch / By CW5 Joseph B. Roland: Don't worry – I haven't gone soft. We will talk under-accessions, revised programs of instruction, high attrition rates, defragging, emerging tactics, techniques, and procedures and doctrine in future articles. I want to take some time to address the subject of finding balance as we approach the holiday season.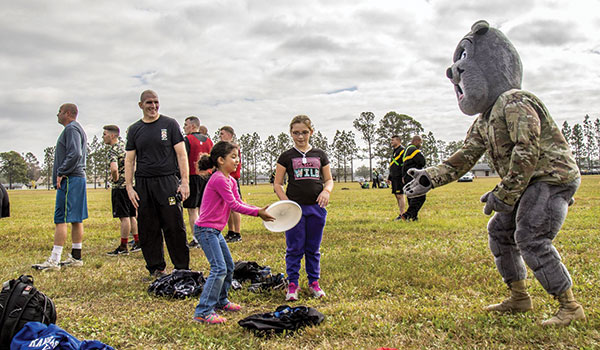 Children play with SGT Rocky, the 3rd Infantry Division mascot, during the Marne Week Ultimate Frisbee tournament November 16, 2016 at Fort Stewart, GA. / U.S. ARMY PHOTO BY 3RD CAB PAO
For over thirty years I've been in search of the elusive balance between family, profession, and self that my best leaders and mentors said would make me the effective leader I wanted to be. With all of the recent and pending changes in aviation and our warfighting profession, finding perfect equilibrium may not be attainable, but managing the scales will ensure that when it's time to hang up your spurs you can walk away with your family and reputation.
Young aviation warfighters require frequency and repetition to establish the fundamental foundation and muscle memory required in this profession. It is during this initial transition to military life that the scales will tip towards technical mastery of the aviation profession as you seek to gain competence and develop as leaders. During your initial development in the operational force you will be challenged to get everything done. Your ability to understand intent and leader expectations and to prioritize will help you find the time and space for your family. As we continue to do more with less, finding time for self and family will become harder and harder – you must strive to be as efficient and effective as possible at work and at home in order to keep the scales balanced. I learned early on to keep my family in the loop regarding career decisions, my commander's expectations, and my professional ambitions. An open dialogue with your family will go a long way in managing their expectations, and you may be surprised by how understanding and supportive they can be if they are part of the process. When you are at home, be deliberate and intentional with your family – they should be your focus.
Senior leaders must ensure while mentoring and developing our young aviation warfighters on the intricacies and processes of this profession that we give them the time and tools to find the balance with family and self we all strive for. This starts with effectively defining expectations, priorities, and intent to your subordinates. We have all seen units where junior soldiers and officers were working overtime to accomplish a mission or task only to be told that they were not getting at the actual problem. This type of ineffective communication robs our soldiers of the one thing we can't get more of: time – time they could be using to rebalance their family or themselves.
As I speak to warrant officers that are contemplating retirement, their number one reason is their families. Many stated they were so "All In" in the beginning of their careers that finding balance now was unattainable; they had to place all their efforts on keeping the family intact. If they could do it again they would have tried to find balance from the beginning. I learned later than most that I needed to treat every career decision as a family decision. This one change made an immediate positive impact on both me and my family, and has had a lasting impact on my Army service.
This profession is a team sport and your family is at its core. I can't think of a more resilient and professional organization. It is an honor to serve with each and every one of you. Now go out and enjoy your holidays, your family, and make some memories. Stay safe and keep our brothers and sisters downrange in your thoughts and prayers.
Above the Best!
CW5 Joseph B. Roland is the chief warrant officer of the Aviation Branch with the U.S. Army Aviation Center of Excellence, Fort Rucker, AL.