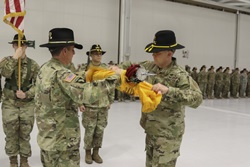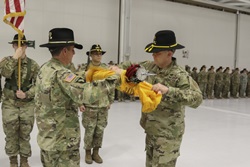 Lt. Col. Clinton R. Cody, commander, and Command Sgt. Maj. Joshua M. Bryan, senior noncommissioned officer, 1st Squadron, 6th Cavalry Regiment, 1st Combat Aviation Brigade, 1st Infantry Division, case the unit's colors Jan. 20 during a ceremony ahead of their deployment to Korea. The "Fighting Sixth" are taking with them the AH-64D Apache attack helicopters, which have replaced the OH-58D Kiowa Warriors due to the aviation restructuring initiative.
Approximately 360 "Fighting Sixth" Soldiers will be on hand to support the Republic of Korea as part of a scheduled rotational aviation force that will help maintain security on the Korean peninsula.
These photos were originally found here.