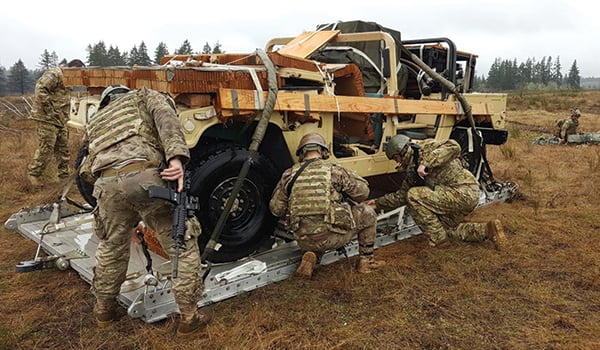 By CPT Ryan G. Brown: In order to deliver the nation's most elite Special Operations Forces (SOF) to the target, Army Special Operations Aviation (ARSOA) flight leads and mission planners maintain a precise balance between fuel, power and cargo.
4-160th SOAR Soldiers conduct FARP team training and evaluation at Joint Base Lewis-McChord, WA. / ALL GRAPHICS/PHOTOS COURTESY U.S. ARMY SPECIAL OPERATIONS AVIATION COMMAND
Every precious pound of fuel adds time on station, but also takes a pound away from the ground force, making fuel a significant mission planning factor. Fuel can also be a significant mission limiting factor in austere, immature or downsizing theaters of operation where ARSOA assets depend on external resources such as Helicopter Air-to-Air Refueling (HAAR) or a Forward Arming and Refueling Point (FARP). Every line battalion within the 160th Special Operations Aviation Regiment (Airborne)(SOAR(A)) also contains an organic and robust airborne service detachment (ASD). The ASD supports the customer by seamlessly integrating the ability to refuel and rearm into the mission.
This article outlines how the detachment trains and operates to provide maximum flexibility and expediency to the flight companies and ultimately to the supported ground force.
Flexibility
With aircraft geographically dispersed across numerous training and combat locations simultaneously, the ASD's low-density military occupational specialties (MOS) cannot always meet the high demand. These MOSs comprise ASD's three distinct but interconnected sections: ammunition support; petroleum support; and aerial delivery support. These Soldiers routinely cross train to perform multiple duties. Much of this cross training revolves around the "FARP Team" concept.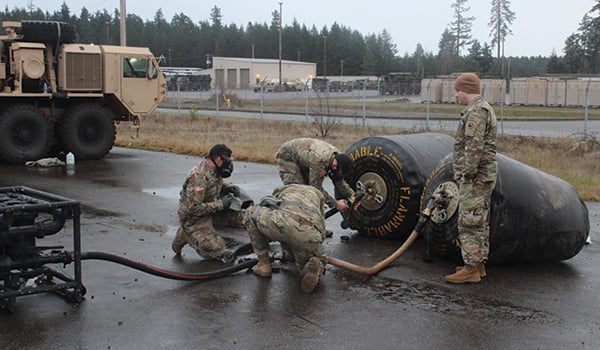 A mobile forward arming and refueling point is recovered after aerial delivery by soldiers from 4-160th SOAR.
A full team typically accompanies an airdrop infiltration of FARP assets, providing a range of capabilities including refueling and rearming. In reality, FARP team elements support multiple helicopter assault forces (HAFs) simultaneously. Therefore, each node is significantly smaller than a full team, but still routinely performs FARP operations in austere locations supported by only a small security element. In addition to FARP cross training, ASD training includes responding to contingencies in order to support themselves in remote areas. Since the FARP team contains minimum force personnel, each team member undergoes robust training and validation to ensure mission success.
Training
Training for FARP team members begins at the individual level. In addition to MOS-specific training; Enlisted Green Platoon (EGP); Basic Airborne School; and Survival, Evasion, Resistance, and Escape (SERE) school comprise the minimum "pipeline" requirements.
Soldiers then receive additional academic and hands-on training at the unit level, completing their basic mission qualified (BMQ) FARP team member training. Progression training then continues with academics, weapons ranges and Army Warrior Task (AWT) training followed by various mission profiles under day, night, night vision goggle (NVG), and chemical, biological, radiological, nuclear, and explosives (CBRNE) environments. Key training events include: preparing and rigging equipment into expendable airdrop platforms; conducting multi-point FARP layouts within the prescribed time standard; inspecting, servicing, and placing FARP equipment into operational status; and airborne operations (personnel and equipment) with follow-on movement to and establishment of the FARP site.
These collective training exercises provide further realism through integration with organic aircraft, Air Force assets for airborne and wet-wing operations, and conventional aviation assets to ensure team members can also refuel AH-64s and other non-organic 160th aircraft.
Once a FARP BMQ shows mastery of all key tasks during a full mission profile (FMP) training exercise, they progress to fully mission qualified (FMQ) and can serve as FARP officers and noncommissioned officers in charge in combat. Ultimately, the entire training program focuses on ensuring that the FARP team enables aircraft to accomplish the mission and meet the commander's intent.
FARP training isn't limited to ASD personnel. In some cases maintenance personnel cross train to augment larger FARPs. A recent success story involved a maintenance company platoon sergeant with no prior experience in refuel operations who participated in a FARP FMP exercise at Joint Base Lewis-McChord, Washington. A month after that event, while serving as a senior enlisted advisor in the U.S. Africa Command area of responsibility, he found himself in a situation where aircraft needed immediate unplanned refuel support while the sole petroleum support NCO was unavailable. His cross training enabled him to confidently refuel the aircraft and make mission; a simple but far-reaching testament to the importance of adaptive leadership in today's resource constrained operating environment.
Expediency
In order to facilitate the ARSOA standard of "time-on-target, plus or minus 30 seconds," support elements must not only provide the fuel and ammunition, but provide it at the right time and the right place, every time. In addition to individual and collective FARP team training, ASD and headquarters elements also focus on long-term tactics, techniques and procedures (TTP) development with the primary goal of providing services as expediently as possible.
Development of various mobile and scalable FARP platforms truly highlights the synergy of the ASD and motor pool sections. The mobile FARP uses a commercial off-the-shelf (COTS) John Deere Gator modified by motor pool mechanics with upgraded tires, suspension, rims, framing and lighting. It contains a fully functional multi-point FARP capable of operating in a rugged environment and rapidly relocating to meet mission requirements. The 160th SOAR implemented this capability and deployed it for continuous use in combat and contingency operations. Other emerging equipment sets offer adaptability and additional capability by being lighter, more expeditionary, field-expendable or providing higher flow rates.
The aerial delivery or "rigger" section of ASD has its own unique role in sustaining the airborne training program and innovating aerial delivery methods for adding flexibility and expediency. These methods include TTP development, such as improved rigging configurations, modifying the number of paratrooper passes, or managing the drop zone to facilitate expedient movement to the rally point and recovery of the FARP platform.
Other innovations include new equipment fielding (team internal communication devices, personnel and equipment global positioning system trackers, and other marking systems for airdrop bundles) and new aerial delivery methods such as the Joint Precision Airdrop System (JPADS), which uses GPS-steerable parachutes to deliver the FARP equipment to a pre-determined point of impact (PI).
Integration
Since the 160th SOAR's inception after lessons learned from a failed FARP attempt during Operation EAGLE CLAW in 1980, the unit continues to integrate FARP operations with a range of capabilities for the Ground Force and Air Mission Commanders.
The tradition was further solidified by Operation JUST CAUSE in 1989 when 160th FARP teams conducted an airborne assault and airfield seizure in Panama, responded to numerous contingencies, and supported the daring raid with a range of air and ground based capabilities. Today, FARP integration continues to enable the unique mission sets that are the cornerstone of SOA.
Ultimately, well-trained ASD personnel coupled with advanced TTPs and technologies share a common goal of providing increased expediency and flexibility. They also withstand a high level of scrutiny and evaluation. Their training represents one of the focal points of the Mission Essential Task List. Night after night, FARP teams prove their determination, capability and pride in mission as they support Special Operations missions in a variety of challenging environments.
CPT Ryan G. Brown is the commander of Headquarters and Headquarters Company, 4th Battalion, 160th Special Operations Aviation Regiment (Airborne)(SOAR(A)) at Joint Base Lewis-McChord, WA.