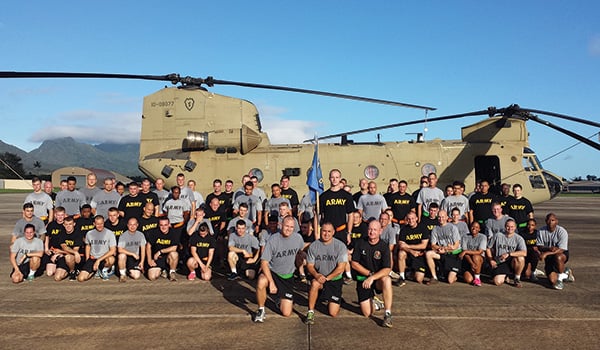 Branch Command Sergeant Major / By CSM Eric C. Thom: Now as I prepare for this edition of ARMY AVIATION magazine, I am struck by the fact that it will be the last article I write as your branch command sergeant major. So I am going to use it as my opportunity to say farewell to you and everyone else in the Aviation Enterprise.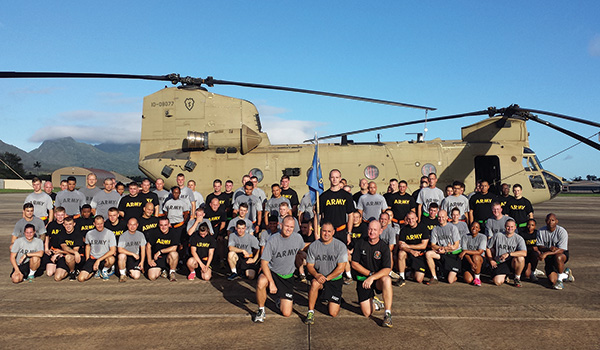 CSM Thom (kneeling, left) took time while visiting the 25th Combat Aviation Brigade to join Delta Company, 3rd Battalion, 25th Aviation Regiment for PT, Sept. 16, 2015 at Wheeler Army Airfield, Hawaii. 1SG Antonio Ruiz (kneeling, center) said the Branch CSM "…was unbeatable during the run."/ U.S. ARMY PHOTO 25TH CAB PAO
It has truly been a privilege to serve you for the last two years. I don't imagine there have been many before me that will say their time here was easy or that they faced few obstacles or challenges but it sure seems like we hit the mother lode. The Budget Control Act, Sequestration, ARI, the Ebola virus, and then some!
Challenges and headaches aside, I can say without hesitation that I wouldn't have had it any other way. To be a member of the team that met these challenges head on will forever be one of my proudest memories. This was a time of transition; yes, but more importantly it was a time of opportunity and I fully believe that what we (all of us) accomplished and what we have started that is still a work in progress, has moved us in a direction to meet the needs of our Army, and our Nation. Although I am moving on to Fort Knox, KY to manage the Army's sergeant major and command sergeant major population, I will look back at this time as the pinnacle of my career.
Often, you hear people refer to unsung heroes, well the Aviation Enterprise has thousands of these great Americans who step up to the plate every single day; sometimes they get brushed back or even knocked down but they always get right back in there for another swing. It is these unsung heroes that I want to dedicate this article to; it is the unsung heroes that make our enterprise function. I am talking about the officers, warrant officers, NCOs, DA civilians and contractors who develop and teach our courses; who slave away in a staff position getting hammered by the boss; who fly and maintain our aircraft.
It doesn't matter if you support the Branch, AMCOM, PEO AV, DA Staff, USASOAC, or anyplace in-between. I want to thank you for being a member of this team and allowing me to serve you. There is no finer aviation force in the world, not the Air Force, nor the Navy; nor is there is a country anywhere that can match our capability.
I am not talking numbers here – I am talking about a simple understanding; that peace of mind every Soldier on the ground has knowing we will be there for them, whether it is providing firepower to protect them, logistical support to maintain them or MEDEVAC support to save them. They know we are here and will fight heaven and earth to be there for them. That is what has kept me motivated for the past 30 years and will continue to do so, but not as your command sergeant major; that honor now belongs to CSM Greg Chambers, your new Branch Command Sergeant Major. He will take the reins from here. I have known him for several years and there is no one better suited or qualified to take what we have done and continue to improve our Soldiers, equipment and procedures.
I appreciate all the emails and letters showing your continued support. I now ask that you provide that same support to CSM Chambers. As always, it has been my honor to serve you!
Above the Best!
CSM Thom
This email address is being protected from spambots. You need JavaScript enabled to view it.
CSM Eric C. Thom is the command sergeant major of the Aviation Branch and the U.S. Army Aviation Center of Excellence, Fort Rucker, AL.
Editor's Note: We at ARMY AVIATION sincerely thank CSM Eric Thom for his support while serving as the Aviation Branch Command Sergeant Major and wish him and his wife, Samantha, all the best in his next assignment.