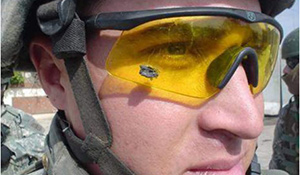 By Dr. (LTC) Joseph Puskar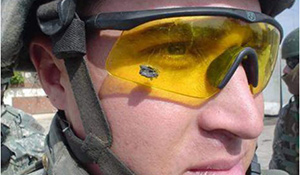 Proper wear of eye protection not only while flying, but also when working in the shop or at home is of the utmost importance in the prevention of eye injury. Most of us are not always wearing eye protection when we should be.
According to a national survey by the American Academy of Ophthalmology, only 35 percent of respondents said they always wear protective eyewear when performing home repairs or maintenance, and even fewer do so while playing sports. Men are more likely to sustain an eye injury due to the types of activities they tend to engage in. Almost half of all eye injuries occur at home as reported during a survey conducted by the American Academy of Ophthalmology and the American Society of Ocular Trauma. Over 40 percent of reported eye injuries happened during projects and activities such as home repairs, yard work, cleaning and cooking. More than a third of injuries in the home occurred in living areas such as the kitchen, bedroom, bathroom, living or family room, and over 40 percent of eye injuries every year are related to sporting or recreational activities.
Eyes can be damaged by sun exposure as well as by chemicals, dust, or other objects, so be sure to wear those high quality, impact-resistant, UV blocking sunglasses for extended periods spent outdoors. Among all eye injuries reported in the survey, more than 78 percent of people were not wearing eyewear at the time of injury. Of those reported to be wearing eyewear of any type at the time of injury including eye glasses and contacts, only 5.3 percent were wearing safety or sports glasses.
Depending on the type of maintenance shop, flight surgeons should conduct annual or bi-annual shop visits to be sure that workers have readily available, and are properly using the eye protection and other protective clothing and equipment for every chemical agent used there. Consult the posted safety data sheets (SDS; formerly called material safety data sheets, MSDS) to find the proper protective eyewear and clothing, and the recommended first aid treatment of accidental exposures for each chemical used. In case a chemical burn to the eye does occur, immediately flush the eye with copious amounts of clean water, and seek emergency medical treatment right away. The body's natural tearing action also helps greatly to wash out offending chemicals, and neutralize acids and caustic bases. Basic chemicals are generally much more injurious than even the acids are to the eye, so be especially cautious when using them. Eye wash stations should be checked periodically to be sure they are functional, clean, and readily available for rapid use. Any deficiencies found should be reported, and corrected before the need for emergency use arises.
What to Do For an Eye Injury
For all eye injuries, try not to touch, rub or apply pressure to the eye. Don't try to remove any object stuck in the eye without medical assistance. Do not apply ointment or medication to the eye, and get to a doctor as soon as possible, and preferably to an ophthalmologist.
If your eye has been cut or punctured, gently place a shield over the eye. The bottom of a paper cup taped to the bones surrounding the eye can serve as a shield until you get medical attention. Do not rinse with water, and again do not try to remove any object stuck in eye, or rub or apply direct pressure to the eye. Avoid giving aspirin, ibuprofen or other non-steroidal, anti-inflammatory drugs. These drugs thin the blood and may increase the risk of bleeding. After you have finished protecting the eye, see a physician immediately.
If you get a particle or foreign material in your eye, do not rub the eye. Lift the upper eyelid over the lashes of your lower lid. Blink several times and allow tears to flush out the particle. If the particle remains, keep your eye closed and seek medical attention.
To treat a blunt force injury to the eye, gently apply a small cold compress to reduce pain and swelling, and be careful not to apply any pressure. If the blow results in a black eye, bleeding into the white part of the eye, or if pain or visual disturbance occurs even after a light blow, immediately contact your ophthalmologist or go to an emergency room. Remember that even a light blow can cause a significant eye injury. To treat sand or small debris in the eye, use eyewash to flush the eye out. Never rub the eyes. If the debris doesn't come out, lightly bandage the eye and see an eye doctor, or visit the nearest emergency room. —Doc Puskar
Question for the Flight Surgeon?
If you have a question you would like addressed, email it to This email address is being protected from spambots. You need JavaScript enabled to view it.; we'll try to address it in the future. See your unit flight surgeon for your personal health issues. The views and opinions offered are those of the author and researchers and should not be construed as an official Department of the Army position unless otherwise stated
Dr. (LTC) Joseph Puskar is a flight surgeon and the director of the Army Flight Surgeon Primary Course at the US Army School of Aviation Medicine at Fort Rucker, AL