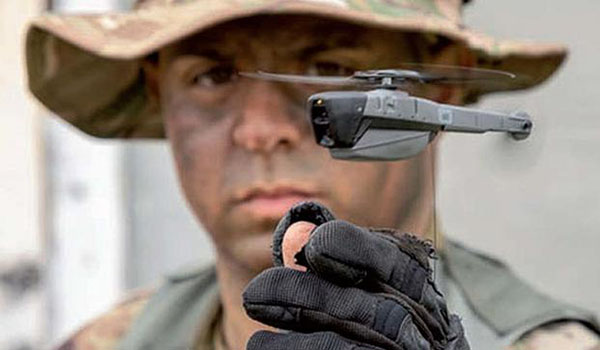 DAMO-AV / By CW5 Michael L. Lewis Jr.: CW5 Jon Koziol and I conducted a handover of the Army Aviation standardization desk at DAMO-AV earlier this spring. As he departed for Ft. Rucker, he told me that the nine square feet of the standardization desk may be overshadowed by the other 6.6 million in the Pentagon, but those square feet never contain a dull moment.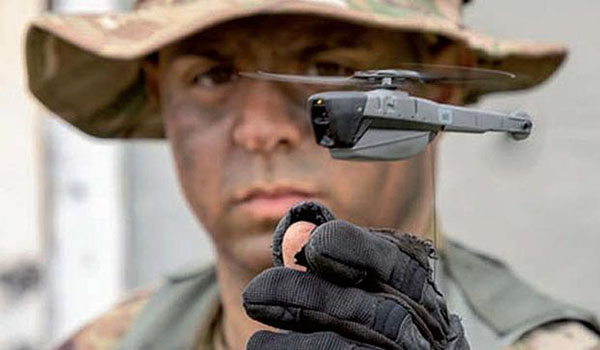 A paratrooper with 3-82 Avn. at Ft. Bragg, NC deploys a Soldier Borne Sensor (SBS). / U.S. ARMY PHOTO
By the time an issue reaches the desk, all the easy questions have been answered. Hard questions require the enterprise working together for solutions. My existing relationships, deepened and broadened in my short time here, enable us to find answers to those "gray area" questions. I will share a couple of these "gray areas" encountered during my short time here to illustrate the effects of changes in how we fight and the emerging challenges we see from our office. How do we as aircrew members address reducing risk with modernized capabilities? By evolving our basic standards.
AR 95-1, the root of our most basic standards, does not have all the answers. As future capabilities emerge and modernization priorities affect the current force, we at DAMO-AV work to keep up and mitigate impact on the field. The June edition of ARMY AVIATION Magazine introduced the Degraded Visual Environment Pilotage System (DVEPS)1. DVEPS is a game changer and it is exciting to think about the capability the system will bring to the fight, but as with each new capability, it brings standardization challenges. When crews "see" through obscurants and fly visually using Visual Flight Rules (VFR) in instrument meteorological conditions (IMC), how do you file that flight plan? The Federal Aviation Regulations and AR 95-1 do not address flying under VFR while in IMC. The enterprise will need to adapt to this and other yet-to-be realized future capabilities.
Soldier Borne Sensors
Our crews and operators must adapt to changing regulations as we modernize the force. Multi-domain operations and large scale combat operations require a renewed focus on low-level tactics in congested airspace – an environment much different even than that of 20 years ago. When we grew up just above the treetops, we wrote "ALL ROADS HAVE WIRES" on our map books. Tomorrow's electronic flight bags will need stickers that state "ALL SOLDIERS HAVE SENSORS OVER THEM." I had the opportunity to participate in the first fielding of the Soldier Borne Sensor (SBS) with 3-82 Avn. at Ft. Bragg, NC. The look on our paratrooper's face was priceless when he realized the capability of his palm-launched 3oz flying camera. "Sir, I may never have to dismount my guys again to check out a culvert. I can clear it with this thing without leaving my Husky!" These systems are here to stay and will continue to evolve, with greater payload capability and longer
station time. Those improvements bring increased risk to manned aircraft operating in the same airspace. Doctrine must reinforce control measures reducing this risk and modernized manned systems must provide capabilities for safer operations in congested environments. However, the greatest risk mitigation will come from trained aircrews and operators focused on situational awareness and airspace surveillance.
Airspace Surveillance
All our rotary wing aircrew training modules include airspace surveillance (Task 1026) as part of the crew mission brief. When briefed thoroughly, this task becomes the cornerstone of aircrew coordination and expectation management among the pilot in command and all aircrew members. It sets conditions for crew success during the entire mission. We have traditional common standards to maintain airspace surveillance. We clear the aircraft and immediately inform the other crewmembers of all air traffic, targets, or obstacles that pose a threat. We also inform our wingman and acknowledge those alerts when received. We announce heading, altitude, or position changes. When we recognize unannounced changes in heading, altitude, or position we challenge the pilot on the controls. In doing so, we potentially interrupt a fatal chain of events linking unrecognized spatial disorientation to an unrecoverable unusual attitude. We announce when our attention is focused inside the aircraft and ensure the other crewmembers continue to maintain airspace surveillance.
When we step away from common standards in airspace surveillance, the result can be catastrophic. Anyone who has flown with me in recent years has endured my aircrew brief that includes cases of lost aircraft and crews directly related to steps missed in Task 1026. Modernized systems like the DVEPS will further enhance our ability to maintain airspace surveillance but it will never replace the basics. That said, aircrews using only traditional methods of surveillance would never get off the ground due to IMC. As the crew descends to avoid a radar threat, they may never detect the swarm of Soldier Borne Sensors near the objective. We must blend our traditional standards with modern capabilities to succeed in the future.
DAMO-AV finds answers for Army Aviation and remains nested with the Army Vision. Aircrews and operators will need to adapt to operating in shared manned and unmanned airspace, combine traditional standards with new capabilities, and embrace new concepts.
Keep calling with those difficult questions.
Above the Best!
1 CW4 Pounds and MAJ Timmons; Owning the Environment – DVEPS; ARMY AVIATION
CW5 Michael L. "Myke" Lewis Jr. is the standardization officer of the Aviation Directorate of the office of the deputy chief of staff G-3/5/7, U.S. Army in Washington, D.C.