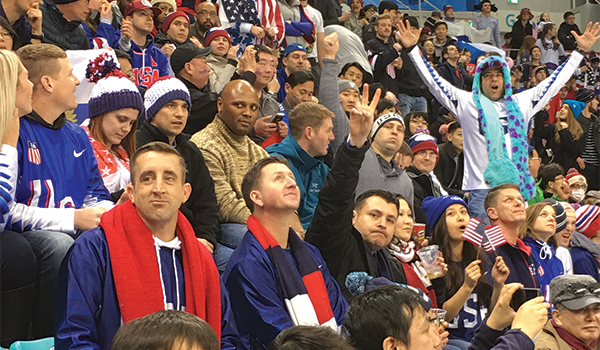 Family Forum / By Lisa Calvert: If you tuned in for any coverage of the PyeongChang 2018 Winter Olympics, you probably caught a glimpse of what South Korea has to offer. Did you wonder what it's like for Soldiers and their families stationed there?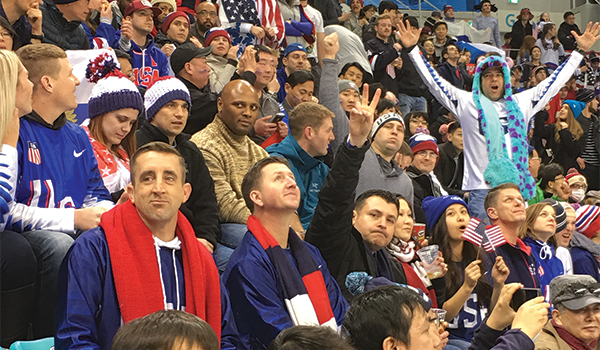 Soldiers and family members of the 2nd Cbt. Avn. Bde. watch a Group B preliminary round of hockey between the USA and Olympic Athletes of Russia (OAR) at the Gangneung Hockey Center on February 17, 2018. / PHOTO BY CW3 ISAAC VASQUEZ
Some people may think we are essentially dropped in a foreign land, where most of us don't speak the language, the food is strange, and there isn't anything interesting to do or see. Nothing could be further from the truth.
We are supported by US facilities on post as well as local businesses who cater to Americans' wants and needs. We get to explore the Korean peninsula and travel to other Asian countries easily, and yet the creature comforts of our beloved USA are within easy reach. It's the best of both worlds!
There are also some of the kindest people you could ever hope to meet here. Soldiers and families really band together, looking out for one another and giving generously of their time and talents. There is always someone who has been through whatever challenge you're facing, and they will gladly lend a hand or pass along what they've learned through experience. I have often marveled at the tight bonds of military communities, but something about being stationed together in Korea makes these bonds particularly strong. Such kindnesses don't end at the gate. Koreans in general are a very generous, warm-hearted people, and there are several host-nation groups who provide opportunities for Americans and Koreans to spend time together for cultural exchanges. Americans are able to experience various aspects of Korean life alongside locals who are eager to learn about Americans. The goal is to promote an understanding and appreciation of each other's cultures and therefore build a stronger community. These dedicated community partners make an assignment here especially meaningful.
Army Aviation in Korea
Most Army Aviators in Korea are stationed at Camp Humphreys, located about 40 miles south of Seoul. Pyeongtaek is the closest city to Camp Humphreys and I love it here. I rarely leave except to explore and take in the sights around Korea. Pyeongtaek has everything I need – shopping, dining, and day-to-day life – it's all here.
One battalion, 2/2 Assault Helicopter Battalion, is located at K-16, also known as Seoul Air Base. It is a tiny outpost with limited on-installation amenities. However, with one of the largest cities in the world just outside the gate, you have easy access to a dizzying selection of restaurants, shops, entertainment, nightlife, history, sights, and just about anything else you could possibly want. For US Army services not available on K-16, Soldiers and their families travel to either Yongsan (another installation in Seoul) about 15 miles away, or Camp Humphreys. Together, they feature all the amenities you'd expect. It almost feels like you are in the States, and yet, right outside the gates, is another world–one definitely worth exploring!
Much to Do
With history dating back thousands of years, the Republic of Korea is a country where deep-rooted traditions and customs blend with ultra-modern amenities and cutting-edge technology. No matter where your interests lie, you can satisfy your cravings here. Foodies will enjoy the wide variety of cuisine, from street foods to regional fare to international offerings, as many Korean chefs train in Europe. If it's culture and history you seek, you're in for a real treat! World-class museums offer fascinating artifacts and displays on a wide variety of subjects. UNESCO (United Nations Educational, Scientific and Cultural Organization) World Heritage Sites allow you to visit palaces, temples, and other important historical structures that are several hundreds of years old. Live performances of all types abound; folk villages offer a realistic, immersive view of life from earlier times, and seasonal festivals provide an ideal way to experience both time-honored traditions and modern delights at once.
For outdoor enthusiasts, South Korea's national parks steal the show. The terrain varies widely from lofty mountain peaks to lush forests to beaches of volcanic rock, and Koreans prize their outdoor spaces. Hiking and skiing are popular seasonal pastimes, and golf is another favorite with driving ranges available nearly everywhere, including indoors.
Prefer to remain a spectator? Professional teams offer plenty of fun choices. Don't expect a quiet, relaxing afternoon though. Baseball and soccer fans are particularly devoted and enthusiastic!
If entertainment, nightlife, or pop culture is what you're after, you've hit the jackpot. K-Pop and K-Dramas are gaining more and more international attention, and for good reason. Karaoke rooms, nightclubs, bars, and themed cafes offer endless entertainment possibilities. Movie theaters offer movies in English, keeping you current on the latest blockbusters back home. And shopping, whether in the labyrinthine underground malls, high-end boutiques, dusty mom-and-pop general stores, or open-air markets, is a form of entertainment in and of itself.
Like any other assignment, being stationed in Korea has its share of challenges and rewards, and ultimately it comes down to what you make of it. Is it perfect here? Of course not. Can it be a challenge? Absolutely. But if you embrace the opportunity to experience a new culture and visit a part of the world you probably wouldn't otherwise get to see, you will thoroughly enjoy your stay.
My husband and I are nearing the end of our two-year assignment in "The Land of the Morning Calm," and although we are excited to return to the United States, we are also sad to leave. Our time here has been an amazing opportunity to experience a new culture and explore a beautiful country, and we don't really want it to end.
Lisa Calvert is the FRG Advisor and spouse of COL Lance K. Calvert, Commander of the 2nd Combat Aviation Brigade, Camp Humphreys South Korea. Judy Konitzer is the family forum editor for ARMY AVIATION; questions and suggestions can be directed to her at This email address is being protected from spambots. You need JavaScript enabled to view it..">This email address is being protected from spambots. You need JavaScript enabled to view it..
This email address is being protected from spambots. You need JavaScript enabled to view it..">