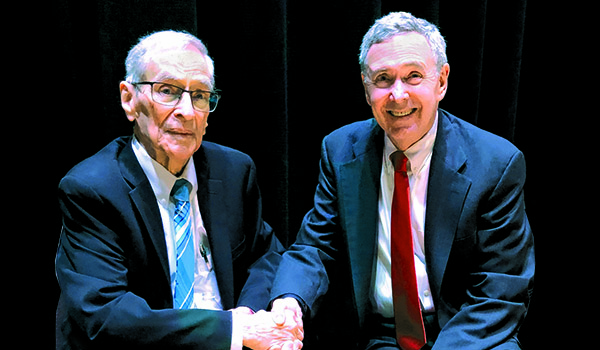 President's Cockpit / By BG Steve Mundt, Ret.: 2019 has barely started and already the operational tempo and the pace of change is not letting up.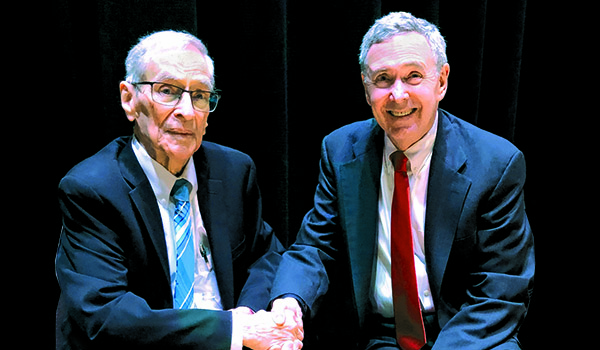 Mr. John Shipley is congratulated by AAAA President, BG (Ret.) Steve Mundt, at Shipley's retirement in January 2019./ BG (RET.) MUNDT PERSONAL PHOTO
People are and will remain the centerpiece of our Army and the focus of AAAA. We as a branch, an army, industry partners and the Army Aviation Association of America are so blessed with strong and dynamic leadership. Our famous "Six-Pack" is a perfect example of this, but with all good things come change and as a mentor of mine, GEN Shinseki, once said, "If you dislike change, you're going to dislike irrelevance even more." Last year BG Al Pepin and BG Wally Rugen joined the team.
The first big change to the Army Aviation Six-Pack came on Jan 24th of this year as Geoff Downer became the Director of Special Programs (Aviation) AMCOM followed quickly by MG Doug Gabram relinquishing command of AMCOM on 14 February, with Bill Marriot becoming the interim commander until BG Todd Royar completes his tour with the 101st as the ADC(S) and assumes command of AMCOM this summer. The good news is that for the time being we will still be ably led by MG Bill Gayler, our Aviation Branch Chief, along with BG Thomas Todd (PEO Aviation) and BG Dave Francis (Director of Army Aviation G3/5/7).
I do need to express the thanks of AAAA and all the Aviation Soldiers, family members and those Army Aviation supports each day to John Shipley and MG Doug Gabram as they transition from the Six-Pack to their new roles. Though John Shipley has retired, he will continue to serve as a highly qualified expert (HQE) providing his expertise and leadership as we face the coming challenges to Army Aviation. John Shipley is in the Army Aviation Hall of Fame for many reasons – 60 years as a Federal employee and over 40 years as a member of the Senior Executive Service, multiple Presidential level awards, was first in the first class of civilians inducted as an honorary member of the 160th Special Operations Aviation Regiment (Airborne), and he was inducted upon his retirement into the Army Material Command (AMC) Hall of Fame. Simply put, John is a legend in his own time and a national asset.
MG Doug Gabram has made a huge impact in his own right at a difficult time in our sustainment efforts while sustaining the fight tonight, training for the fight tomorrow and preparing for the needs of the future battlefield. His focus on strategic depth of spare parts will have a positive effect on our Branch for years to come. Doug was just inducted into the Gold Honorable Order of Saint Michael the night before he relinquished command of AMCOM. I could not have been prouder to personally present the medallion to Doug, and be present for John's retirement at Joint Base Langley-Eustis, VA. MG Gabram has been selected as the Director for Test, Missile Defense Agency (MDA).
Army Aviation is unique in having the Six-Pack which has grown over time and now includes BG Wally Rugen – as some say the Six-Pack + 1. This group of dynamic and talented leaders coupled with our CSMs and CWOs aptly led by our Branch Chief, provides focus, vision and speaks with one voice on behalf of Army Aviation Enterprise to ensure we are the best trained, equipped and led Aviation Force in the world today, tomorrow and in the future as our near peer competitors continue to emerge in the technology race.
Though not part of the Six-Pack, I would be remiss if I did not also recognize another Army Aviator, MG Neil Thurgood's move to the Hypersonic Missiles program at MDA. No doubt the next few months will bring even more change, but the quality of our leaders and the results of their leadership remain the best there is.
All our formations are so strong from the GOs on down with experienced, battle hardened NCOs and warrant officers that I find it easy to say that we are the most experienced and professional Army I have ever known in my experience of ~45 years in and out of uniform. That said, what is the next big thing?
The Summit
In less than 45 days we will kick off our annual Army Aviation Mission Solutions Summit in Nashville with a lineup of great speakers including GEN Jim McConville, our Vice Chief of Staff of the Army, LTG Laura Richardson the acting CG of FORSCOM, Branch Chief MG Bill Gayler and the remainder of the "Six-Pack" including BG Wally Rugen. We will recognize the best of the best with our annual awards and announce the first winners of the scholarship grants to assist our Soldiers in attaining their A&P license, all of this while getting the latest updates and developments from our senior leadership of the Army Aviation Enterprise. This is your chance as a professional to hear and provide feedback to ensure we get it right for the next generation of Army Aviation personnel and families. April 14-16 in Nashville, TN is where the entire community gathers to ensure we have the best doctrine, training, and materiel to defend this nation and deliver capability to our civilian leadership.
Looking forward to seeing you all in Nashville for the professional program, the exhibits, the Hall of Fame Induction Banquet and the Soldier Appreciation Dinner/Concert! A great time will be had by all!
BG Steve Mundt, Ret.
33rd President, AAAA
This email address is being protected from spambots. You need JavaScript enabled to view it.