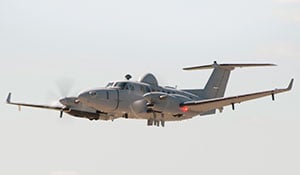 Fixed Wing Aviation / By COL Steven B. Clark and Ms. Tracey Ayres: The Fixed Wing Project Office (FWPO) continues to emerge as a multi-faceted organization transitioning from its traditional sustainment role of a diverse fleet of niche capabilities to the full-on modernization and life cycle management of the Army's fleet of transport and manned intelligence, surveillance and reconnaissance (ISR) aircraft. "The fixed wing fleet is dynamic and diverse; it affords the Army increased capabilities," said BG Robert "Bob" Marion, the Program Executive Officer for Aviation. "From providing executive transport for the Army's key personnel to conducting aerial ISR missions that allow our Soldiers on the ground to have a more robust common operating picture, the fixed wing fleet is a proven mission multiplier."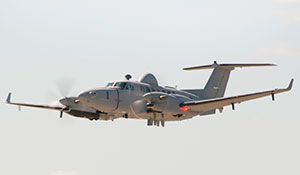 Enhanced Medium Altitude Reconnaissance Surveillance System (EMARSS). / ALL PHOTOS COURTESY FIXED WING PROJECT OFFICESeveral recent acquisition milestones and directed requirements have laid the framework for a welcomed period of modernization and life cycle replacement that has largely been absent since the late 90s. With overwhelming support from senior leadership across all stakeholders, as well as unmatched working relationships with our Aviation and Missile Research and Development Center's (AMRDEC) Aviation Engineering Directorate (AED) and Aviation and Missile Life Cycle Management Command (AMCOM) partners, we set about a rigorous and disciplined programming, planning and execution methodology with the singular objective of delivering responsive and reliable materiel solutions to the Warfighter.
Priorities
While nearly impossible to clearly define priorities given such a diverse fleet of low density, high demand assets, all with niche capabilities, we unquestionably prioritize our support to TF ODIN's U.S. Forces-Afghanistan (USAFOR-A) mission requirements. We rapidly developed and continue to sustain quick reaction capabilities (QRC) that provide real-time and actionable intelligence to the military intelligence community and ground force commanders alike. COL Mark Levine, the TF ODIN Commander, and his multi-component force represent a game-changing capability for our deployed forces, especially given the ground force reductions in Afghanistan.
Although some capabilities retrograded in 2014, a highly competent team composed of both military and industry partners operated under names such as Saturn Arch, Desert Owl, VADER, HIGHLIGHTER, NIGHT EAGLE, CEASAR and Liberty Project aircraft to provide unprecedented intelligence, surveillance, reconnaissance (ISR) capabilities to the combat commanders. These aircraft flew in excess of 25,044 hours in 2014 while maintaining an average OPTEMPO of 175.5 hours, the highest of any manned Army aviation asset. Several platforms in particular habitually fly in excess of 300 hours per month.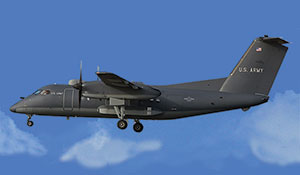 Saturn Arch, a QRC, will be absorbed into the ARL POR.SEMA Programs
The Special Electronic Mission Aircraft (SEMA) Product Office, led by LTC Brian Forrest, manages the historic Guardrail Common Sensor (GRCS) and Army Reconnaissance Low (ARL) aerial intelligence programs as well as the new Enhanced Medium Altitude Reconnaissance and Surveillance (EMARSS) modernization program in concert with PM Sensors and Aerial Intelligence (PM SAI) out of the Program Executive Office for Intelligence, Electronic Warfare and Sensors (PEO IEW&S). The FWPO oversees the aircraft sustainment and integration; PM SAI is responsible for life cycle management of the sensor mission equipment package (MEP) and the processing, exploitation, and dissemination (PED) architecture.
The GRCS program is simultaneously modernizing 19 RC-12X aircraft with updated signals intelligence (SIGINT) payloads, cockpit avionics and adding a full motion video (FMV) sensor while divesting the remaining fleet of RC-12 D, H, K and N platforms. With these updates and our ongoing Service Life Extension Program (SLEP), the venerable RC-12 will continue to support the Army's Aerial ISR 2020 strategy for many years to come.
The ARL program consists of nine multi-intelligence (MULTI-INT) platforms born out of a U.S. Southern Command (SOUTHCOM) Operational Needs Statement (ONS) in the early 1990s that continues to provide high demand ISR in SOUTHCOM as well as Central, Africa and Pacific Commands. In July 2014, the ARL program initiated a modernization-in-service program to replace the nearly 40 year-old DeHavilland Dash 7 aircraft with a Bombardier Dash 8-315 aircraft, refresh existing SIGINT capabilities and incorporate mature QRC capabilities such as Ground Moving Target Indicator (GMTI) radar and Hyperspectral sensors; all within the Distributed Common Ground Station-Army (DCGS-A) architecture. Development and integration begins in 2015 with fielding planned from FY19-23.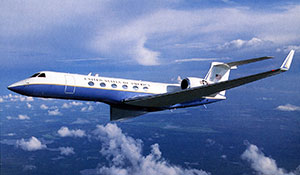 The C-37 performs executive transport for the Army.The EMARSS program will provide a unique portfolio of tailored configurations (SIGINT, GEO-INT, MULTI-INT and GMTI/DMTI) providing 24 manned multi-intelligence A-ISR platforms that will detect, locate, classify, identify and track surface targets day or night in nearly all weather conditions with a high degree of timeliness and accuracy. While all configurations will share the same aircraft, cockpit, FMV sensor and DCGS-A architecture, in July 2014 the Army recognized that many of the high demand and technically mature QRC capabilities could be leveraged to provide a more robust and enduring ISR solution leading to a multi-variant acquisition strategy as opposed to the original pure fleet concept. The program successfully completed Initial Key Personnel Training (IKPT) conducted from January 26 – March 13, 2015 at the U.S. Army Intelligence Center of Excellence (USAICE) in Fort Huachuca, AZ and is currently conducting Limited User Testing (LUT) followed by New Equipment Training (NET) and Fielding in 4QFY15.
At end state, the Army's A-ISR 2020 Strategy calls for 52 enduring manned ISR platforms which consists of 19 GRCS, 9 ARL and 24 EMARSS aircraft.
Transport Aircraft
Led by LTC Kirk McCauley, the Transport Aircraft Product Directorate provides life cycle management of the executive fleet of Gulfstream C-20/C-37 and Citation UC-35 jet aircraft, the Operational Support Airlift (OSA) fleet of Citation UC-35, King Air C-12 and Metroliner C-26 turbo prop aircraft as well as tailored program management and airworthiness support for the Army Test and Evaluation Command (ATEC) test agencies, Corps of Engineers and U.S. Army Golden Knights Parachute Team. In conjunction with ongoing service life extension programs and in service modifications to remain compliant with FAA and global navigation requirements, the Transport Aircraft PdD received a Materiel Development Decision (MDD) in May 2014 for the Fixed Wing Utility Aircraft (FUA) program; a 92 aircraft procurement and modernization program to replace the C-12 and C-26 turboprop aircraft. The Capabilities Production Document (CPD) is in worldwide staffing and Milestone C is planned for 3QFY17 with fielding slated from FY18-27. The FUA program not only replaces the workhorse fleet of turbo prop aircraft but based on the Joint Capabilities Integration and Development System (JCIDS) capabilities requirements will have improved range, payload and high-hot performance along with the requisite aircraft survivability equipment, military multi-band communications and on-board battlefield situational awareness to enable effective air movement of deployed forces.
Additionally, the Transport Aircraft PdD, together with an exceptional Logistics Management division, leads our FY17 consolidation efforts in Contractor Logistics Support (CLS). Army fixed wing maintenance transitioned to 100% CLS in the mid-1990s following the divestment of the OV-1 Mohawk aircraft.] With such a diverse fleet spread across 133 aircraft bed-down bases in 12 countries and all 50 states, we are aggressively pursuing contract consolidation efforts to achieve better efficiencies and reduced cost.
Divestment and Foreign Military Sales
Ongoing divestment efforts include the C-23 Sherpa cargo aircraft, the C-20 Gulfstream jet aircraft and the RC-12D/H/K. The divestment of legacy, yet viable commercial derivative aircraft, has sparked considerable interest from within the DoD and other government agencies as well as foreign governments. As such, the FWPO supported by the Security and Management Directorate (SAM-D) stood up an FMS section to better facilitate the divestment process.
Summary
These are truly exciting times for modernization within Army Fixed Wing Aviation and nowhere else have I experienced the opportunities to address all facets of life cycle acquisition management on nearly a daily basis. As such, we will remain stalwart in our disciplined approach to planning and execution processes that deliver efficient, effective and reliable aviation solutions!
COL Steven B. Clark is the project manager for the Fixed Wing Project Office, Program Executive Office, Aviation; and Ms. Tracey Ayres supports the FWPO as a Strategic Communications Specialist with Wyle-CAS. Both are located at Redstone Arsenal, AL.