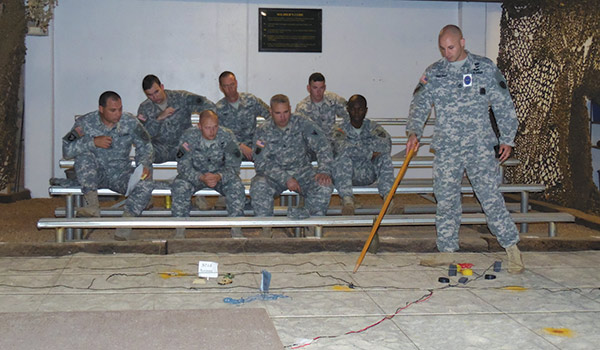 Branch Command Sergeant Major / By CSM Eric C. Thom: Its Effectiveness Depends on the Workman Who Uses It.
NCOPDS
As most of you are aware there are changes happening across the board when it comes to Professional Military Education (PME) and promotions for our enlisted Soldiers. So I am taking this opportunity to make sure that our entire enterprise knows what is happening and how it will affect our NCOs. To start with our Noncommissioned Officer Education System (NCOES) is now our Noncommissioned Officer Professional Development System (NCOPDS), and the first course in the system has been renamed from Warrior Leaders Course (WLC), to Basic Leaders Course (BLC). Additionally we are adding two new courses at the top end of the system. The Master Leaders Course (MLC) will be an MOS immaterial course designed for our Master Sergeant population. And the Executive Leaders Course (ELC) is now the culminating course in the system designed for one and two star nominative sergeants major and command sergeants major.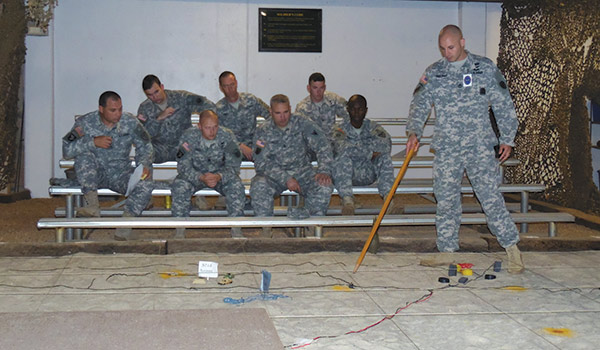 SFC Stephen A. Williams, a 15-Series Senior Maintainers SLC Course Senior Small Group Leader assists with the student led Planning Phase for an upcoming field training exercise, on Sept. 16 at the Ft. Rucker, AL NCO Academy. / U.S. ARMY PHOTO BY SFC KIMBERLY N. FLOYD
Those are the major changes in our professional development system, but how do they tie into the promotion of our NCOs?
By now I am sure most of you have heard the Army is moving back to STEP which stands for Select, Train, Educate, and Promote. (The change is adding the education requirement back in before promotion.)
STEP and Promotions
Here is how it will affect the semi-centralized promotions to SGT and SSG.
Beginning with the Jan. 16 promotion month, in order to pin on SGT the Soldier must have completed BLC (formerly WLC). In order to pin on SSG the Soldier must have completed Advanced Leaders Course (ALC). If they have not graduated the respective course they will not be considered fully qualified regardless of their promotion points. These Soldiers will stay on the recommended list in a promotable status, but they will not be selected for promotion pin-on until they become fully qualified and a promotion requirement exists.
For example, if SPC Thom had 685 promotion points but not completed BLC, and the points dropped to 680 in Jan., I would not be promoted. Now I go to BLC in Feb and the points are 798 for the next six months. I still will not be promoted because although I am now considered fully qualified, I have not met the points as a fully qualified Soldier.
Our centralized promotions to SFC and MSG will be similarly affected. Structured self-development (SSD) is still a requirement to be considered for all centralized boards, so SSGs will have to be SSD3 and SFC will have to be SSD4 complete to even be considered for their respective boards. After that, beginning with the FY16 SFC Selection Board SSGs considered and selected for promotion to SFC must be Senior Leader Course (SLC) graduates before they are considered fully qualified and eligible for promotion. Once the Master Leaders Course (MLC) is fully implemented SFCs will have to be graduates before they are considered fully qualified and eligible for promotion to MSG. Remember they will not pin on until they are fully qualified regardless of their sequence number.
For the Army National Guard, Soldiers selected for higher grade vacancies without the NCOPDS requirement will have 24 months to complete the level of NCOPDS required for promotion pin-on or will be removed from position. This period is extended to 36 months when the NCOPDS course consists of three or more phases.
Other Changes
Finally, effective 1 October 2015 for the Regular Army and Army Reserve (Active Guard Reserve) only, Soldiers selected for promotion to the rank of sergeant first class and master sergeant by a Headquarters Department of the Army centralized board will no longer attain an extended retention control point until they actually pin-on the higher rank.
There are a lot of changes in the distribution of promotion points as well. For example, under Military Training, combat experience has been removed and a larger emphasis has been placed on weapons qualification and the Annual Physical Fitness Test (APFT). What qualifies for Military Education is more restrictive. For resident courses, only courses in the Army Training Requirements and Resources System (ATRRS) and TAB producing courses will receive promotion points. Simply going to PME does not get you promotion points any longer; being on the commandants list or an honor graduate is how you gain additional points.
Civilian Education has increased with emphasis on Degree completion and technical certification. This falls in line with the Army's push for civilian credentialing and certification, and all of this shows the Army's continuing effort to make sure our NCO corps is the best in world.
As always it is an honor to serve as your Branch Command Sergeant Major. Above the Best!
CSM Thom
This email address is being protected from spambots. You need JavaScript enabled to view it.